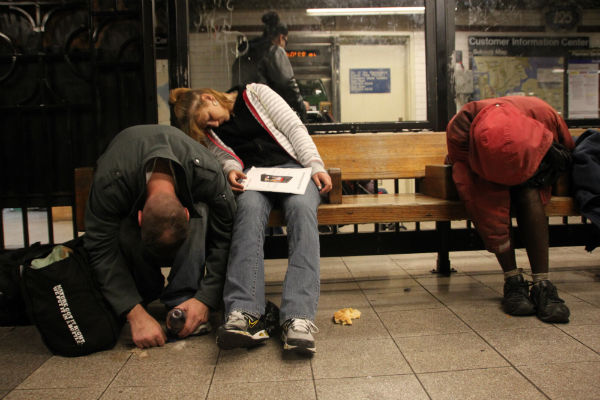 Mayor Bill de Blasio today announced $12.3 million on homelessness prevention services to expand free legal representation in Housing Court and help thousands of New Yorkers from Harlem to Hollis facing eviction or harassment stay in their homes.
"The economic recovery that so many New Yorkers are enjoying now hasn't reached everyone. Too many families are becoming homeless for purely economic reasons – their wages are flat while their rent is steep," said Mayor de Blasio. "With these programs, we are intervening early to keep families in their homes before shelter becomes their only option." 
The two City-funded legal service programs total to $46.3 million in Fiscal Year 2016, growing to $61.8 million in Fiscal Year 2017 – ten times the $6 million that was spent on anti-eviction programs in Fiscal Year 2013. The two programs will serve 32,700 households a year – over 113,000 individuals – when fully implemented.
In Fiscal Year 15, over 62,000 individuals were enrolled in HomeBase, a proven homelessness prevention program that connects families and individuals on the brink of homelessness to resources to help keep them in their homes. Over 35,000 individuals were supported through the City's anti-eviction legal services and tenant protection program.
"Too often, low-income tenants in Housing Court without a lawyer face a landlord with a lawyer and that, rather than the facts or the law, determines the outcome. Our expanded program will protect more families and individuals and prevent additional New Yorkers from becoming homeless by keeping them in their homes and preserving affordable housing. As the old saying goes, an ounce of prevention is worth a pound of cure," said Human Resources Administration Commissioner Steven Banks.
"Prevention is one of our core strategies to stop homelessness before it begins," said Homeless Services Commissioner Gilbert Taylor. "Expanding programs like these are crucial to ensuring that families remain in their homes and communities."
Families with children comprise the largest proportion of the City's shelter census, accounting for over 40,000 individuals – including over 23,000 children – of the approximately 57,000 total individuals shelter. Eviction is one of the leading causes of homelessness for families with children. 30 percent of the heads of households for families with children in shelter are actively employed, and 46 percent of the heads of households for families with children in shelter (including those actively employed) had been employed within the past year. Women lead 91 percent of the families with children in shelter.
The City's civil legal services programs have been consolidated at HRA. New York City has two anti-eviction and tenant protection legal services programs, both housed at HRA:
Anti-Eviction Legal Services: $25.8 million (including the new $12.3 million) in FY16. Fully implemented, this program will serve 19,000 households each year. This program is aimed at communities in which the highest numbers of children and adults are losing their homes and entering shelter.
Anti-Harassment Tenant Protection Program: $20.5 million in FY16, increasing to $36 million in FY17 and serving more than 13,700 households each year when fully implemented. This program is aimed at preventing tenant harassment in communities that will be designated for rezoning and was announced by the Mayor in the State of the City.
The additional $12.3 million will allow the Anti-Eviction Legal Services program to expand in the following areas:
Brooklyn: Bedford Stuyvesant, Bushwick, Crown Heights
Manhattan: Central and West Harlem
Queens:  Jamaica and South Jamaica
Bronx: Tremont and Williamsbridge
Staten Island:  Port Richmond and Mariner's Harbor
The City is re-launching a homeless prevention public awareness campaign, "Imagine" – targeting 15 communities with residents most likely to enter homeless shelters and encouraging those at risk to access HomeBase services. The ads depict families with children in housing crises, asking parents to "Imagine being forced out of your home. Now imagine seeing your kids go through it." This outreach is intended to encourage families with children and individuals to access prevention services early on, averting the need for shelter. Beginning in January of this year and running through April of this year, the campaign appeared on television and in print and was featured on subways, buses, and check-cashing facilities.
---
---
"The affordable housing crisis and rise in homelessness are inextricably linked, and at the core of both lies the insidious harassment of tenants by bad-acting landlords. We need to arm residents, including those facing financial challenges, with tools to battle unlawful evictions if we want to preserve what makes New York City great – our people. In recent months, I have met with over 500 New Yorkers at tenant harassment hearings I convened across the borough to identify and investigate cases that show potential for systemic harassment as well as merit consideration for potential legal action, either civil or criminal. As we analyze those cases, as well as address over a hundred individual testimonies that deserve serious investigation, we need to secure free or low-cost legal services to help families in need fight to stay in their homes. I am grateful to Mayor de Blasio for committing additional funding for much-needed legal services that will help address our affordable housing challenges, particularly in underserved neighborhoods like Bedford-Stuyvesant, Bushwick, and Crown Heights. I additionally encourage lawyers from across our city to offer pro bono services at legal services programs, like that which we offer at Brooklyn Borough Hall, that help tenants in need," said Brooklyn Borough President Eric Adams.
"Ensuring tenants have the resources they need to fight harassment and avoid unjust evictions is one of the smartest investments we can make as a city," said Manhattan Borough President Gale A. Brewer. "Every time families are harassed out of their homes or evicted because they did not have adequate counsel, it's both an injustice and a step backward in the fight against homelessness."
"No family should be left on the street without a chance to fight eviction and keep their home. I applaud the Mayor for providing stronger measures and means to protect our City's residents from losing their homes. I look forward to more initiatives that will help ensure tenant protection and more affordable housing in our communities," said Congressman Charles Rangel.
"I commend Mayor Bill de Blasio and Human Resources Administration Commissioner Steven Banks for their efforts to protect the families and children of New York City from the threat of eviction and subsequent homelessness by expanding access to the legal services that allow tenants to assert their rights under the law. Often, low-income tenants enter Housing Court without a lawyer and are therefore constrained in presenting their arguments to the judge. This program will allow 32,700 households each year to exercise their rights as tenants and in many instances avoid harassment or eviction," said Congresswoman Yvette Clarke.
"Time and again we've seen working families face harassment from unscrupulous landlords seeking to force them from their homes. These legal service programs ensure tenants' rights are protected and help keep New Yorkers in their homes. I'm pleased to see additional resources dedicated to these important initiatives," said Congresswoman Nydia M. Velázquez.
"The lack of legal representation for low-income tenants in Housing Court is causing a humanitarian crisis in New York, with thousands of families many with children, falling into homelessness," said State Senator Adriano Espaillat. "The fact of the matter is that far too many low income tenants are facing an uneven playing field. Providing them with legal representation will make it a fairer fight, keeping more families in their homes."
"Each day in my office, tenants facing eviction, harassment and homelessness come seeking help to stay in their homes. Assistance with complex legal proceeding in housing court can make or break things for many families. Without proper counseling and representation, losing their home has become a reality for far too many. A robust eviction legal services program helps New Yorkers maintain their homes and fight harassment, and I look forward to working with the mayor to make sure these services reach my constituents immediately" said Assembly Member Keith L.T. Wright, Chair of the Committee on Housing.
"The eviction epidemic is feeding New York City's homeless crisis.  We can reduce the number of New Yorkers pushed out of their homes–and advance fairness in housing court–by the simple act of providing more tenants with attorneys. I am thrilled that with the latest increase in HRA's budget for tenant legal services, thousands more New Yorkers will have a better shot at staying in their homes and avoiding homelessness," said Council Member Mark Levine.
"With more than 60,000 homeless New Yorkers and millions of tenants subjected to harassment or illegal eviction attempts, expanding access to legal services will be critical in curbing homelessness that predominantly affects women and children. The additional resources to the City's homeless prevention legal services program will ensure that tenants' rights are protected and affordable housing is preserved," said Council Member Laurie A. Cumbo.
"From Harlem, to the Lower East Side, to Bedford Stuyvesant, to Tremont, to Jamaica, to Port Richmond, all New Yorkers deserve to stay in their homes and neighborhoods and not be forced out because of rising rents and landlord harassment. With the Mayor's addition of $12.3 million to City programs to prevent homelessness, our residents can rest assured that help is available to ensure that they stay in their neighborhoods and continue to cultivate its growth and success," said Council Member Inez E. Dickens.
Photo credit: Snoozing Away in the Harlem Metro on Hiddennewyork.com.
No related posts found...
---