---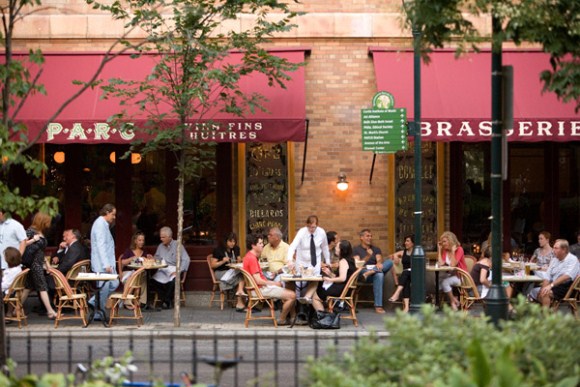 Mayor de Blasio today revealed the first 22 locations for the expansion of outdoor dining options under an initiative that combines two popular programs, Open Streets and Open Restaurants.
The program expands restaurant seating options onto car-free streets for select corridors throughout the five boroughs. Selected corridors will be operational on weekends starting tomorrow evening, Friday, July 3, 2020.
Twenty-two locations citywide will be open to pedestrians and have been approved for expanded street dining. Another 10-20 corridors will be approved beginning Friday, July 17, 2020. Restaurants on these corridors will be able to place seating farther away from the curb than other Open Restaurants participants, and the remaining street space will be open to pedestrian traffic.
"Combining our popular Open Streets and Open Restaurants programs will give more New Yorkers the space they deserve to enjoy the outdoors safely – and give small businesses the chance to rebuild after facing unprecedented challenges this spring," said Mayor Bill de Blasio. "I'm excited to enjoy more outdoor meals soon, and we look forward to expanding the program in the coming weeks."
"As we head into the July 4th weekend, we are excited to be able to start giving restaurants the additional room they need to welcome more customers, so that we can all work together to rebuild this key sector of our local economy in the wake of the Covid-19 crisis," said DOT Commissioner Polly Trottenberg. "We thank everyone from all the BIDs and other neighborhood organizations who made the case that expanding the vision of our Open Streets program to grow outdoor dining will be good for New Yorkers' quality of life and the city's bottom line."
The locations announced today are focused on streets that are already participating in the Open Streets program, on corridors represented by organizations that have worked with DOT on street closures in the past. The second tranche of locations will include additional applicants, such as ad hoc groups of restaurants that coordinate through a single entity acting as a partner organization.
The hours of operation for this new expanded seating option for restaurants will be from 5 p.m. to 11 p.m. on Friday nights, and noon to 11 p.m. on Saturdays and Sundays. Expanded seating will last until Labor Day.
Harlem location in red: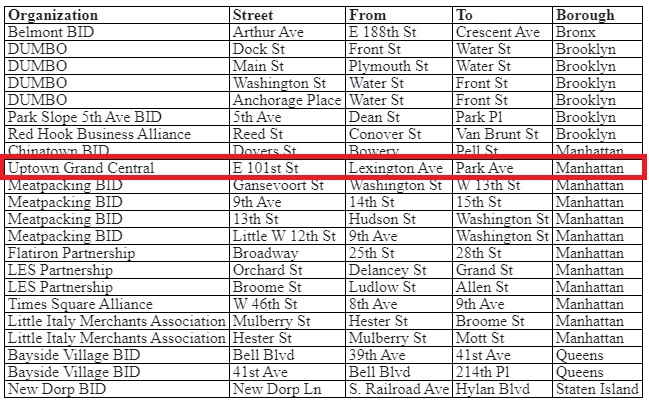 BIDs and community-based organizations can apply here. The City will quickly review applications and consult with elected officials and Community Boards to ensure optimal safety and appropriate design.
"I thank the Mayor for his innovative approach of using Open Streets for outdoor dining. This is a much-needed lifeline for restaurants struggling due to the COVID-19 pandemic. I hope to see this program expand in the coming days to areas in Brooklyn that have not historically been prioritized for safe streets and economic development initiatives, like East New York and Canarsie," said Brooklyn Borough President Eric Adams.
"I'm thrilled to share the news that Bayside's Bell Boulevard was selected to participate in the Open Streets: Restaurants initiative, which gives restaurant owners the power to expand dining on the weekends and offer more diners food service in the open air, giving New Yorkers a safe way to enjoy a meal out while supporting their favorite local eateries," said Council Member Paul Vallone, Chair of the Committee on Economic Development. "I thank the Bayside BID for their partnership and welcome this economic boon for our local restaurants, whose success will be a critical part of a strong economic recovery for New York City."
"Thank you to DOT, SBS, the NYPD, and the Mayor for giving us a fair hearing on this plan and agreeing to implement it so quickly. New Dorp Lane, with almost 30 restaurants, is a true 'restaurant row,' and with these closures those restaurants who call it home will have the opportunity to dramatically increase their outdoor capacity. This is a win-win-win since it will help local businesses survive, it will allow for appropriate social distancing, and it will give Staten Islanders a safe outdoor place to enjoy a meal with their families on weekend nights," said Council Member Steven Matteo.
"Between our customers and the business owners, it's hard to tell who is happier," said Christine Silletti, Executive Director, Bayside Village BID.
"While Little Italy in the Bronx has been operating during COVID-19 due to our essential businesses including butchers, pharmacies, fish markets, delis, bakeries, pizzerias, and many other specialty stores and services, we have looked forward to reopening our restaurants which make up the other half of our historic, multi-generational neighborhood. Streets will remain open during normal business hours every day while the weekend evenings will be a new opportunity for visitors to experience our own Little Italy in the Bronx piazza-style al fresco dining. The Belmont BID is thankful to the NYPD 48th Precinct, led by Captain Joseph Tompkins and the Department of Transportation for their help, coordination and support of this initiative," said Peter Madonia, Chairman of the Belmont BID.
"Now that we all know outdoor open seating is a far more pleasant and safer dining option we want encourage as many folks to participate and to help our local small businesses and our community. We also want to thank everyone involved for offering this support," said Wellington Chen, Executive Director, Chinatown BID.
"Our restaurants are eager to innovate and keep their doors open. And we are happy to support them in trying to make the new normal work right now," said Alexandria Sica, Executive Director, DUMBO Business Improvement District. "Al fresco dining with a view of the Manhattan Bridge sounds pretty lovely this weekend."
---