---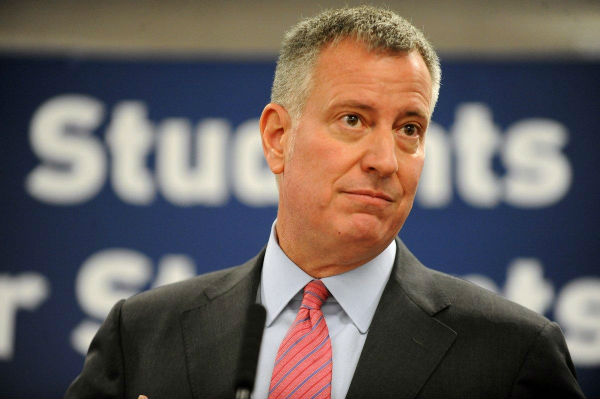 The de Blasio Administration today announced a Day of Action tomorrow, November 7, 2019, to inform day laborers, including immigrant workers, in the construction industry
about the upcoming December 1, 2019 deadline for workers and supervisors to obtain site safety training as required under Local Law 196 of 2017.
The Day of Action will take place in Queens, Brooklyn, Manhattan, Bronx and Staten Island in the early morning and afternoon, when City agencies, in partnership with day laborer organizations, will conduct outreach to day laborers, including immigrant workers. In an effort to holistically engage workers, outreach will be conducted on worker pick-up and drop-off locations in all five boroughs at various locations (see list here).
"Every construction worker in our city wants to return home safely at the end of each day," said Mayor de Blasio. "My Administration is committed to ensuring that each jobsite is safe, and I encourage every worker to take this training that has been proven to protect both workers and the New Yorkers that live nearby."
"Every worker who leaves for the job site in the morning deserves to come home safely at night, which is why safety training is so important," said Buildings Commissioner Melanie E. La Rocca. "This citywide campaign is designed to raise awareness among hard-to-reach populations, such as the city's day laborers, of the upcoming deadline for workers to have 30 hours of training. We are proud to partner with our colleagues in the Mayor's Office, our fellow city agencies, and day laborer organizations on this day of action."
"This Day of Action will engage day laborers, including immigrant workers, on the new training requirements that will keep New York City worksites safer for all," said Bitta Mostofi, Commissioner of the Mayor's Office of Immigrant Affairs. "Immigrant workers are an integral part of our workforce and economy, and we look forward to working with community organizations to ensure they know how and where they obtain this critical safety training."
The Administration is partnering with community organizations across the city such as Workers Justice Project, the New York Committee for Occupational Safety and Health, Catholic Charities, Archdiocese of New York, New Immigrant Community Empowerment, and La Colmena.
Starting December 1, workers at major construction sites will be required to have at least 30 hours of site-safety training, and supervisors must have at least 62 hours of training. The exact locations of the 6,700+ construction sites where training is required can be seen in the NYC Department of Building's (DOB) interactive map.
To meet the upcoming training requirements, workers and supervisors can obtain safety training from any DOB-approved course provider, which can be sorted by location using the interactive course provider map, or by taking OSHA-10 or OSHA-30 classes from an Occupational Safety and Health Administration (OSHA) certified training provider.
In an effort to make this training more accessible, applications are still open for the Construction Site Safety Reimbursement Program, a one-time grant through the NYC Department of Small Business Services (SBS) for small construction firms, with 1-15 employees, to offset the cost of site safety training.
"We have an obligation to prioritize safety for the people who build our city, regardless of their affiliation. That's why I was proud to pass Local Law 196, mandating a minimum of 40 hours of site safety training. I'm working to pass additional legislation that, when enacted, will further expand access to that training. These efforts and days of action like this will help ensure workers are aware of and receive the training they need, and help rebuild an eroding culture of safety that starts at the top," said Public Advocate Jumaane Williams.
"Day laborers, including immigrant workers, are vital to our New York City economy. No working family should be kept up at night worrying about whether they will return home safely the next day. To that end, I'm proud to support the Mayor's Office to ensure our day laborers receive the comprehensive site safety training necessary to maintain certification and protect our neighbors," said Congresswoman Nydia M. Velázquez.
"It's so important that our city agencies, community organizations, and labor groups come together for something so straightforward, and yet too often overlooked: construction site safety. All workers, especially day laborers and immigrant workers, need to know about these critical safety-training requirements and the knowledge these trainings will bring. This outreach is incredibly important, and I'm proud that one of the Day of Action sites is located in my district at the Queensboro Plaza station," said Congresswoman Carolyn B. Maloney.
"This City-led outreach around construction safety requirements is so important, especially for the day laborers in our city who often receive pay under the table and little to no safety training because of their documentation status. To reach these vulnerable workers, we have to pound the pavement, and I'm excited to see the City working with partners in the construction industry to do just that. I look forward to seeing them in my own district, where we have active construction sites from Marble Hill down to Chelsea in need of this outreach," said State Senator Robert Jackson.
"In light of recent construction-related fatalities in New York City, it is more important than ever that we implement measures to protect all employees working in this field. The City's call for a day of action to remind workers to get the proper training and mandate a specific amount of training are good steps in trying to curb future worker accidents. Legislatively, I am proud to have introduced Carlos' Law, which creates higher fines for corporations who ignore, disregard, or fail to comply with safety protocols," said Senator James Sanders Jr.
"Site safety inspections are critical to keep our construction workers safe. The city's effort to provide information to our workers, and especially those who are immigrants, will help inform about the need to be aware of construction safety issues and how to deal with them. With our large immigrant population in Sunset Park, I welcome city canvassers to our community to get the word out," said Assistant Speaker Felix W. Ortiz.
"This construction sight safety training will help protect workers and supervisors alike," said Council Member Daniel Dromm. "Everyone involved in this industry should be aware of the approaching December 1st deadline to receive this crucial training. I applaud the de Blasio administration for their dedication to this outreach effort. By educating the workforce, we will help make construction accidents and fatalities a thing of the past."
"With 12 construction-related deaths in New York City last year, it is more important than ever that we make sure all construction workers and supervisors are educated and informed of the proper safety protocols in their industry. Today's direct outreach in immigrant communities is an effort to ensure our city, and the workers who build it, are safe, secure, and in compliance with Local Law 196 of 2017," said Council Member Peter Koo.
"The Council has diligently worked with laborers in the construction industry to make safety an absolute priority," said Council Member I. Daneek Miller, Chair of the Committee on Civil Service and Labor. "Ensuring access to training for all communities, especially in neighborhoods with vulnerable worker populations, is paramount. This day of action, in conjunction with thoughtful community outreach and grant opportunities for smaller construction firms, will ensure that workers from all over the City are getting the critical information and support they deserve. As our city's unprecedented levels of growth continue, it is vital that we are using the most skilled and well-trained professionals on construction projects, and that we are affording workers the resources they need to perform their jobs in a safe manner and to the highest standards."
"On this Day of Action, we will come together, city agencies and day laborer centers, to ensure workers know of their rights and how to meet the new Site Safety training regulations," said Manuel Castro, executive director of New Immigrant Community Empowerment (NICE). "Making sure our communities have the right information is one of the most critical steps we can take. Too often, immigrant workers fall prey to unscrupulous actors and exploitative employers looking to take advantage of them, and so we must do everything in our power to ensure our communities are protected and informed."
"Catholic Charities and the Day Laborer Program is fortunate to be partnering with New York City agencies on this effort to make New York a safer city for workers and their families. We will join the efforts on November the 7th 2019 to reach the populations that build this great city and give New York its diverse flavors," said Juan Pablo Morales, Coordinator Day Laborer Program, Catholic Charities NYC.
"Citywide days of action and education are essential to making sure that New York City's construction workers and employers are doing everything they can to get in compliance with Local Law 196 and to create safer job sites throughout New York City. At NYCOSH, we train 15,000 workers throughout New York City and know how important it is to do this direct contact to reach vulnerable workers," said Charlene Obernauer, Executive Director, New York Committee for Occupational Safety and Health (NYCOSH).
"Worker's Justice Project members are committed to building a culture of safety in the construction industry in New York City. On this Day of Action, WJP members will partner with New York City agencies to raise awareness on the need to train workers in 30 hours of site-safety training by December 1, 2019. As we approach the new Site Safety Training requirement, we aim to continue collaborating with city agencies on holding employers and developers accountable for better workplace standards so that men and women who build our city can support their families and come home safely at the end of each workday," said Ligia Guallpa, Executive Director of Worker's Justice Project (WJP).
This Day of Action is the latest phase of the Administration's outreach and education efforts to inform workers, contractors, developers, and property owners of LL 196, which was fully implemented on September 1, 2020, requiring workers on major construction sites in New York City to have 40 hours of site safety training.
Previous outreach and education efforts have included numerous information sessions for stakeholders in the construction industry, direct worker outreach at work sites by DOB construction inspectors, and direct mailings to all safety professionals and LL 196 permit holders.
For more information about construction site safety, please visit nyc.gov/nycsafety
---