---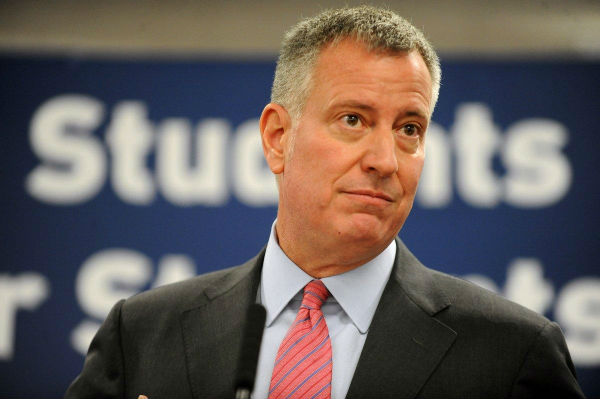 Mayor Bill de Blasio, Deputy Mayor Glen, and NYC Department of Small Business Services (SBS) Commissioner Gregg Bishop, today announced a new initiative to double the number of City University of New York (CUNY) students graduating annually with a tech-related bachelor's degree by the year 2022. The five-year, $20 million CUNY 2X Tech initiative brings together CUNY colleges and major employers to expand access to quality tech careers and meet industry needs.
According to most recent statistics, only 1,000 CUNY graduates earn tech bachelor's degrees annually and much more can be done to ensure that those who do are equipped with emerging skills and experiences needed to compete for entry-level jobs. Through $11 million in City funds and $9 million in Federal and private commitments, CUNY 2X Tech will help to build a world-class public higher education pipeline by enhancing classroom instruction, promote tech-specific advising, and provide tech majors with valuable on-the-job experiences to prepare a total of 7,500 students for post-graduation careers. Hunter College and Lehman College will be the first to receive $2 million each in funding for this initiative, with plans to expand it to six CUNY campuses in the coming years. Today's announcement was made at a summit featuring public and private partners in the CUNY 2x Tech initiative.
"Our students from CUNY have every bit as much to offer the tech industry as students coming out of Stanford and MIT," said Mayor Bill de Blasio. "We are adding classrooms and staff, building a bigger pipeline so more New Yorkers can land the jobs of the future."
"This new initiative opens the door for more New Yorkers to enter quality, well-paying careers in the tech sector while helping local companies find the home-grown talent they need to build their businesses," said Gregg Bishop, Commissioner of the NYC Department of Small Business Services. "Working together with CUNY and industry leaders, more New Yorkers will have a ticket to a middle class career in an important, rapidly growing industry."
Designed in partnership with NYC companies and academic leaders, CUNY 2X Tech will provide the following City and Private support in order to improve the retention and competitiveness of CUNY graduates and prepare them to secure and succeed in NYC tech jobs following graduation:
Updated Instruction through new faculty lines in industry-aligned fields and the launch of the Tech-in-Residence Corps, a first-of-its-kind municipal-industry-academic partnership designed to bring qualified industry professionals into the classroom to teach emerging tech skills. The inaugural corps consists of members who specialize in a range of tech professions at the following companies:
o LinkedIn, StreetEasy, EY, Citi, Credit Suisse, Etsy, AppNexus, Addepar, Fareportal, Adaptiv, Dstillery, JetBlue, Infor, Spotify, and Vimeo.
Tech-Specific Advising through dedicated tech academic advisors, who will help students navigate tech careers and the courses needed to pursue them, and career advising workshops.
On-the-job Experience through the expansion of the TTP Residency internship program and industry-led job-readiness workshops for students, including:
Facebook Above and Beyond CS (ABCS),
Facebook New York will host Above and Beyond CS (ABCS) – a series of workshops that reinforce essential technical computer science skills and mindsets, while emphasizing application and feedback, ongoing independent practice, and progress tracking. Designed to help emerging talent internalize the elements of an excellent technical interview, 40 students this fall will receive 20-30 hours of practice from September to December, identifying personal areas of strength/opportunity and developing a plan to prepare for interviews.
ZocDoc Technical Workshop, will help students build their technical proficiency and expand exposure to tech work environments.
MongoDB Project Sessions in which MongoDB will deploy engineers to work on live open-source projects with Computer Science majors across CUNY colleges.
Demonstrating the strength of the pool this initiative will seek to expand, in the past six months, graduates of TTP programs – including TTP Residency@ Queens College and TTP Residency @ Lehman College – have launched tech careers at the following companies:
Spotify, Google, Thrillist, Cablevision, Litify, Soundcloud, TripleLyft, Intrepid Pursuits, Accenture, ExpressScripts, JPMC, Viacom, Infor, NBC, Voss, IBM, Infosys, Swoup.com, Booz Allen Hamilton, ExeterNetworks Inc., Cerner Corporations, appFigures, Maxwell, CFRA, SRT Group, Bloomberg, TCS, Bluewolf, Markit
NYC-based tech companies, tech professionals, or computer science professors interested in becoming involved in this program may go to http://techtalentpipeline.nyc/cuny2xtech to learn more.
CUNY 2X Tech is an initiative launched by the City's Tech Talent Pipeline industry partnership. Over the past year, TTP has worked with industry partners and college leaders to design an initiative that responds to employer needs and accelerates the development of a world-class tech public higher education system. This initiative is an important component of the Mayor's "crayons to careers" tech pipeline, including CS for All, ASAP STEM, and the NYC Tech Talent Pipeline. The initiative is funded by a mix of federal and City funds.
"Lehman College is proud to participate in the CUNY 2x Tech Initiative, which will help us to increase our computer science majors, provide new educational opportunities for our students, and prepare them for careers in the growing tech sector in this great city," said Jose Cruz, President, Lehman College. "The CUNY 2x Tech effort also perfectly aligns with Lehman's 90×30 initiative, to double the number of marketable degrees and certificates we will grant by the year 2030. I thank the Mayor and all involved for making this happen."
"As the city becomes home to a growing number of tech companies with expanding needs for qualified workers, Hunter College is prepared to graduate double the number of students in these academic areas," said Jennifer J. Raab, President of Hunter College. "We are very excited about the opportunity this grant gives us to increase the number of internships and expand our advisory network of industry practitioners so that Hunter College will be a pipeline for graduates able to fill the city's needs."
"Viacom's partnership with Tech Talent Pipeline ensures we're recruiting and developing the brightest young minds of today to create and deliver the entertainment experiences of tomorrow for our audiences around the world," said David Kline, Chief Technology Officer at Viacom. "By proactively identifying talented individuals and playing an integral role in their education, Viacom is not only attaining the best talent but also guaranteeing exceptional students will have the chance to make a difference in the world of technology."
For more information on http://www.techtalentpipeline.nyc/
For more information on all SBS services, go to nyc.gov/sbs
Related Articles
---