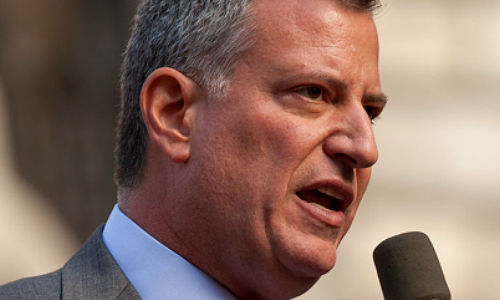 Mayor Bill de Blasio and Schools Chancellor Carmen Fariña today announced that students have continued to improve in the third year of the Common Core-aligned State English and math exams in school from Harlem to Hollis, Queens.
A larger percentage of students scored proficient in both English and math in 2015 compared to 2014, reflecting progress as the City continues its shift to Common Core-aligned instruction. City students narrowed their historic achievement gap with their New York State peers to its smallest ever in English – less than a single percentage point.
New York City also outperformed the state's other "Big 5" urban school districts, demonstrating the effectiveness of its Mayoral Control system and strategies to raise achievement.
In 2015, 35.2 percent of students met proficiency standards in math, up from 34.2 percent last year, while 30.4 percent of students met the standards in English, up from 28.4 percent last year. Additionally, the number of students scoring at Level 1 (the lowest level of proficiency) across New York City has also decreased by 7,000 students in English and 4,700 in math, while the number of students performing at Level 4 (the highest level of proficiency) increased. New York City students improved across all ethnic groups.
In the past year, the City has enacted reforms to increase accountability, improve instruction and raise achievement – including requiring all superintendents to re-apply for their jobs, providing 80 minutes of high-quality professional development each week for all teachers, and investing in meeting the whole needs of high-needs students at the City's 130 Community Schools including 94 Renewal Schools.
"This improvement represents painstaking work – student by student, classroom by classroom, and school by school. It's steady progress, and we are going to continue building on it. We've set the highest standards anywhere in the nation, and the reforms we are undertaking are giving students, teachers and families the tools they need to succeed," said Mayor Bill de Blasio.
"More New York City students are meeting the higher bar set by the Common Core standards, and that is a testament to the extensive work we've done to innovate and improve instruction across our schools," said Schools Chancellor Carmen Fariña. "I am confident that we'll build on this progress moving forward, as we continue to focus on Common Core-aligned professional development and instructional practice, strengthen schools through our new school support structure, and drive improvement across the critical elements of the Framework for Great Schools. While this progress is meaningful, we still have a lot of work to do to achieve our ultimate goal of putting every student on the path to college, meaningful careers, and a lifetime of learning."
Related Articles
---
---