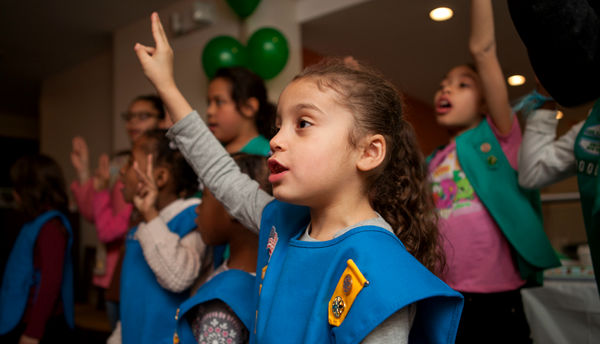 The de Blasio Administration today announced an investment of more than $1 million to expand Girl Scout Troop 6000, the first-in-the-nation Girl Scout Troop dedicated to serving homeless girls and women. Girl Scout Troop 6000, which serves homeless girls currently in the New York City shelter system, was established in March through a partnership between the City's Department of Homeless Services and the Girl Scouts of Greater New York.
Through this investment, Girl Scout Troop 6000 will be expanded across New York City—growing from 1 location to approximately 15 shelter sites for families with children. This expansion will give at least 500 girls and women the opportunity to participate in this program in its first full year.
"It was only a few months ago that Troop 6000 stole the hearts of New Yorkers and garnered support from people around the country," said Mayor Bill de Blasio. "The Girl Scouts of Greater New York embody the type of program this administration is dedicated to supporting, with the shared goal of helping young people build confidence and foster community support. Together with the Mayor's Fund, we are proud to expand and support Troop 6000, allowing more young homeless children to participate in a program that is helping them cope and deal with the challenges they face every day."
"I have fond memories of the lessons and teachings that the Girl Scouts provided me as a young child. Organizations such as the Girl Scouts provide the support and stability homeless children can benefit from, as well as the positivity and confidence required to handle tough situations," said Deputy Mayor for Health and Human Services Dr. Herminia Palacio. "With this new grant, we will be able to reach even more young people and help them cope with the everyday challenges homelessness brings. This administration is proud to support Troop 6000 on their journey of success."
"Earlier this year, the Scouts in Troop 6000 inspired all of us with their strength and positive attitude in the face of challenges like homelessness. Their heart, smarts, and spirit are a testament to the fundamental compassion of New Yorkers," said Department of Social Services Commissioner Steven Banks. "We are thrilled to expand this partnership, fostering a supportive community and giving more young New Yorkers the opportunity to join an organization that is so committed to engaging young people, teaching them to get involved and helping them grow into future leaders."
"Our city is strongest when every girl is given the tools and resources she needs to realize her dreams, and this partnership between the City, the Girl Scouts, and the Mayor's Fund will help make this a reality," said Gabrielle Fialkoff, Senior Advisor to the Mayor and Director of the Office of Strategic Partnerships. "By pairing the services and capacity of government with the focus and long-standing success of the Girls Scouts of Greater New York, we can provide residents of the shelter system the support they deserve to become the future leaders our city needs."
"Girl Scouting builds courage, confidence and character. We are thrilled to partner with the NYC Department of Homeless Services, the Girls Scouts of Greater New York, and local funding partners to bring this amazing initiative and the power of scouting to hundreds more girls and young women throughout our city's homeless shelter system," said Darren Bloch, Executive Director of the Mayor's Fund to Advance New York City. "The mentorship, resources and support this program provides will better equip these girls to reach their full potential and attain their dreams."
"We are grateful to Mayor de Blasio and Commissioner Banks for their investment in the expansion of Troop 6000," said Barbara Murphy-Warrington, CEO of Girl Scouts of Greater New York. "We know Girl Scouting prepares girls to lead and gives them the skills and confidence they need to relentlessly pursue their goals. We also know that adult troop leaders benefit personally and professionally. We can think of no greater calling as an organization than to provide our tried and tested programs to girls and women living in homeless shelters."
"I am honored and grateful to be part of the creation of Troop 6000 and its first leader. Having a Girl Scout troop in a shelter brings joy to girls, but more than that, it helps prepare them for success in school, in their communities and for the future," said Giselle Burgess, Troop 6000 Program Manager.
"The girls of Troop 6000 in Long Island City are our future engineers, doctors, lawyers, activists and community leaders," said Majority Leader Jimmy Van Bramer. "Last November, I joined the Girl Scouts of Greater New York to serve Thanksgiving dinner at a homeless shelter for women in Queens. It was there that we dreamed of a Girl Scout troop created specifically for homeless girls. Troop 6000 gives these girls a place to find lifelong friends and discover the beauty, power, and strength they have inside; it gives these girls a place to realize their dreams, find stability, and discover the strength they have inside to be whoever they want to be. I'm pleased with the Administration's $1 million commitment to help homeless girls throughout the City through the Girl Scouts. This money will help these girls realize their dreams. Helping to expand Troop 6000 is just about the most right thing I've ever been a part of, and I remain committed as ever to its expansion all across New York City."
Homelessness today is driven by years of wages not keeping up with the cost of housing. Families comprise nearly 70 percent of the Department of Homeless Services shelter census—and roughly one third of the shelter census is school-age children 17 years old and younger. Programming like the Girl Scouting engages young New Yorkers through positivity, promotes teamwork and preserves stability, strengthens the bonds of community between young New Yorkers experiencing homelessness, and demonstrates the importance of ongoing community involvement. Research has shown that Girl Scout alumnae have a stronger sense of self, achieve higher levels of education, and are more likely to reach a higher socio-economic status. Through innovative partnerships and supportive programming like this, the Department of Homeless Services is offering new opportunities to homeless New Yorkers, improving the experience for families with children during challenging times, and helping to turn the tide.
This 3-year grant utilizes funding provided by the Department of Homeless Services and the Mayor's Fund to Advance New York City, and will be managed in partnership with the Girl Scouts of Greater New York. Over the next three years, DHS will provide $320,000 annually and the Mayor's Fund will provide $55,000 annually, totaling $1,125,000 for this expansion. Coupled with additional funds raised by Girl Scouts of Greater New York from private sources, the funding from DHS will cover membership fees and troop dues, starter kits for the girls, which include vest, pins, and workbooks, as well as program supplies and financial aid for summer camp and other opportunities. The investment from philanthropic and private sector partners through the Mayor's Fund will provide for a social worker who will help oversee the program, based out of the Girl Scouts of Greater New York.
---
---
Each week, Troop 6000 will meet in shelters across the city, led by trained troop leaders—women also living in the shelter system. To accommodate the mobility of these girls and women, troop leaders and girls alike will be able to attend meetings at any shelter knowing that they are all already part of the same welcoming troop.
DHS will announce the additional sites as they launch, with plans to begin expanding Troop 6000 to new sites in October, 2017.
To contribute to the expansion of Girl Scouts Troop 6000, visit: http://nyc-csg-web.csc.nycnet/site/fund/initiatives/support-girl-scout-troop-6000.page.
To contribute to the Girl Scouts of Great New York, visit: https://www.girlscoutsnyc.org/donate.
"I am thrilled to see the City and the Mayor's Fund come together with the Girl Scouts of Greater New York to expand the incredible success story that is Troop 6000," said Brooklyn Borough President Eric Adams. "We cannot underestimate the value that this community-building initiative has had on empowering young people in true search of empowerment. In Brooklyn, we are looking to change the conversation on our homelessness crisis, to raise the voices of empathetic New Yorkers who want to support their neighbors in need. This announcement further fuels that shared mission. The values of scouting, as imparted through Troop 6000, will have an immeasurable positive impact on the lives of girls and women in shelters across our borough."
"Our young women are our future," said Council Member Stephen Levin. "This special collaboration between Girl Scout Troop 6000 and the City's Department of Homeless Services will continue to prove what so many have learned through the program – given the chance, there is nothing women cannot accomplish. I'm heartened by the values this partnership will continue to foster in the lives of our young people, and I look forward to the impact these young leaders will have on our City."
No related posts found...
VIDEO
---
Harlem Cultural Archives is a donor and foundation-supported Historical Society, Its mission is to create, maintain and grow a remotely accessible, online, interactive repository of audio-visual materials documenting Harlem's remarkable and varied multicultural legacies, including its storied past as well as its continuing contributions to the City and State of New York, the nation, and the world.
Support Harlem Cultural Archives
and
click here to get more Harlem History
, Thank you.