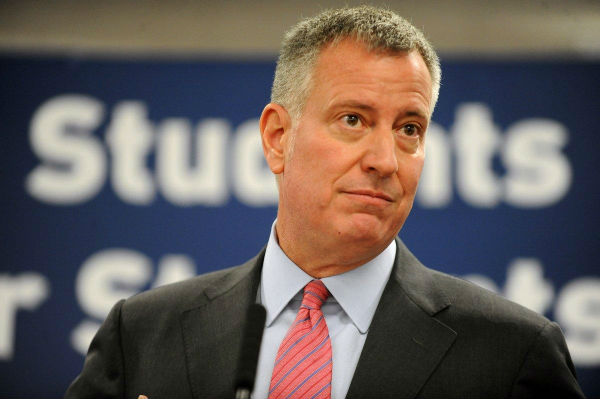 Mayor Bill de Blasio and the Office of Minority- and Women-Owned Business Enterprises (M/WBEs) today announced a new community partnership to boost City contracting opportunities for M/WBEs. The City is working with community partners to help M/WBEs get certified or re-certified as an M/WBE contractor, working with them to offer advice on how these firms may best compete for contracts.
All registered M/WBE contractors appear in the NYC Business Directory that City agencies use to select contractors for various services. The City and its partners will coach M/WBE firms on how to improve their directory profiles to stand out and be most competitive. This new program is part of Mayor Bill de Blasio's historic commitment to M/WBEs that aims to award 30 percent of City contract dollars to M/WBEs by 2021. The partnership also will help keep the City on track to reach its OneNYC goal, which is to award $16 billion dollars to M/WBEs by 2025.
"This new partnership will ensure that all businesses and firms led by diverse individuals have the chance to compete for City contracts," said Mayor Bill de Blasio. "We know that when all people – regardless of race, gender or ethnicity – have the proper resources to reach their full potential, communities across the five boroughs will reap the benefits of their success."
"Certification is an important first step towards participating in the City's procurement process. By drastically increasing the number of certified M/WBEs, ensuring they can access our capacity building services and making it easier for City agencies to identify M/WBEs they can and should be doing business with, we can expand opportunity and award more City contracts to M/WBEs than ever before. This partnership demonstrates that we can make New York a fairer place to do business – a place where everyone can succeed," said Richard Buery, Deputy Mayor for Strategic Policy Initiatives and Citywide M/WBE Director.
"This new partnership will perform mission critical work in helping M/WBEs compete for and win contracts with the City. For some of these businesses, a simple profile reboot can mean the difference between securing a rewarding City contract and missing out on a business opportunity," said Jonnel Doris, Senior Advisor and Director of the Mayor's Office of Minority- and Women-Owned Business Enterprises. "By helping us tap into the existing pool of entrepreneurial talent – which we know runs very deep in New York City – these new partners will expand the work of M/WBEs citywide and remove barriers to entry, keeping us on pace to meet the 30 percent contracting goal."
"City contractors should reflect the diverse talents and skills of all of our people, and that is why Mayor de Blasio has made a historic commitment to expanding contracting opportunities for minority- and women-owned businesses," said Gregg Bishop, Commissioner of the Department of Small Business Services. "Through this new partnership, we are working with partners in each borough to help M/WBEs highlight their services and best compete for City contracts."
The City is working with 5 community partners, one per borough, to reach local minority- and women-owned businesses through events, workshops and counseling. The program will help these businesses get certified as a designated M/WBE contractor and help them better compete for City contracts. The initiative will help M/WBE firms improve their NYC Business Directory profiles by honing in on each firm's strongest areas of expertise. City agencies often seek providers who specialize in specific services instead of those who list a large variety of general services. Through coaching and support, firms will be able to make clear how they can best serve as a City contractor.
M/WBE businesses seeking assistance with certification, recertification, or building their business profile may contact the community partners listed below:
State Senator James Sanders Jr. said, "Part of the reason M/WBEs have a hard time getting their fair share of City contracts is because they are not properly certified and their skills aren't adequately promoted. This new partnership is a worthy step forward in remedying these problem areas. As the father of M/WBEs, having authored Local Law 1 and Local 129, during my time in the City Council, I support the City's commitment to helping these businesses realize their full potential. Moving forward, I will continue to work with the Mayor and his Administration to ensure that the percentage of contracts awarded to M/WBEs climbs higher.
"Promoting minority- and women-owned businesses strengthens our local economy and makes our city more equitable," said State Senator Leroy Comrie. "I am glad to work alongside the Department of Small Business Services to expand opportunities for the many M/WBEs in the 14th Senatorial District."
Assembly Member Michael Blake said, "We commend efforts such as this partnership and appreciate the selection of a leader in providing opportunities in SoBRO. My office supports the continued investment in programs centered around M/WBEs as they work to expand the economic opportunities available to our predominantly communities of color. This collaboration provides economic development, which leads to jobs and opportunities, and opportunities that continue #BuildingABetterBronx."
"I continue to salute Mayor de Blasio and his Administration for their ongoing efforts on behalf of M/WBE's. This latest service continues that effort, and with a noteworthy organization in my borough, SOBRO, which has been working successfully since 1972 to bring businesses and jobs to the borough," said Assembly Member Luis Selpulveda.
---
---
"Having hosted several M/WBE forums in my district, I have seen firsthand how a one-on-one consultation can help these entrepreneurs become certified, and having a dedicated person for every borough will only help to remove the barriers they currently face" said Council Member I. Daneek Miller. "The Mayor's goal of awarding 30 percent of all contracts to M/WBEs will help ensure those who helped to build communities throughout the City will also benefit from the projects the City is implementing and I applaud him and Commissioner Gregg Bishop for these efforts."
"This is government doing its job," said Council Member Helen Rosenthal. "I look forward to working with SBS on a regular basis, reaching out to the certified minority- and women-owned businesses on the Upper West Side, helping them maximize their competitive edge and encouraging other M/WBE's to become certified."
"In order to better support the growth of small business in New York City, we have to increase the resources available to Minority- and Women-Owned Business Entreprises. These hard working entrepreneurs are often faced with greater challenges that can impede their dreams of prosperity. This initiative will be a much needed boost to M/WBEs who are working to secure city contracts, but may fall short because they lack proper certification. We want diverse businesses to operate on a level playing field, and this new partnership will significantly improve their ability to do so," said Council Member Mathieu Eugene.
"We are happy and proud to be a part of an administration that is helping our city's M/WBEs. We look forward to sharing this initiative with the 36th District's business community," said Council Member Robert E. Cornegy.
"Strengthening our M/WBEs has profound benefits that reverberate through our City," said Council Member Corey Johnson. "When minority- and women-owned businesses in New York succeed, it further establishes our City as the best place in the world to find opportunity and a cutting-edge work environment. New Yorkers can be proud of the extraordinary effort that Mayor de Blasio and Commissioner Bishop are putting into our M/WBEs, and I thank them for their great work."
For more information on all SBS services, go to nyc.gov/sbs 
Related Articles
---