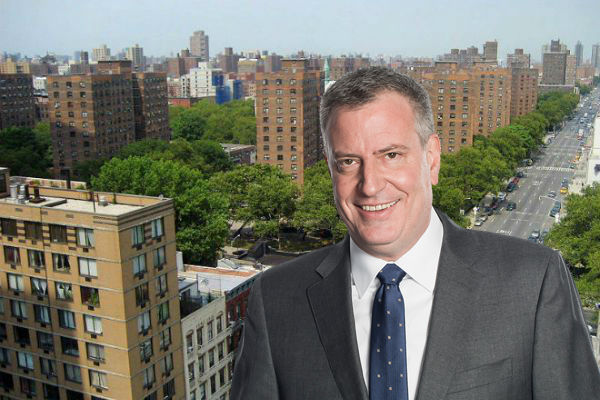 Mayor Bill de Blasio announced today that ParkNYC, a new and convenient way to pay for on-street parking in New York City, is now available to drivers in all five boroughs with this week's activation of the program in Queens. Implemented by DOT and operated by private vendor Parkmobile, LLC, ParkNYC allows motorists to pay for parking remotely using an app on their mobile phone. An online system links registered license plate numbers to NYPD traffic enforcement agents' handheld devices that confirm payment.
"In last year's State of the City, we promised pay-by-cell at every metered parking space in New York City, and we have delivered" said Mayor Bill de Blasio. "We know that especially here in Queens, parking can be a challenge, but ParkNYC now makes it a bit easier — with no paper receipt and the ability to quickly get on your way. Now that mobile payment is live everywhere, I encourage drivers to give it a try by downloading the easy-to-use app onto their phones."
At today's event, part of City Hall in Your Borough in Queens, Commissioner Polly Trottenberg of the Department of Transportation used a smartphone to demonstrate ParkNYC at a metered spot along 108th Street in Forest Hills.
"We are excited to bring ParkNYC to Queens, and thrilled that mobile payment is now available at every metered parking space in every borough," said DOT Commissioner Polly Trottenberg. "Now drivers no longer have to scramble for change, and they don't even need to walk to a Muni-Meter to get a receipt that could blow away from their dashboard. With no added fees, mobile alerts that let you know when time is running out on your spot, and the ability to extend a parking session without returning to the car, ParkNYC offers a great convenience to New York drivers."
"Parking just got a lot easier in Queens," said NYPD Chief of Transportation Thomas Chan. "ParkNYC" eliminates the hassle of the muni-meter transaction, providing the public with an easier option than the current payment system."
Mayor de Blasio committed to Citywide pay-by-cell in his State of the City address in February, 2016. This week's activation of ParkNYC in Queens completes a phased rollout that began last December, when the City launched the service between 14th and 59th Streets in Manhattan. New signs and decals identify each block-side with a distinctive six-digit zone code that is used for app payment.
The ParkNYC mobile app is available for download at no cost for iPhones in the App Store and for Android at Google Play. The website www.parknyc.org includes more information about registration and FAQs and can also be used for remote payment without downloading the ParkNYC app. Transactions can also be made by voice call to an automated phone system.
The process for using ParkNYC is simple:
1. Download the ParkNYC app or go to www.parknyc.org to register an account.
2. Enter personal information including phone number and email; create a password.
3. Provide a license plate number for the account and set alert/notification preferences.
4. Load your wallet. A ParkNYC wallet works like EZPass, and can be reloaded in increments as low as $25. Once registered, drivers may use the mobile app, internet or a toll-free number to pay for parking.

5. Park. After parking, enter the unique zone number for block and length of time. After confirmation, the driver is set.
6. Extend. If time is running out and maximum time has not already been reached, parking time can be extended without returning to the car.
While ParkNYC offers a new option for parking payment, Commissioner Trottenberg noted that DOT Muni-Meters will continue to accept coins and credit/debit cards for payment for customers who do not wish to use the new service. Parking rates and time limits are block-side-specific and will remain unchanged for all payment methods.
"ParkNYC makes it easier for drivers to manage time on parking meters from the palms of their hands," said Jacques Jiha, Commissioner of the Department of Finance, which collects parking fines and adjudicates violations. "This app will greatly reduce the anxiety and frustrations with miscalculating time on the meter."
"So many Queens residents rely on a car — especially those without access to transit — to get around our Borough, and parking is always a challenge," said Queens Borough President Melinda Katz. "ParkNYC's mobile payment system is a useful tool to help make that day to day struggle a little bit simpler. Now with the expansion of ParkNYC to Queens, it's easier than ever to shop and dine at Queens' shops and restaurants just a little bit longer and enjoy the World's Borough even more."
"I applaud DOT Commissioner Trottenberg and Parkmobile, LLC for working together to make the ParkNYC mobile app available in all the five boroughs," said Brooklyn President Eric L. Adams. "This innovative use of civic tech addresses a longstanding problem facing drivers in our city. Its features will make the make the lives of countless New Yorkers easier."
"The work of modernizing government services is endless, but this is another good step forward," saidManhattan Borough President Gale A. Brewer. "I'm sure anyone who's struggled with broken muni-meters will be thrilled as this program makes parking more user-friendly."
"The ParkNYC program is a strong step toward a smarter city," said Council Transportation Chair Ydanis Rodriguez. "I am proud to be a longtime supporter of pay-by-cell technology and it is so great that DOT has completed the installation of this helpful system. Now that drivers don't have to leave their home, job or time with friends and family to feed the meter, we'll see happier New Yorkers across the city. This will help both drivers and the city better manage our metered parking spots and create new opportunities to improve parking in the city going forward."
"Through the ParkNYC app, the City eliminates the hassle of fumbling through your pockets to pay the meter, digitizes receipts, and allows drivers to extend parking time without having to return to their cars," said Council Member Margaret Chin. "For busy New Yorkers, every spare minute is invaluable, and this app will help drivers save time and money. Thank you to Mayor de Blasio and Commissioner Trottenberg for making good on their promise to bring this technology available to parking meters citywide and for making the parking experience easier."
"Even though I do not drive a car, the convenience being afforded by this new technology is self-evident," said Council Member Karen Koslowitz. "I congratulate the Mayor and Commissioner Trottenberg on this advancement that they are bringing to Queens."
"When it comes to parking in our city, every little bit helps," said Council Member Stephen Levin. "It's great to see innovation make the everyday lives of New Yorkers easier. Rolling out ParkNYC to every borough is no small task, but I hope we continue to invest in programs and technologies for the benefit of our community."
"We are proud to work with NYC on the program and we look forward to expanding the program to drive more innovation and convenience to the city and its residents, said Jon Ziglar, CEO of Parkmobile, the vendor operating ParkNYC. "New York joins the over 250 cities and over 6 million people nationwide that use Parkmobile and we look forward to working with the Department of Transportation to further innovate and expand convenience for people in the largest parking market in North America."
For more information, visit us at www.parkmobile.com
Related Articles
---
VIDEO
---
"We re-imagine, recreate, and redeem cultural omissions and misrepresentations of Blackness, for the culture. ...." This post is made in partnership with British Pathé.