---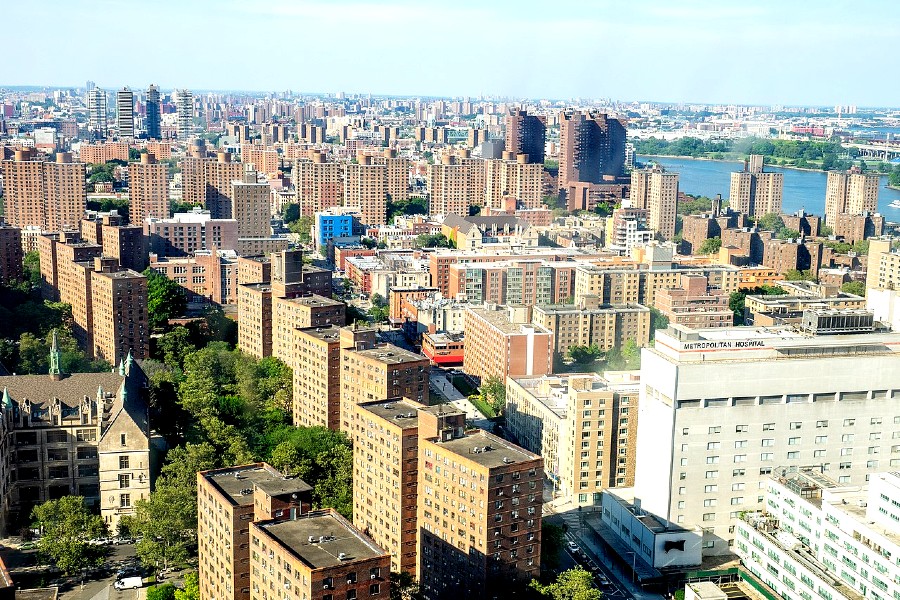 NYC Mayor Eric Adams and NYC Department of City Planning (DCP) Director and City Planning Commission Chair Dan Garodnick today unveiled "City of Yes for Economic Opportunity."
A proposal that would change zoning citywide to support new and growing small businesses, create family-sustaining jobs for New Yorkers, and promote an inclusive and more equitable economic recovery for the city. The plan would allow for the largest expansion of space available for small-scale producers like clean manufacturers and microbreweries in 60 years, foster growth for more than 17,000 businesses in industrial areas currently prevented from adding square footage, and eliminate outdated rules that ban dancing in restaurants and venues in commercial zones.
City of Yes for Economic Opportunity would double the space available to growing clean manufacturing businesses — expanding that area by more than 14,000 acres (approximately the size of Manhattan). The proposal would also create a process to allow new corner stores to open in residential areas. More than 250,000 New Yorkers currently live in areas where a new corner store cannot be located within a quarter mile.
"The 'City of Yes' is all about making New York City the place to be, and this plan doubles down on that," said Mayor Adams. "Last year, I said New York City would lead the nation's economic recovery by transforming into a City of Yes. Now, we've regained 99 percent of the jobs lost during the pandemic because we're supporting new small businesses and making it easier for others to grow. With our administration's vision, New Yorkers and visitors alike will be able to dance, laugh, and have a beer; businesses will grow and create good jobs; and fun will drive an inclusive recovery for our city."
"With the 'City of Yes for Economic Opportunity,' we're pushing full steam ahead on the city's economic recovery and growth by changing outdated zoning requirements that are preventing our businesses and commercial corridors from reaching their potential," said Deputy Mayor for Economic and Workforce Development Maria Torres-Springer. "Through 18 policy changes, we'll allow small businesses more opportunities to grow and expand, and we will strengthen commercial corridors that have experienced vacancy during the pandemic. We'll also support our entertainment and innovation sectors that are home to so many of the city's jobs and future growth. We look forward to robust public engagement in the months to come and working with stakeholders to get to a yes on economic opportunity."
"These critical measures will speed up New York City's post-pandemic economic recovery, and we are eager to share them with New Yorkers," said DCP Director and CPC Chair Garodnick. "We look forward to soliciting feedback and to formalizing our plans over the coming months."
An illustration of the ways City of Yes for Economic Opportunity will support small businesses, create good jobs, and promote an inclusive economic recovery. Credit: New York City Department of City Planning
City of Yes for Economic Opportunity focuses on four pillars to drive an equitable New York City economy: revitalizing commercial corridors, filling vacant storefronts, investing in key growth industries, and modernizing use regulations. In particular, the proposed zoning changes will eliminate barriers to growth for entrepreneurs and key industries — complementing key investments in neighborhoods, small businesses, and community corridors.
The proposed text amendment includes 18 policy changes that would expand options for businesses to locate near their customers, support growing industries and sectors, foster vibrant neighborhoods and commercial corridors, and provide businesses more certainty and clarity with updated zoning rules.
Among these 18 changes are policies to:
Implement the largest expansion in 60 years of space available for small-scale, clean manufacturing, allowing small producers like microbreweries, apparel makers, and ceramic shops to open and grow in commercial corridors in all five boroughs for the first time — more than doubling the space available for these businesses;
Create a process to allow new corner stores in residential areas, with 265,000 New Yorkers currently living in areas where a new corner store could not be located within a quarter mile of their home;
Create new zoning tools allowing the more than 17,000 businesses in industrial areas that are currently prevented from adding space under existing zoning to grow their businesses;
Expand the number of businesses able to open in ground- and upper-floor spaces;
Eliminate outdated rules that prohibit dancing, comedy, and music in restaurants and venues in commercial areas;
Update 1960s-era rules that limit where amusements are allowed, so experiential retail and family-friendly activities can be located closer to where New Yorkers live;
Modernize how zoning regulates laboratories so life sciences research can flourish in offices and near universities and hospitals;
Remove outdated impediments for indoor urban agriculture, including indoor cannabis growing for businesses with the appropriate state and city licenses;
Take advantage of the great economic opportunity casinos offer New York City by working with the City Council in New York state's siting process;
Fill vacant storefronts by fixing 70-year-old rules that ban businesses from setting up in certain, long-term vacant storefronts;
Modernize home business regulations to allow a wider range of businesses, including barbers and interior designers, to be based in homes;
Jumpstart local small businesses by helping them expand local delivery capacity;
Facilitate adaptive reuse of commercial buildings by modernizing loading dock rules; and more.
"Mayor Adams' 'City of Yes' vision breaks down outdated barriers, removes confusing and unnecessary restrictions, and opens up opportunity in our commercial neighborhoods," said New York City Department of Small Business Services Commissioner Kevin D. Kim. "One-in-nine businesses in New York City started in the last year, and these future-forward zoning changes will help them expand their services — and open new storefronts. From more diverse and dynamic commercial corridors to revitalized storefronts and more comedy shows at bars and restaurants, there are dozens of reasons for business owners and all New Yorkers to celebrate these reforms."
"The Office of Nightlife (ONL) at the Mayor's Office of Media and Entertainment is proud to support the 'City of Yes' reforms, which will change current zoning laws to remove restrictions on social dancing. This change marks the end of the outdated Cabaret Laws, fulfilling a key priority from ONL's 2021 recommendations report and leveling the dance floor across New York City," said Mayor's Office of Media and Entertainment Commissioner Anne del Castillo. "Dance is a foundational element of New York City's vibrant nightlife scene, which is central to our culture and our global identity as a creative capital. We are grateful for the diligent work of our city partners and advocates across the nightlife community who continue to push for equal access to dancing for all New Yorkers. This process is the culmination of all our collective efforts."
"COVID-19 greatly affected our food system and our food entrepreneurs, but we also saw incredible adaptations as more businesses began growing and producing as well as selling food in New York City storefronts," said Mayor's Office of Food Policy Executive Director Kate MacKenzie. "We are excited to partner with DCP on making it easier to grow food in the city and make the important zoning fixes that will help tens of thousands of food-related businesses in the city grow, thrive, and adapt."
"These zoning improvements will make it easier for indoor and outdoor urban farmers and producers to navigate zoning requirements; remove barriers to entry for food-based businesses; and spur small-scale, hyper-local food production in the city," said Mayor's Office of Urban Agriculture Executive Director Qiana Mickie. "These changes can advance a more diverse and thriving food and agriculture ecosystem for all New Yorkers."
City of Yes for Economic Opportunity is the second of three citywide zoning proposals that make up Mayor Adams' City of Yes plan, announced in June 2022. The first proposal, "City of Yes for Carbon Neutrality," began public review in April 2023 — and community boards across the city have already begun to vote in support. Preliminary information about the third proposal, "City of Yes for Housing Opportunity," is available online. All three proposed text amendments, following their respective public review processes, must ultimately be approved by the New York City Council.
The City of Yes for Economic Opportunity plan builds on the Adams administration's major efforts in communities across the city to update zoning, spur economic recovery, and create affordable homes. Mayor Adams' vision for the transformation of Willets Point would create 16,000 jobs and add over $6 billion to the city's economy, while his plan with New York Governor Kathy Hochul for the first-of-its-kind job SPARC Kips Bay life sciences hub will create another 12,000 jobs and $25 billion in economic activity. These efforts also complement the Adams administration's community planning efforts in the East Bronx, Central Brooklyn, the North Shore of Staten Island, Midtown South, and Jamaica.
DCP held the first information session about City of Yes for Economic Opportunity on June 13th at 7:00 PM to provide New Yorkers with an opportunity to ask questions and hear more details about the initiative. Information on upcoming sessions will be available online.
Public review for the zoning text amendment will begin after formal referral this fall. The text amendment will go before all 59 community boards and all five borough presidents and borough boards for recommendations. Afterwards, it will go before the City Planning Commission for a public hearing and vote, followed by a hearing and vote in the City Council.
"Creating opportunities for economic growth is essential for the future prosperity of New York City," said Bronx Borough President Vanessa L. Gibson. "The Zoning for Economic Opportunity proposal is the second step in Mayor Adams' 'City of Yes' zoning changes, and I applaud both Mayor Adams and DCP Chair Dan Garodnick for their efforts. These proposed zoning changes will cut red tape for small businesses, allow more flexibility on where certain commercial uses can be located, and help to create a more vibrant New York City by removing the remnants of cabaret rules that still remained even after I helped repeal them in 2017 while at the City Council."
"Small businesses are essential to resilient, vibrant neighborhood commercial corridors and a critical component of New York City's economic health," said Kathryn Wylde, president and CEO, Partnership for New York City. "The City of Yes for Economic Opportunity zoning proposals will help our local businesses to grow and thrive by modernizing zoning rules to be clearer and more flexible."
"If you've ever danced in a bar in New York City, you've broken the law — ridiculous, right?! Ending that is just the tip of the iceberg of the commonsense solutions contained in these new City of Yes for Economic Opportunity proposals," said Carlo A. Scissura, Esq., president and CEO, New York Building Congress. "It's time to remove unnecessary limitations and arbitrary building reuse requirements. Zoning flexibility is key to the development we need right now amid crushing housing and affordability crises. At the same time, small businesses are the beating heart of this town — and these proposals give them the support they need to grow and thrive and help this city continue its equitable, inclusive, and resilient recovery."
"Now that the historically discriminatory Cabaret Law was repealed, we applaud Mayor Adams for taking the next critical step to eliminate the dancing prohibition at so many of our city's restaurants, bars, and nightclubs," said Andrew Rigie, executive director, New York City Hospitality Alliance. "This is not 'Footloose,' and the city should not be telling businesses their customers can't dance; rather they should encourage self-expression through dance and support our small businesses, while implementing proper safety protocols and policies at our local venues. We look forward to working with Mayor Adams' administration, Director Dan Garodnick of the Department of City Planning, and the City Council to get our city's groove back."
"The City of Yes proposal will have a transformative impact on the Bronx business, makers, creatives, and entrepreneurial community," said Lisa Sorin, president, The Bronx Chamber of Commerce. "Many of the amendments seek to make sense of antiquated zoning measures and embrace the cultivation of street activity while promoting small businesses and makers. The Bronx Chamber team has worked with DCP since the exploration process started, and we are pleased to see this proposal come to fruition as it will enhance economic opportunities for all New Yorkers."
"Outdated zoning laws make it difficult for small businesses to operate and thrive. The Brooklyn Chamber applauds the city's plan to modernize zoning, including in industrial areas, in a way that is inclusive and fosters economic development," said Randy Peers, president and CEO, the Brooklyn Chamber of Commerce. "These improvements are a welcome change in Brooklyn and will help speed the recovery of the borough's most underserved neighborhoods."
"Small businesses create jobs in every corner of our city and add to the unique character of each of our neighborhoods," said Thomas J. Grech, president and CEO, Queens Chamber of Commerce. "The City of Yes for Economic Opportunity initiative will remove outdated regulations — allowing small businesses to grow and thrive, driving our city's economic recovery, and ensuring that economic opportunity reaches all New Yorkers. The rest of the nation is not standing still, waiting for us to act. We here in Queens are grateful for the efforts of Mayor Eric Adams and DCP Director and City Planning Commission Chair Dan Garodnick for this critical initiative."
"It's refreshing to see a focus on flexible zoning as part of the Department of City Planning's City of Yes for Economic Opportunity approach," said Linda Baran, president and CEO, Staten Island Chamber of Commerce. "Modernizing rules to foster more diverse uses, improving our streetscapes, and creating vibrant neighborhoods are key to supporting our growing industries. Current rules can be confusing — a better understanding of uses will improve outcomes and provide an opportunity for many small businesses throughout the city."
---