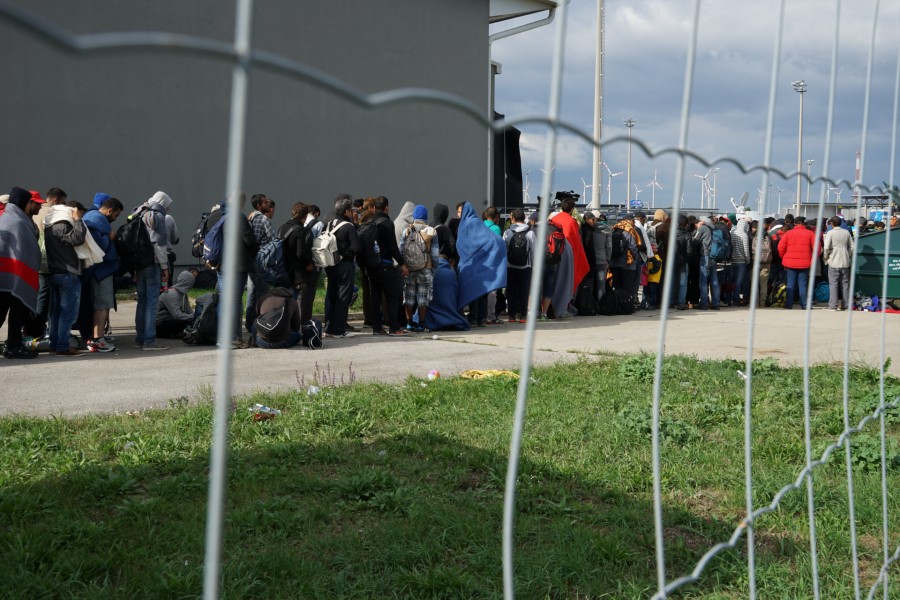 New City Mayor Eric Adams today released "The Road Forward: Blueprint to Address New York City's Response to the Asylum Seeker Crisis."
A comprehensive approach outlining the next phase of the city's response to the unprecedented humanitarian crisis resulting from the surge of asylum seekers arriving in the five boroughs since last spring. As the number of asylum seekers arriving in New York City since last April tops 50,000 — with more than 30,000 currently in the city's care — Mayor Adams announced he will create the Office of Asylum Seeker Operations (OASO) to focus solely on coordinating the city's continued response with a focus on resettlement and legal services, as well as a new 24/7 arrival center for asylum seekers. The blueprint also outlines new strategies the city will pilot to train asylum seekers for employment, including a program with houses of worship to provide asylum seekers with a place to stay and connection to services, in addition to a partnership with SUNY Sullivan to provide job training and housing for asylum seekers as they await work authorization. Finally, the city will continue to advocate for the state and federal governments to provide additional financial and operational support to better manage the asylum seeker crisis moving forward.
"Over the past year, New York City has faced an unprecedented humanitarian crisis caused by global forces beyond our control," said Mayor Adams. "We have moved mountains to help the tens of thousands who arrived as our shelter population has increased at a dramatic rate. As we continue to respond, I'm proud to announce, "The Road Forward," our blueprint to address the asylum seeker crisis and outline the work that lies ahead. New Yorkers know that the asylum seeker of today is the citizen, the leader, and the innovator of tomorrow, and I'm proud that New York City is leading the way, turning a crisis into an opportunity for progress for the entire country."
"The Asylum Seeker crisis has challenged so many of us in various ways – and the city's response has been and continues to be laden with care and compassion," said First Deputy Mayor Sheena Wright. "Our blueprint is a plan for how we will move forward together, and I implore everyone at all levels to help however you can. This affects us all, and together is how we can best navigate this crisis."
"Throughout this crisis, the city has worked to center our services with dignity, respect, and care for every individual, family, and child," said Deputy Mayor for Health and Human Services Anne Williams-Isom. "Whether helping children receive needed vaccinations, assisting with school enrollment, or providing vital legal information, the city and our partners in the non-profit, faith-based, and private sector continue to step up and meet the needs of asylum seekers every day. This blueprint lays out the work to date and, more importantly, charts a path forward. The work ahead remains an ongoing, complex, interconnected set of issues that will take support from our state and federal partners, and all sectors of society. Thank you to our teams and partners that continue doing the work 24/7 to support our newest New Yorkers."
New York City has stepped up throughout this crisis, handling an unprecedented arrival of asylum seekers, largely on its own. While more than 50,000 asylum seekers have moved through the city's intake system since last spring, currently, New York City is providing a place to stay for more than 30,000 asylum seekers — more than any other city in the nation. Last year, the city launched a swift, coordinated multi-agency effort to provide basic needs and services to the tens of thousands of asylum seekers arriving, providing shelter, food, clothing, access to health care, legal information, education, and more. The city launched the Asylum Seeker Resource Navigation Center and satellite sites, which have now served more than 14,000 asylum seekers, providing casework, legal, medical, and school enrollment, as well as a range of other services. The city has also already opened 92 emergency shelter sites and currently has open seven Humanitarian Emergency Response and Relief Centers that provide asylum seekers with a place to stay, and, through Project Open Arms, the city has enrolled more than 13,000 students in temporary housing since last summer.
Led by the newly created OASO, New York City will transition from an emergency response-approach to a steady state-approach in an effort to continue managing the response to the unprecedented asylum seeker crisis. OASO will manage a new, centralized 24/7 arrival center that will replace the Port Authority as a primary destination for asylum seekers when they arrive. This will enable experienced community-based providers that have been working around the clock on the ground to work in coordination more closely. OASO will also oversee inter-agency coordination, manage advocacy to state and federal governments, and lead the following initiatives to help newly arrived asylum seekers chart a course towards self-sufficiency and long-term resettlement:
Emergency Housing, Long-Term Housing, and Resettlement: The city will explore potential short- and long-term strategies regarding housing, including partnerships with religious institutions and exploring innovative ways to finance new affordable housing. The city is also launching an innovative pilot with The Center for Discovery and SUNY Sullivan to offer 100 asylum seekers the opportunity to live at the SUNY Sullivan campus and receive workforce training as they move through the federal work authorization process. Finally, the city will engage national non-profits and houses of worship to offer asylum seekers a wider array of relocation choices, including pre-vetted cities and municipalities that welcome asylum seekers.
Workforce Development: Currently, asylum seekers are federally mandated to apply for work permits, which can mean years of waiting before a permit is granted and issued. As the city continues to advocate for changes on the federal level to expedite work authorizations, the city will help asylees understand the process to move as quickly as possible through it, and ensure they are ready to obtain employment when they are legally authorized to do so. The city will launch a workplace rights campaign to reduce misinformation, create a mentorship program that connects asylum seekers to more established immigrants, and develop partnerships with organizations to identify asylum seekers who are now eligible for work permits. In addition, the city will provide Occupational Safety and Health Administration training in a variety of in-demand industries, including health care and construction, to further prepare asylum seekers for employment.
Legal Services: To ensure asylum seekers are equipped to better navigate the immigration process and avoid immigration services fraud, the city will develop a centralized entry point system to help asylum seekers navigate the federal immigration process. This will include a coordinated strategy to ensure asylum seekers are aware of important dates and deadlines regarding their case, and connections to appropriate services, such as orientation sessions and pro se (self-help) application assistance events.
Engaging All New Yorkers: Faith-based groups, community organizations, and philanthropic and corporate partners, as well as everyday New Yorkers have stepped up since the beginning of this crisis, providing support in the form of food, clothing, shelter, information, workforce development, health care, education, language instruction, job training, resources, and more. The city will hold a series of roundtables with stakeholders to learn directly from them and devise new ways they can participate. Additionally, the Mayor's Fund to Advance New York City's Asylum Seeker Relief Fund will continue working to raise $25 million from philanthropic organizations and corporations to support the city's collective response.
Interstate and Interagency Coordination and Engagement: OASO will convene other cities and localities facing similar issues to advocate for more decisive action on the federal level to address the asylum seeker crisis. This unified coalition will call on the federal government to provide more support and resources, while also working to ensure asylum seekers have information about resources available to them. The OASO will also work with cities at the southern border to dispel misinformation about what New York City can and is actually offering to those arriving and ensure those seeking asylum receive accurate information.
The city will also continue to advocate for changes on the federal and state level to help manage this crisis. On the federal level, the city will advocate for:
An expedited right-to-work policy so asylum seekers are able to gain employment;
A decompression strategy that includes evaluating asylum claims and establishes plans for each migrant's arrival, including a clear and efficient pathway to lawful residency; and
Reimbursement of funds already spent, as well as adequate funding moving forward, and a declaration of a federal emergency to unlock additional funds and operational abilities.
On the state level, the city will:
Advocate for the declaration of a statewide emergency;
Continue to support the creation of a new portable housing voucher program; and
Continue to ask the state to locate, run, and operate sites outside of, and within, New York City to provide short- and long-term housing and shelter to asylum seekers.
"Since last year, New York City mobilized a colossal operation to coordinate an efficient and humane response to support asylum seekers. This effort would not be possible without the leadership of Mayor Eric Adams and the coordination of scores of city agencies and offices, community partners, and everyday New Yorkers," said New York City Mayor's Office of Immigrant Affairs Commissioner Manuel Castro. "No other city in the nation has responded to this scale. Today, we are proud to move forward and outline this administration's next steps to continue to respond with dignity and care, and uphold our values as a welcoming city for immigrants."  
"New York City has been and always will be a place for people to build new lives," said Chief Housing Officer Jessica Katz. "Our city stepped up last summer and instituted a program for supporting and housing asylum seekers at an unprecedented scale, and this blueprint maps out a path forward ensuring everyone continues to receive the care they need. It is our goal to provide everyone access to affordable housing, and that includes asylum seekers, which is why this administration continues to advocate at all levels of government in order to better help those coming to America for a new life."
"Under Mayor Eric Adams' leadership, New York City continues to overcome the difficult challenges of this humanitarian crisis," said New York City Emergency Management Commissioner Zach Iscol. "New York City is committed to remaining a beacon of hope to anyone fleeing their home country for political, socio-economic, or religious reasons. Our city's history is weaved with immigrant stories, and this blueprint showcases the long-term goals for this humanitarian effort."
---
---
"New York City has welcomed generations of immigrants with the possibility of a better life, and NYC Health + Hospitals is committed to ensuring that promise for the most recent wave of asylum seekers," said Mitchell Katz, MD, president and CEO, NYC Health + Hospitals. "With this roadmap to guide us, we will continue to step up to meet this historic moment and show what is possible when a public healthcare system provides resources and compassion without exception."
"In this humanitarian crisis, New York City has once again risen to the occasion, providing a beacon of hope to asylum seekers and a successful example for cities across the country," said Ted Long, MD, MHS, senior vice president, Ambulatory Care and Population Health, NYC Health + Hospitals."Mayor Adams' blueprint will continue to build upon the Humanitarian Emergency Response and Relief Centers we established by providing the housing, workforce development, and legal support asylum seekers need to complete their long and difficult journeys. I am proud to be a part of the Adams administration and stand with our fellow New Yorkers who are committed to providing a better life for those seeking asylum in our city."
"Since this humanitarian crisis began, New York City has come together and worked tirelessly to ensure that every family and individual coming to this city has access to the services, resources, and shelter they need to stabilize their lives after what is often a long and traumatic journey here," said New York City Department of Social Services Acting Commissioner Molly Wasow Park."We are so thankful for our dedicated teams and provider partners who have stepped-up in the midst of this crises to expeditiously open more than 90 emergency sites to meet this extraordinary need for shelter. With this blueprint, Mayor Adams is reaffirming the city's commitment to supporting asylum seekers and prioritizing their long-term needs as they continue to acclimate to life in New York."
"Our newest New Yorkers deserve hospitality and health," said New York City Department of Health and Mental Hygiene Commissioner Dr. Ashwin Vasan. "We are proud to be a part of this team to bring support and services that will protect and promote the mental and physical health of our residents."
"All of our students and their families deserve our full support, and I am proud of the way our public schools have stepped up to support our newest New Yorkers," said New York City Department of Education Chancellor David C. Banks. "We are so thankful to our schools and the larger New York City community for tirelessly working alongside us to create safe, welcoming, and supportive schools and communities."
"I commend Mayor Adams for leading the city through this unprecedented humanitarian crisis," said New York City Corporation Counsel Sylvia O. Hinds-Radix. "Under his leadership, the city has taken urgent action to manage the arrival of a rapidly increasing number of asylum seekers with virtually no coordination from states sending them. The city has demonstrated its commitment to ensure that these individuals and families receive the emergency shelter and services they need. The excellent initiative announced today builds on these efforts to ensure that there is a comprehensive plan in place to deal with the challenges ahead."
"The Office of Asylum Seeker Operations will help asylum seekers navigate available resources as they fight for a better life for their families," said New York City Community Affairs Unit Commissioner Fred Kreizman. "New York City is a melting pot of diversity, and this remains our strength. The pursuit of the American dream is the heart of New York City's communities, and we look forward to working together with our colleagues in government to continue to offer humane relief and support."
"The Office of Faith-Based and Community Partnerships is proud to work alongside houses of worship who stepped up to provide much-needed clothing, services, and community to asylum seekers," said New York City Office of Faith-Based and Community Partnerships Executive Director Pastor Gil Monrose. "Our office looks forward to working with everyday New Yorkers to expand partnerships and cooperation across our city to support the efforts of asylum seekers."
"New York City has responded quickly and urgently to this humanitarian crisis, helping to make sure all children and families arriving in our city have access to critical resources and other assistance," said New York City Administration for Children's Services Commissioner Jess Dannhauser. "This blueprint lays out the next steps in our extraordinary response effort. I want to thank Mayor Adams for his leadership and foresight during such an unprecedented time and for his continued work to support asylum seekers."
"This blueprint is a reflection of the extraordinary leadership New York City has demonstrated in responding to the needs of our newest neighbors and provides a clear way forward to ensure people are provided pathways to stability and wholeness as they build their lives here, calling on all of New York City to step up and pitch in," said Mayor's Fund to Advance New York City Executive Director Marcella J. Tillett. "The Mayor's Fund to Advance New York City has partnered with a cross-section of city agencies to establish strategic collaborations with philanthropic institutions and corporate partners through the Asylum Seeker Relief Fund. We are excited to continue that partnership through the new Office of Asylum Seeker Operations."
"We are proud to have collaborated with the mayor on this visionary pilot program," said Dr. Terry Hamlin, president, Center for Discovery and Jay Quaintance, and president, SUNY Sullivan. "The Center for Discovery will offer the chance for migrants to learn about health care in a groundbreaking program in a beautiful setting. It will offer the opportunity to study on the campus of the renowned SUNY Sullivan, as community colleges are the gateway to affordable higher education in this country. This program represents the very best of what New Yorkers and Americans are about: learning, opportunity and empathy."
Related Articles
VIDEO
---
Harlem Cultural Archives is a donor and foundation-supported Historical Society, Its mission is to create, maintain and grow a remotely accessible, online, interactive repository of audio-visual materials documenting Harlem's remarkable and varied multicultural legacies, including its storied past as well as its continuing contributions to the City and State of New York, the nation, and the world.
Support Harlem Cultural Archives
and
click here to get more Harlem History
, Thank you.