---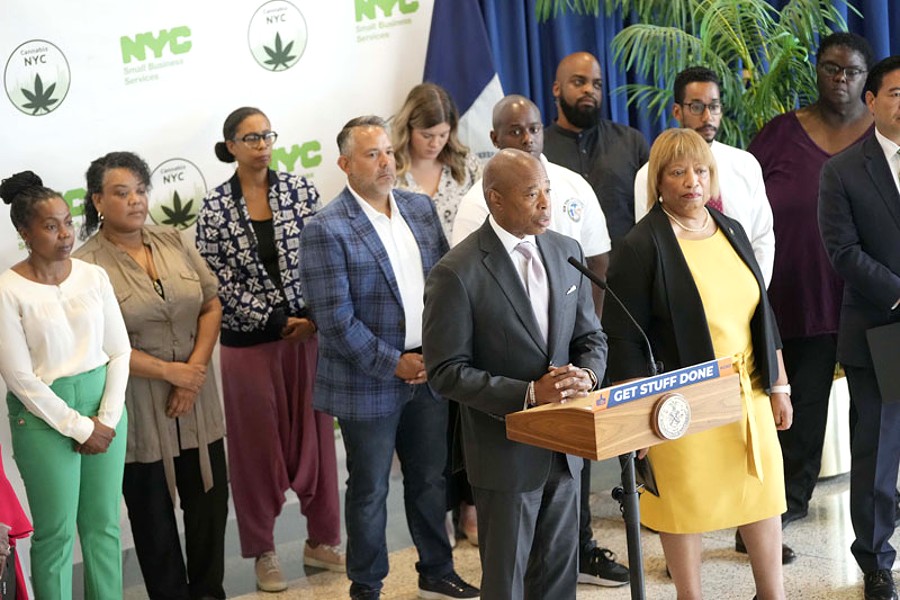 New York City Mayor Eric Adams today took action to promote a more equitable cannabis market from Harlem to Hollis.
He wants to do this by announcing the results of a two-week interagency pilot conducting enforcement against unlicensed establishments selling cannabis, cannabis-infused edibles, illegal vaping products, illegal cigarettes, and other illegal tobacco products. The pilot program — conducted jointly by the New York City Sheriff's Office, the New York City Police Department (NYPD), the New York City Department of Consumer and Worker Protection (DCWP), and the New York State Office of Cannabis Management (OCM) — resulted in the seizure of more than $4 million worth of products being sold illegally and the issuance of 566 civil and criminal summonses.
 "We will not let the economic opportunities that legal cannabis offers be taken for a ride by unlicensed establishments," said Mayor Adams. "Today, we are not only announcing the seizure of $4 million in products that were being sold illegally to New Yorkers. Thanks to this joint interagency task force pilot, the city and the state collaborated to crack down on bad actors who are putting New Yorkers' — particularly young people's — health and safety at risk, and who sought to cut the line and undermine the legal market. It's high time that unlicensed stores stopped selling illegal products and comply with the law."
 The Cannabis NYC Interagency Enforcement Task Force was a two-week pilot program to align efforts between the city and state on enforcement against establishments selling illegal cannabis, vaping, and tobacco products. The pilot was conducted the week of November 14th to November 19th, and the week of November 28th to December 3rd.
The results of the task force included:
Inspections of 53 locations throughout the five boroughs.
Seizure of more than 100,000 illegal products, totaling an estimated retail value of $4,143,647.
Issuance of 500 civil violations and 66 criminal summonses.
Two felony arrests and one arrest on an outstanding warrant.
 "The New York City sheriff's task force was successful in seizing hundreds of illegal products that were being sold by unlicensed businesses, many of which had the potential to endanger the health and safety of the public," said New York City Sheriff Anthony Miranda. "We have an obligation to support the legal cannabis industry and create a fair opportunity for legal dispensaries to succeed, and that means taking enforcement action against those who continue to operate illegally by selling contraband and evading taxes. The collective efforts of the task force, under the direction of Mayor Adams, sends a clear message to illegal businesses that their actions will not be tolerated, and it will be necessary for them to comply with licensing laws."
 "The NYPD has been working very closely with our many public and private partners, in the city and in the state, in support of this important initiative," said NYPD Commissioner Keechant L. Sewell. "As we move forward regarding this ongoing issue, the NYPD remains a committed partner, steadfast in its mission of upholding the law and improving public safety for all in New York City."
"Selling tobacco and e-cigarette products without a license is not only illegal, but it puts the health of our friends, neighbors, and loved ones at risk," said DCWP Commissioner Vilda Vera Mayuga. "DCWP will not hesitate to hold unlicensed tobacco and e-cigarette retailers accountable for violating the law. Thank you to Mayor Adams and Sheriff Miranda for launching this multiagency effort to protect the health and safety of our fellow New Yorkers."
 "Mayor Adams launched Cannabis NYC to support New Yorkers and justice-involved individuals who want to build and operate legitimate, thriving cannabis businesses," said Cannabis NYC Founding Director Dasheeda Dawson. "We have an opportunity to become a global hub of industry excellence in education and equity, but we must protect that opportunity for all New Yorkers, particularly the communities most harmed by cannabis prohibition. The Cannabis NYC Interagency Enforcement Taskforce not only tackles a growing public health and safety concern, but also ensures that those jeopardizing the success of New York's equity-centered legalization will face fines, penalties, and other civil consequences. The Adams administration is committed to enforcing the law without criminalizing communities targeted by the racially fueled policies of prohibition."
 "Interagency collaboration is one the many strengths of this administration, and this task force is proof of that," said New York City Department of Small Business Services Commissioner Kevin D. Kim. "It is imperative that we protect the cannabis entrepreneurs working hard to build up a regulated cannabis industry. SBS is here to support every small business choosing to play by the rules."
 The Adams administration is committed to promoting the growth of an equitable cannabis industry in New York City, in concert with state partners. In August, Mayor Adams and the New York City Department of Small Business Services (SBS) announced the launch of Cannabis NYC, a first-of-its-kind initiative to provide a broad suite of services to industry stakeholders and those looking to participate in the legal cannabis market. Mayor Adams also announced the appointment of Dasheeda Dawson — a nationally renowned cannabis advocate, who played a pivotal role in the passage of the New York Marijuana Regulation and Taxation Act — to lead the initiative.
 "Governor Hochul has made clear that we cannot be a legal, regulated market operating side-by-side with an illicit market that puts public health at risk, does not contribute to our communities, and undermines our goal to build the most equitable and inclusive cannabis market in the nation," said Chris Alexander, executive director, New York State Office of Cannabis Management. "We're thankful for this partnership with New York City in helping to shutter these illicit operators, as we are with similar partnerships across the state, and our efforts to shut down these stores and trucks will continue to expand."
 "For more than 20 years my organization has worked to protect and heal New York City's most underserved and justice-involved youth through outreach, intervention and engagement," said LIFE Camp Inc. Founder and CEO Erica Ford. "As one of the first non-profit CAURD license recipients in the city, we hope to use this unique opportunity to sustainably fund our ongoing efforts to stop the spread of the disease of poverty and violence. We thank Mayor Adams and his administration for recognizing the urgency of addressing the potential risks to our communities and the newly licensed businesses following the state's regulatory process and commend the city's continued efforts to promote the growth of an equitable legal cannabis industry."
 "Since my local colleagues and I highlighted this issue in October, we've seen action from the city in partnership with the NYPD to shut down shops operating illegally in our district," said U.S. Representative Nicole Malliotakis. "We appreciate the mayor, police commissioner, and the sheriff's office's continued efforts to crack down on these unlicensed shops to protect the health and safety of New Yorkers."
 "I applaud Mayor Adams and his administration for taking decisive action against those who are deliberately violating our Cannabis Laws," said New York State Senator Diane Savino. "New York is leading the way in creating a legal, regulated market that will address the past injustices and level the playing field for budding entrepreneurs. We cannot stand by and watch bad actors jeopardize everything we are working towards."
 "As recent reports show, stores and trucks selling illicit marijuana are deceptive to consumers, hazardous to public health, cheating on their taxes, and are undermining the state's equity-based and legal cannabis rollout," said New York State Senator Brad Hoylman. "I'm grateful to Mayor Adams for hearing the concerns of myself, my constituents, and my colleagues by proposing to address this problem and find a solution that ensures a safe, viable, and well-regulated adult-use market going forward."
  "The unregulated, untested, and unlicensed cannabis that illegal establishments sell puts the health of New Yorkers at risk, plain and simple," said New York State Senator Andrew Gounardes. "In southern Brooklyn, we've seen the numbers of these shops grow like wildfire — I applaud Mayor Adams' interagency effort to crack down on these illegal establishments and will continue to work with my colleagues in Albany to strengthen enforcement tools to make sure that bad cannabis actors are put out of business."
 "When New York legalized recreational cannabis, we did so in a specific way designed to help support a cadre of local entrepreneurs — especially those who have been disproportionately harmed by the prohibition period," said New York State Assemblymember Jeffrey Dinowitz. "The proliferation of unlicensed cannabis vendors not only diminishes tax revenue and neglects health and safety regulations, but it also undermines the goal of creating a marketplace dominated by local businesses. I applaud Mayor Adams for this pilot program and hope to see it continue and expand."
 "The fact that smoke shops across the city are illegally selling flavored vapes, unlicensed cannabis, and untaxed cigarettes — often to minors — isn't news to anyone on the West Side. We've seen these smoke shops proliferate with our own eyes, on our own blocks. That's why I wrote to the Department of Consumer and Worker Protection earlier this year, demanding they take action on this very issue," said New York State Assemblymember Linda B. Rosenthal. "When these stores sell cannabis without appropriate licensure, they're depriving the city and state of tax revenue — tax revenue meant to help communities ravaged by the war on drugs. I'm glad this important issue is getting the attention it deserves, and that the mayor is taking the illegal sale of tobacco and cannabis products seriously. The health and safety of New Yorkers is at risk. Inaction is not an option." 
 "The success of the safe and equitable cannabis market we are working to build through the implementation of the Marijuana Regulation and Taxation Act hinges on our ability to ensure legal establishments get the largest market share," said New York State Assemblymember Harvey Epstein. "We must support the New Yorkers who have suffered the effects of criminalization and went through the process to obtain a license to do business legally."
 "The establishment of a legalized cannabis industry in New York City has created opportunities, which I would like to see materialize in my district.  The unlicensed cannabis dispensaries undermine the legal opportunities that exist," said New York State Assemblymember Nikki Lucas. "While we definitely need to crack down on illegal dispensaries, I believe the community needs to be educated on how they can operate legal dispensaries.  We do not want to go backwards to the days when members of our community were disproportionately criminalized for marijuana charges."
 "We can't let marijuana dispensaries selling without a license get in the way of the equity that must be at the center of this emerging cannabis industry," said Brooklyn Borough President Antonio Reynoso. "The emerging cannabis industry is more than an economic opportunity for our city, it's an opportunity for justice too. The unchecked over-policing of our Black and Brown communities can't be erased, but if we do this right, we have the chance to correct some of those generational wrongs of the War on Drugs. I'm grateful to Mayor Adams and our interagency task force for this commitment to an equitable roll-out and look forward to building this industry with justice in mind."
"With over 100K illegal products seized, we saved the lives of thousands of consumers from potentially harmful products," said New York City Councilmember Marjorie Velázquez.  "These violations, summonses, and arrests are only the beginning of building equity within the cannabis industry. As the chair of the Committee on Consumer and Worker Protection, I am committed to working with our local and state partners to find a solution to end the sale of illegal products."
"The adult-use cannabis industry is a legal marketplace, which comes with regulations and health and safety requirements. If this industry is going to be safe and successful in our city, we must address issues surrounding the illicit market," said New York City Councilmember Amanda Farías. "We need to support those businesses that have gone through the rigorous process to become a licensed retailer and stop businesses that are not abiding by the regulations put in place to protect consumers. Thank you to the city and state agencies who worked together to help curb the illicit markets operating in our communities. To create an equitable industry, we will continue to need interagency responses- this is a great example of how when we work together, we get stuff done."
"I'm glad to see the city taking action against unlicensed cannabis dispensaries as so many in my community have expressed concerns about these shops' proximity to schools, the cartoony packaging of the products they sell, and their lack of accountability," said New York City Councilmember Carlina Rivera. "Organizers have worked for decades to create a legal market, and New York's program is on track to be the most equitable and competitive in the country. Both the city and state have gone to great lengths to educate vendors about the rules of selling cannabis and cannabis-related products, and all businesses have to play by the same rules. Ensuring a safe recreational market means effective interagency communication and clear regulations and enforcement mechanisms and I commend Mayor Adams for convening this pilot program."
 "New York State has the potential to have a thriving cannabis industry, but that cannot happen with unlicensed sellers saturating the legal market, exacerbating the inequities that have plagued this market for far too long, and raising a multitude of public safety and public health concerns," said New York City Councilmember Kamillah Hanks. "With proper regulation, the legal cannabis market can be safe, prosperous, and expansive for both participants and consumers, and it will take an interagency effort like this one to ensure that happens."
 "For years, the city and state signaled to the business community that they were better off not operating legally and above board," said New York City Councilmember Robert Holden. "I applaud Mayor Eric Adams for his urgency, willingness to listen to elected officials who brought up this issue and others to his attention, and for taking swift action to crack down on this illicit behavior." 
"We have gotten numerous complaints from parents, children, and school administrators about unlicensed cannabis sales to kids," said New York City Councilmember Joseph Borelli. "This is the problem we must tackle if we are serious about playing host to a responsible licensed industry. The bad actors need to go."
Photo credit: Source.
---