---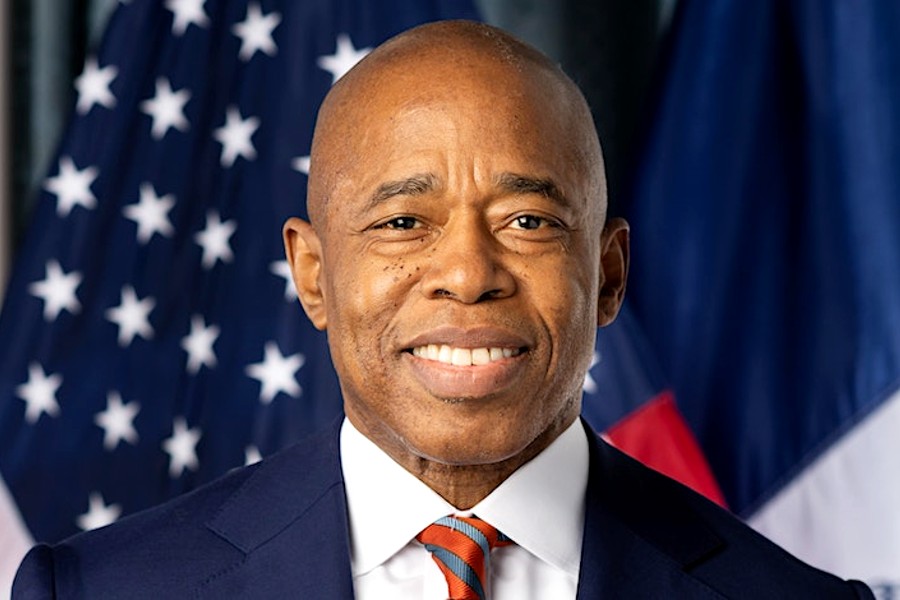 New York City Mayor Eric Adams today announced that the city set a new record for spending on city-certified minority- and women-owned business enterprises (M/WBE) in Fiscal Year 2023 (FY23), the first full fiscal year of the Adams administration.
City agencies and affiliated entities awarded over $6 billion in total to M/WBE firms in FY23 through OneNYC, contracting with a record-setting 1,903 certified vendor firms. The new city M/WBE figures include more than $1.4 billion in contracts awarded to M/WBEs under the Local Law 1 program — setting a record in M/WBE contracts since the program's creation in 2013 — and tied the city's highest-ever M/WBE utilization rate of 28 percent for one fiscal year. Mayor Adams made the announcement at the opening of the 15th Annual Citywide Procurement Fair.
Earlier this year, Mayor Adams implemented expanded discretionary authority under the non-competitive purchase method, unleashing millions of dollars in additional contract awards to M/WBEs. Using that method, the city also awarded a record-setting $175 million dollars in contracts to M/WBEs — a 60 percent increase over FY22 and more than double the contract value in previous fiscal years.
"From our first day in office, we promised to place equity at the center of our administration, and our record-breaking investments in minority- and women-owned businesses are proof that we're keeping that promise," said Mayor Adams. "In Fiscal Year 2023, the city and its agencies in the OneNYC program awarded more than $6 billion in total to M/WBEs. That puts us well on our way to hitting our ambitious goal of $25 billion awarded to M/WBEs by 2026. Through these historic investments, we are giving underrepresented groups a chance at succeeding in the business world and creating a more equitable business landscape. We will continue moving full speed ahead to address the disparities certain business owners still face and expand our support of M/WBEs."
"This administration is dedicated to driving more opportunities for diverse firms across our entire procurement — and the data we're releasing today shows that our work is paying off," said First Deputy Mayor Sheena Wright. "We're delivering on our commitment to create an equitable business environment for all New York companies, and we're proud of the work our M/WBE partners are doing to help us build a better city."
"The city's M/WBE program is one of our most powerful tools for expanding economic opportunity for businesses across the five boroughs, especially those that have historically been overlooked," said Deputy Mayor for Housing, Economic Development, and Workforce Maria Torres-Springer. "Fiscal Year 2023 was a banner year for the M/WBE program, and I look forward to partnering with my colleagues in government to push the city's M/WBE program to even greater heights by actively engaging M/WBEs and providing them with the tools they need to be successful in landing contracts with the city."
These figures represent major progress towards the aggressive OneNYC goals set forth by Mayor Adams to award $60 billion in M/WBE contracts by FY30 and come after a year of significant investments and new initiatives prioritizing M/WBEs, including:
Increasing affordable financing assistance for M/WBEs: In August 2023, the Adams administration expanded the Contract Financing Loan Fund, a revolving low-interest loan fund for M/WBEs, operated by the New York City Department of Small Business Services (SBS), that can be used for growing capacity, hiring, and capital improvements as they fulfill city contracts. The expansion will provide an additional $50 million in affordable financing to M/WBEs.
Expanding agency discretionary authority: Following the passage of a new state law, sponsored by New York State Senator James Sanders and New York State Assemblymember Rodneyse Bichotte Hermelyn and signed into law by New York Governor Kathy Hochul last year, the city implemented a policy authorizing agencies to award up to $1 million through the city's M/WBE non-competitive procurement method, doubling the previous discretionary limit of $500,000. This expansion has paved the way for M/WBEs to better compete for small purchase contracts, and more than 60 percent of contract award value has gone to firms owned by Asian women or Black and Hispanic New Yorkers.
Addressing the "disparity within the disparity": Black Entrepreneurs NYC (BE NYC) launched its BE NYC Access series, which engaged Black-owned businesses to address their unique challenges. The series follows Mayor Adams' Executive Order 26, addressing disparities among M/WBEs doing business with the city and his appointment of Michael J. Garner as New York City's first-ever citywide chief business diversity officer.
Creating a more streamlined and accountable M/WBE program: Earlier this year, Mayor Adams signed Executive Order 34, ensuring that each city agency has a senior staff member empowered to prioritize M/WBE programming; standardizing data collection from city-affiliated entities that will help facilitate the city's full, real-time M/WBE performance outcome tracking; creating more contracting opportunities for M/WBEs wherever practicable; and prioritizing M/WBE vendor firms for the city's emergency contract procurements.
The announcement kicked off the 15th Annual Citywide Procurement Fair, hosted by SBS at Barclays Center and supported by the Joe and Clara Tsai Foundation's Social Justice Fund which was founded in 2020 by Clara Wu Tsai, the Vice Chair of BSE Global and owner of the Brooklyn Nets and New York Liberty.  The Fair showcased many of the city's services designed to help M/WBEs find success, including on-site technical assistance for city certification, workshops to help firms leverage their profiles in the Online Directory of NYC Certified Businesses into competitive contacting bids, and networking opportunities with the city's procurement leaders. The fair also highlighted procurement opportunities at city agencies and non-Mayoral authorities, with more than 80 exhibitor tables attracting 1,000+ M/WBEs. Local business owners learned about contracting processes at New York City Public Schools, the city's Offshore Wind initiatives, prequalified lists, and major technology, construction, and human services initiatives in 10 "Opportunity Rooms" throughout the arena.
Additionally, SBS introduced the #CityCertified engagement campaign to encourage city agencies to work with the city's pool of more than 10,000 experienced and successful M/WBEs ready for business and highlight the impact M/WBEs have on hiring local and building wealth in communities of color.
"The successes our M/WBE program have achieved this past fiscal year are a testament to the mayor's vision to firmly place the city's M/WBE program as a national model" said Chief Business Diversity Officer Michael J. Garner. "I commend the hard work our agencies' M/WBE staff have invested into our program this past fiscal year and relish in our shared commitment to our city's M/WBE community.  There is certainly a lot more work left to be done, but I firmly believe that we're on the path towards achieving the mayor's aggressive vision.  It's documented that access to government contracts equals job creation, homeownership, better educational opportunities, and health care options."
"M/WBEs get the job done — and the city's annual procurement fair is the perfect opportunity to ensure M/WBEs play a central role in the city's biggest projects," said SBS Commissioner Kevin D. Kim. "With over 10,000 city-certified M/WBEs ready to work, SBS is here to support their growth, provide financial assistance and business supports, and connect these local businesses with city contracting opportunities. Thanks to Mayor Adams' continued focus and bold vision, we are working with our city agency partners to unleash the full potential of our M/WBE community. SBS is proud to have organized today's procurement fair with the generous support of the Joe and Clara Wu Tsai Foundation and the Barclays Center, and we are all eager to demonstrate how today's event will lead to stronger engagement with M/WBEs across the city."
"The historical lack of equal representation in our procurement process makes our entire city worse off. It limits the availability of goods and services we can acquire, stunts the growth of local business in our great city, and signifies a process that is overly ridden with complexity and inequity," said Mayor's Office of Contract Services Director Lisa M. Flores. "Equal representation in New York City procurement has never existed, because the system has not been accessible for M/WBEs. Today, we can say the word 'opportunity' and have it mean the same thing for our M/WBEs as it does for all businesses operating in our city. Through necessary program reform and implementation of new processes, New York City is contracting smarter. It is putting money in the pockets of businesses serving our most vulnerable New Yorkers. This is evident by the record-breaking $1.4 billion in contracts awarded to M/WBEs in Fiscal Year 2023."
"Under the leadership of Mayor Adams and Chief Business Diversity Officer Garner, New York City has made monumental strides in championing minority and women-owned businesses," said New York State Senator Luis Sepúlveda. "This record-breaking fiscal year for M/WBEs is a testament to the Administration's unwavering commitment to equity, inclusion, and the diverse entrepreneurial spirit of our great city."
"Opportunity is what allows a small business to transform from a dream to a reality — and more than doubling the number of M/WBEs afforded city contracts this past year represents incredible opportunities for each and every M/WBE involved," said New York State Senator Andrew Gounardes. "I applaud Mayor Adams for this historic investment into M/WBEs here in New York City, and I remain committed to increasing opportunities in New York's economy statewide."
"This record-shattering year for NYC M/WBEs is a monumental success and leap towards equality. With over $6 billion awarded to M/WBE firms through One NYC, we're breaking down barriers so M/WBEs get their fair share of the economic pie," said Assemblymember Rodneyse Bichotte Hermelyn, chair, Assembly Subcommittee on Oversight of M/WBEs. "I'm elated that my sponsored legislation doubling the discretionary threshold on New York City contracts for M/WBEs unleashed $175 million in contract dollars to the community in just one year. I applaud Mayor Adams and Chief Business Diversity Officer Michael Garner for steering the historic success of the City's M/WBE Program, as we keep lifting barriers and giving minority and women entrepreneurs the tools to prosper."
"I was proud to partner with Mayor Eric Adams in efforts that have led New York City to a record-breaking year for M/WBEs. Successful M/WBEs reduce income inequality, lower unemployment, promote economic mobility, and combat workplace discrimination," said New York State Assemblymember Jenifer Rajkumar. "In Albany, I have successfully advocated for legislation to expand eligibility for M/WBE certification by raising the city's discretionary M/WBE procurement threshold to $1 million. In the city, Mayor Adams has brought a much-needed urgency to the cause of M/WBEs, setting a record-breaking M/WBE utilization rate. Never before has our state and city government invested so much in our M/WBEs; the future is bright for women and minorities in business in New York."
"Minority- and women-owned business enterprises do top quality work and provide economic opportunity for so many people who have previously been unfairly denied their place at the table," said Queens Borough President Donovan Richards Jr. "That's why I'm thrilled the city spent a record amount of money with M/WBE firms this past fiscal year. I look forward to keeping this positive momentum going in Queens and throughout our city."
"Today's announcement is a significant win for our city and is an indicator that we are slowly dismantling systemic barriers that have historically made it harder for minority and women-owned businesses to successfully obtain competitive city-wide contracts," said Bronx Borough President Vanessa L. Gibson. "When our minority and women-owned businesses thrive, our city wins, neighborhoods flourish, communities are lifted out of poverty, and our local economy is stronger because of it. Thank you to Mayor Adams and his administration for demonstrating their commitment to equity by addressing historic disparities and for ensuring our business owners, regardless of their race or gender, have the tools and resources to be successful." 
"Our city's M/WBEs are critical to the growth, stability, and advancement of our communities. It's vital that we expand opportunities for their success, and I'm encouraged by the city's increased spending and contracting with them," said New York City Council Speaker Adrienne Adams. "The Council has prioritized solutions that bolster access to capital and other supports for our M/WBE firms and other small businesses that deserve equitable opportunities. I look forward to continuing this important work in partnership with the administration and all stakeholders to achieve further progress."
"The city has a responsibility to ensure M/WBEs receive their fair share of the city's contracts," said New York City Council Majority Whip Selvena N. Brooks-Powers, chair, Committee on Transportation and Infrastructure. "Diverse businesses have been systematically denied access to major contracts for generations. I commend the administration for its work to right this historical wrong by expanding the use of the M/WBE discretionary method and extending more economic opportunities to underserved communities."
"Supporting the growth of our M/WBEs is how we support an equitable economic recovery," said New York City Councilmember Amanda Farías. "This announcement represents an important shift for our local economy — one that's run by everyday New Yorkers and one that brings money back to our local communities, specifically local New Yorkers who historically have barriers to accessing contracts at the same rate and level as others in their sectors. As the first woman and Latino to Chair the City Council's Committee on Economic Development, I am especially excited to see Mayor Adams' and Chief Officer Garner's dedication to New York City's M/WBE firms, and I look forward to continuing to work together to support diverse and local business leaders throughout the city and the Bronx."
"Through city contracting, we've grown from a team of one to 13," said Tamekia Flowers-Ball, owner, Epiphany Blue LLC. "While my business may be small, the work that we're doing with the city is huge. We're reaching thousands of New Yorkers and helping communities across our city — one city contract at a time."
---