---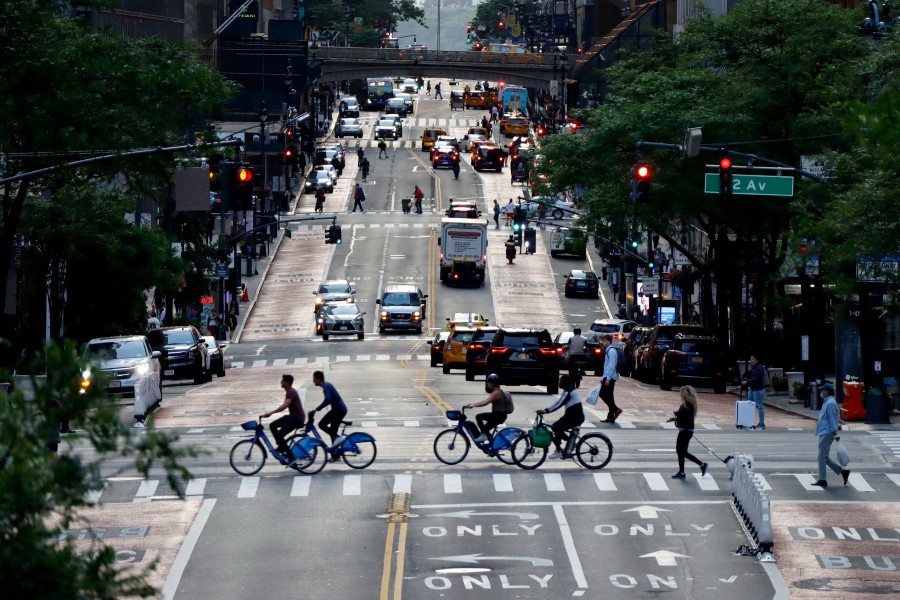 New York City Mayor Eric Adams and U.S. Senate Majority Leader Charles Schumer today announced a first-of-its-kind hub program for New York City's 65,000 delivery workers that uses existing infrastructure.
Like vacant city newsstands, to provide a place to rest and recharge. Street Deliveristas Hubs will create a place for delivery workers to seek shelter from the elements, charge both their electric bicycles and cell phones, and, by revitalizing these empty public spaces, ensure New York City's public spaces serve all. Through a $1 million federal grant secured by Senate Majority Leader Schumer in the upcoming appropriations bill for Workers Justice Project/Los Deliveristas Unidos, this pilot program will renovate and transform underutilized structures on city properties. A portion of the federal grant will also be used to help renovate a worker center in Williamsburg for deliveristas.
"Deliveristas are out there doing the hard work, day in and day out, and are essential to New Yorkers' way of life and to our city's economy, and essential workers deserve essential services," said Mayor Adams. "While most people have a break room to rest while at work, app-based food delivery workers do not. I'm proud to partner with Majority Leader Schumer to create the first-in-the-nation Street Deliveristas Hubs that will eventually help serve the more than 65,000 deliveristas in New York City. By investing in existing, underused spaces, like vacant newsstands, this program will ensure our public spaces serve all and 'Get Stuff Done' for some of our hardest working New Yorkers."
"When I rode my bike alongside deliveristas last fall, I pledged to fight for better infrastructure to support their needs, including charging stations, shelter, rest areas, and more," said Senate Majority Leader Schumer. "With $1 million in federal funding I have secured for deliveristas, we are creating these innovative Street Hubs and a renovated worker center. Alongside millions for better bike infrastructure in the Bipartisan Infrastructure and Jobs Law, we are proudly on our way to meeting that promise for better and safer biking infrastructure. I'll continue working closely with Mayor Adams and Los Deliveristas Unidos to deliver better infrastructure for the thousands of app-based delivery workers serving our city."
"The city is thinking creatively about how our parks and open spaces can best respond to the needs of the most vulnerable New Yorkers," said New York City Department of Parks and Recreation Commissioner Sue Donoghue. "We are proud to be part of this first-of-its-kind effort to support app delivery workers by providing them with a homebase to take a break, take a call, and recharge."
"Delivery workers keep New York City fed. They are a vital part of the city's economy, and they deserve safe, welcoming work environments, just like any other workforce," said New York City Department of Transportation (DOT) Commissioner Ydanis Rodriguez. "DOT is proud to partner in this pilot as we continue to rethink our curb space to better accommodate e-bike deliveries. Thank you, Mayor Adams and Senate Majority Leader Schumer, for this novel approach to address the demands of the industry."
"Food delivery workers serve our city in rain, snow, and extreme heat," said New York City Department of Consumer and Worker Protection Commissioner Vilda Vera Mayuga. "These new hubs will provide much-needed shelter and services between deliveries for some of our city's hardest workers. We applaud Senate Majority Leader Schumer, Mayor Adams, and Los Deliveristas Unidos for undertaking this innovative and much-needed pilot."
"Whether we're experiencing a pandemic or a storm, delivery workers often serve the front lines of getting New Yorkers what they need," said New York City Mayor's Office of Immigrant Affairs Commissioner Manuel Castro. "This pilot program represents a true innovative step forward to ensure delivery workers know their rights and get support throughout their trips."
"On behalf of the Worker's Justice Project and Los Deliveristas Unidos, I applaud U.S Senator Chuck Schumer and New York City Mayor Eric Adams for their commitment to invest and build the nation's first Deliveristas Hubs, a new infrastructure model that will deliver worker-led training programs, essential services, workers' rights information, micro-mobility charging stations, and a safe place for deliveristas to rest," said Ligia Guallpa, executive director, Worker's Justice Project/Los Deliveristas Unidos. "We are proud to be partners in developing the concept of Street Deliveristas Hubs and to be transforming app delivery jobs into a profession that deserves a living wage, safe working conditions, and new deliverista infrastructure."
The Street Deliveristas Hub pilot program will be the first-of-its-kind in the nation for app-based food delivery workers — an exploding workforce in the post-pandemic economy. Delivery worker hubs will be designed in high-traffic neighborhoods with input from both delivery workers and communities to design spaces that are most beneficial to delivery workers and neighborhood residents alike.
Street Deliveristas Hubs will help provide spaces for the more than 65,000 app-based delivery workers — providing workers a place to rest and shelter from the elements, as well as a place to reach numerous services for this mobile work force. Hubs will also help keep streets and sidewalks clear for pedestrians and revitalize unused existing public infrastructure, like newsstands. These hubs — alongside the millions of dollars Majority Leader Schumer secured for safer bike infrastructure in the Bipartisan Infrastructure and Jobs Law — represent New York City's commitment to safe, innovative infrastructure to support critical essential workers.
---