---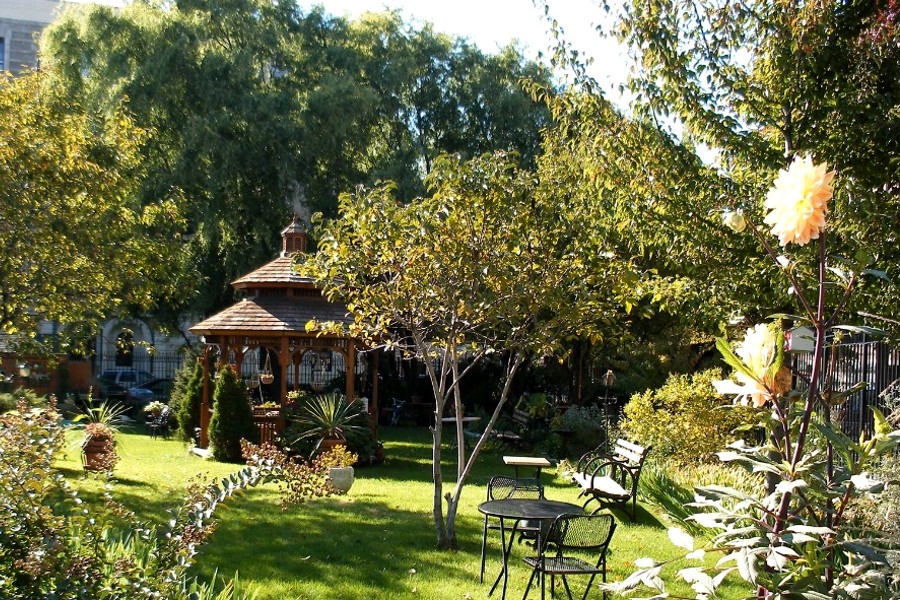 New York City Mayor Eric Adams and New York City Department of Parks & Recreation (NYC Parks) Commissioner Sue Donoghue today announced that the city has been awarded $15 million in new federal funding to create new green jobs.
In addition to improve and expand the city's urban tree canopy, and increase equitable access to the many benefits that urban forests provide. With this funding — provided by the U.S. Department of Agriculture (USDA) Forest Service through the Inflation Reduction Act — the city has now been awarded more than $1 billion in federal infrastructure funding under the Adams administration.
This new funding comes on the heels of NYC Parks' banner year for tree planting, with 15,000 street and park trees planted across the city — the most planted in six years. The funding will further the Adams administration's commitment to achieve a 30 percent tree canopy cover across the city, as laid out in "PlaNYC: Getting Sustainability Done." With an eye towards equity, 5,700 trees were planted in heat-vulnerable neighborhoods across the city last fiscal year, utilizing an expanded pool of minority- and women-owned contractors for plantings. Trees play a critical role in reducing outdoor temperatures by providing shade on hot days and purifying the air. Urban trees can cool city streets by up to 2°F, shading buildings and reducing energy consumption. And natural area forests are up to 5°F cooler, giving respite from the city's hot summers.
"I often say we have two mothers: the mother that gave birth to us and Mother Earth, the mother that sustains us. Both deserve our care, attention, and investment," said Mayor Adams. "This $15 million investment will cool and beautify our streets, expand job and apprenticeship opportunities to New Yorkers from underserved communities, and protect our natural areas. With the budgetary reality our city faces, we are aggressively pursuing every federal dollar available, and that work is paying off. I'm grateful to our partners at the city, state, and federal level for helping us secure these grants."
"Thank you to the Biden administration and our congressional delegation for providing critical funding for our city's trees, ," said Deputy Mayor for Operations Meera Joshi. "New York City's trees are much more than pretty foliage for our public spaces — they lower temperatures and absorb storm water in the midst of increasingly oppressive heat and torrential rains, they clean our air, and they provide a home to our wildlife. But the essential work of planting and maintaining trees also provides good green jobs for New Yorkers, helping to sustain our economy."
"Our urban forest is vital to New Yorkers, and we sincerely thank our congressional delegation, our local elected officials, and our many partners for their advocacy for this grant," said NYC Parks Commissioner Donoghue. "Thanks to this investment, our city will soon have more trees, expanded and more resilient forests, and new green jobs, helping us to further our commitment to expanding and preserving our natural environment."
"This crucial funding will help us advance 'PlaNYC' initiatives to achieve a 30 percent tree canopy cover, improve the health of our forested areas, and grow New York City's green workforce," said Mayor's Office of Climate & Environmental Justice Executive Director Elijah Hutchinson. "By increasing stewardship opportunities, the programs also strengthen New Yorkers' relationship to their natural environment, which means NYC Parks is truly getting sustainability done."
NYC Parks will establish the following programs using these grants:
New York City Forested Natural Areas Care and Job Training ($10 million): This program will make New York City's forested natural areas healthier, more resilient to ecological threats, and more beneficial to the surrounding communities. To do so, NYC Parks will work to improve the health of forested natural areas in disadvantaged communities, including Van Cortlandt Park, Bronx Park, Inwood Hill Park, Kissena Corridor Park, Alley Pond Park, Pelham Bay Park, Rockaway Community Park, Arverne East Nature Preserve, and Vernam Barbadoes Preserve. Work in these parks will include forest restoration activities, including planting of native species and removal of invasive vegetation and debris.
In addition to directly improving these parks, the city will establish a job training program with three types of paid employment — internships, apprenticeships, and early career employment with NYC Parks — creating opportunities for members of underserved communities to access training and develop skills in forest restoration, community stewardship, monitoring, and native plant production. Public educational and volunteer opportunities will be provided in each of these parks, empowering community members to take part in forest restoration efforts, project planning, and overall enjoyment of their urban forests.
Stewarding Canopy and Community in Central Queens ($5 million): NYC Parks — in partnership with Trees New York and Partnerships for Parks — will maximize access to urban forest benefits for underserved Queens communities in Jackson Heights, Elmhurst, and Corona. The project includes growing the urban forest through planting trees and preserving existing trees. It promotes community engagement through outreach, education, and empowerment. The project will also offer paid training and employment opportunities for youth and adults, focusing on workforce development and green jobs.
Under the Adams administration, New York City has been awarded more than $1 billion in total federal infrastructure funding, including through the Bipartisan Infrastructure Law and the Inflation Reduction Act. Recognizing the vast potential in the historic level of federal funding available through this legislation, Mayor Adams created the Federal Infrastructure Funding Taskforce, led by Deputy Mayor Joshi. Winning grant applications include $110 million to upgrade the Hunts Point Terminal Produce Market, $47 million to provide on-site water infrastructure at community gardens across the city, $25 million to build safe e-bike charging and storage facilities at New York City Housing Authority developments, and $18.3 million to electrify school buses. These projects will help the city reduce greenhouse gas emissions, create family-sustaining and accessible jobs in the city's growing green economy, and help New York adapt to the increasingly severe effects of climate change.
"When the environment wins, we all win," said New York City Department of Youth and Community Development (DYCD) Commissioner Keith Howard. "Connecting young people with providers offering workforce training, paid work experiences, and wraparound services is among the highest priorities of Mayor Adams. DYCD's long-standing workforce development partnership with NYC Parks will help boost the economic resiliency of underserved communities and enable youth and young adults to pursue advanced education and careers in urban and community forestry."
"Talent is the city's most important asset. That is why it is critical to develop new programs that provide New Yorkers with economic mobility," said Mayor's Office of Talent and Workforce Development Executive Director Abby Jo Sigal. "This new funding will leverage the city's hiring power to create pathways to good jobs, while ensuring our parks are well maintained and our city is more prepared for climate change."
"I am proud to announce Queens is amongst the first in the nation to tap the historic funding I secured in the Inflation Reduction Act to expand urban forests," said U.S. Senator Charles E. Schumer. "This federal investment means cleaner air, a better environment, improved quality of life, and rooting out historic inequities that have been present in New York City neighborhoods. I fought hard to plant this funding in the Inflation Reduction Act so that New York City could have access to funding needed to breathe new life into underserved communities."
"Expanding access to trees and green spaces in New York and historically disadvantaged communities throughout Queens and the Bronx will give our communities a higher quality of life. I'm so proud to deliver this investment in Inflation Reduction Act funding, which will help combat extreme heat, create equitable access to green spaces, improve air quality, and better the overall quality of life in this great city," said U.S. Senator Kirsten Gillibrand. "This money will help bring new life for New Yorkers to enjoy a greener, healthier environment."
"Every week is Climate Week here in Queens, which has historically been on the front lines of both the fight against climate change and the push to make New York City a global leader in clean energy. Strengthening our open spaces and putting New Yorkers to work are critical pieces in those movements, and that's exactly what these grants will accomplish," said Queens Borough President Donovan Richards Jr. "Thank you to the USDA Forest Service and to NYC Parks for its commitment to 'The World's Borough.' I look forward to working with all our government and community partners in making Queens a hub of climate conscious innovation, as we work to keep our air clean, our water drinkable and our families safe."
"Hundreds of New Yorkers die every year from heat-related causes, primarily in neighborhoods that lack tree cover," said New York City Council Member Shekar Krishnan. "Senator Schumer, Senator Gillibrand, NYC Parks, the Forest for All coalition and I fought to bring this $15 million grant to our city, and it will not only expand our urban forest but also protect our communities against catastrophic heat and floods and create green jobs. This funding moves us towards a greener, healthier, and more resilient New York City for all."
"Workforce development is a critical part of improving and maintaining our city's valuable and vulnerable forested natural areas," said Sarah Charlop-Powers, executive director, Natural Areas Conservancy. "We're proud to partner with NYC Parks to provide training to New Yorkers that will not only help ensure new job opportunities in local communities but also increase forest stewardship in neighborhoods across the city."
---