---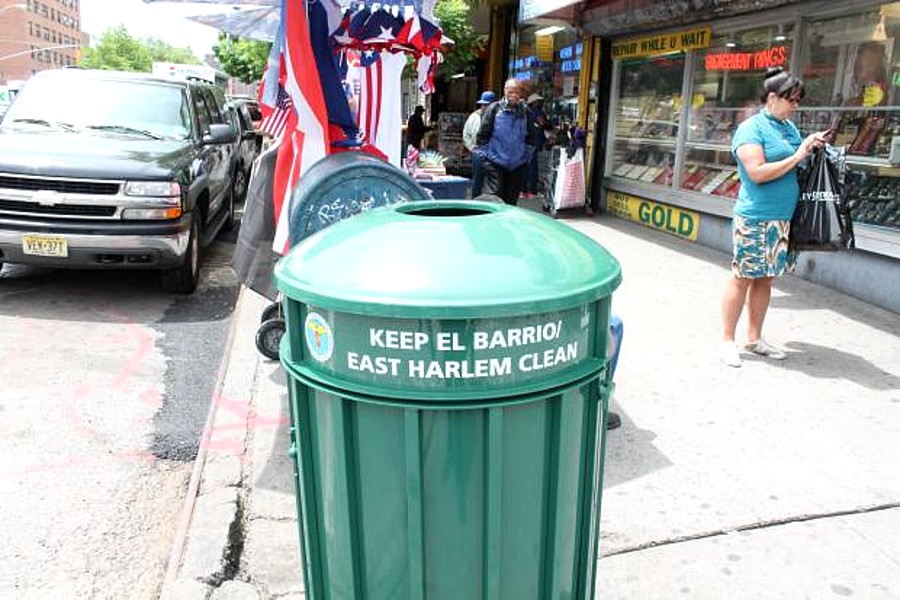 As part of the Adams administration's ongoing commitment to cleaning up New York City's streets and strengthening the city's economic recovery.
New York City Mayor Eric Adams and the New York City Department of Sanitation (DSNY) today announced the opening of the public comment period for new proposed rules, reducing the number of hours trash and recycling will sit on New York City sidewalks by adjusting the time of day trash may be placed on the curb.
Currently, trash and recycling may be placed on the curb after 4:00 PM the night before collection — the earliest of any major American city — meaning that in many neighborhoods these items can sit out for more than 14 hours, including during the evening pedestrian rush hour. These new rules would decrease the amount of time trash is left on the curb, diminishing the eyesore of black bags, reducing trash for rats, and improving cleanliness — and ultimately boosting the city's recovery.
"Bags of trash sitting on the curb for hours have hurt our city's recovery for too long and is one of the most indelible images of New York, but, today, we're saying enough is enough by making a generations-overdue change that will have a real impact on the cleanliness of our streets," said Mayor Adams. "By drastically reducing the amount of time that black bags can sit on our curb, we're not just catching up with other cities but surpassing them and leading the nation again. This announcement will keep our streets clean, it will discourage rats from running their own version of Open Restaurants, and it will mean no more tripping over black garbage bags at rush hour. We're not going to let New Yorkers be plagued by rats — we're going to keep our city squeaky clean."
"This announcement shows just how much is possible when we bring everyone to the table," said Chief Advisor Ingrid Lewis-Martin. "I'm grateful to 32BJ, REBNY, and Teamsters Local 831 for coming together with this administration to deliver a win for millions of New Yorkers and help build a cleaner, more welcoming city for all."
"Rush hour shouldn't also be trash hour. By reducing the hours trash is allowed to sit on our streets, we are giving New Yorkers back their sidewalks," said Deputy Mayor for Operations Meera Joshi. "New Yorkers will see and smell the difference, and rats will be cut off from their all-you-can-eat buffet."
"The time to do this was really in the 1970s when the city banned residential incinerators and created the modern black bag regime, but the second-best time is right now, when our city's recovery hangs in the balance," said DSNY Commissioner Jessica Tisch. "New Yorkers want the streets cleaned up, and seeing the bags for a few hours a day instead of more than half the day will make a huge, huge difference."
Under the new rules, slated to go into effect on April 1, 2023, residential buildings would have up to three options, each of which would substantially decrease the amount of time trash is on the curb:
Place trash out after 6:00 PM in a secure container,
Place trash out after 8:00 PM if putting bags directly on the curb, or
If a building has nine or more residential units, the property owner may opt in to a 4:00 – 7:00 AM set-out window instead. The opt-in period will run for the month of January each year, allowing DSNY to design quick and efficient routes that take effect April 1.
Taken together, this means trash will sit on the curb for a fraction of the time it does currently. These rules would apply to recycling and curbside composting as well.
This announcement also includes new clarified rules for commercial establishments, which do not receive service from DSNY but rather from private waste haulers. Businesses may engage in one of the following options:
Place trash out after 8:00 PM if putting bags directly on the curb or
Place trash out one hour before closing in a secure container.
In addition to these new proposed rules, DSNY is doing more of its collection on the midnight shift than pre-pandemic, further reducing the amount of time trash sits on the street. Overnight collection now accounts for approximately one quarter of all collection operations — roughly 5 million pounds per night.
The proposed rules are subject to public comment under the City Administrative Procedure Act. The comment period will be open until November 10, and a public hearing on the proposed rules will be held on Thursday, November 10 at 9:30 AM. After considering these public comments, DSNY will publish final rules later this year. Public comments can be submitted by email, mail, or via the city's website.
"We have done what former Councils and administrations could never achieve. Together, with my colleagues on the City Council, Commissioner Tisch, and labor leadership, we have developed a plan that will reduce the amount of time trash sits out on our streets," said New York City Councilmember Shaun Abreu. "My bill and the associated rulemaking will make our streets cleaner and starve rats of the midnight snacks that sustain their explosive growth. Families will no longer have to navigate as many mountains and mazes of trash piled up outside of apartments. New Yorkers will not have to fear as many rats hide in late-night shadows or rampage through our subway system and sidewalks. Years from now, we will all look back and wonder why we ever allowed waste to rot on our streets for hours on end. Like the fax machine, typewriter, and Blackberry, our current collection schedule will soon be seen as comically archaic. This was not an easy feat, but city-altering change never is."
"Improving quality of life and street cleanliness are key components to show that New York City is achieving a robust and equitable economic recovery," said James Whelan, president, Real Estate Board of New York (REBNY). "By taking a collaborative approach to the city's garbage pickup plan, we can achieve our shared goal of providing cleaner streets for residents, workers, and visitors. We look forward to working with the Mayor's Office, DSNY, our partners in organized labor, and all stakeholders to make progress on this important issue."
"The commissioner brings up a very important point — the black bags are on the streets too long, and every day the city's sanitation workers do their part to collect them. We know this will make a real difference in the cleanliness of the streets," said Harry Nespoli, president, Uniformed Sanitationmen's Association Local 831.
"Trash goes to the curb to be picked up — not to feed rats, or to be scattered on the street. Decreasing the amount of time household trash is on the curb is a clear, common sense step our city can take to decrease our rat population and keep our streets cleaner," said New York State Senator Andrew Gounardes. "I applaud Mayor Adams for leading DSNY to make this change today and look forward to continue working with the Mayor and DSNY as we strive for a cleaner New York."
"Every New Yorker deserves clean streets. It is key to our health, safety, and economic recovery," said New York State Assemblymember Jenifer Rajkumar. "I have brought DSNY to Jamaica Avenue, Liberty Avenue, and other parts of my district to see firsthand our sanitation challenges, and I am pleased to see thoughtful action from this administration to keep our streets clean. Pushing back the earliest time trash is placed on the curb equates to less time seeing mounds of trash bags replete with rodents. Combine that with the mayor's crackdown on illegal dumping, increased street basket collection, and curbside composting expansion, and we could have the cleanest streets in our city's history, with greater sustainability and fewer rodents. I look forward to hearing the public's commentary on these new proposed rules."
"Leaving our trash out on our curbs for 12 or more hours at a time has become a five-star banquet for rodents in our city, but there are simple ways to mitigate this, which I have been advocating for years. Reducing the time our garbage spends on the curb is an immediate action we can take that will not only make our streets more enjoyable but begin to address the drastic increase in rats, especially here in Brooklyn," said Brooklyn Borough President Antonio Reynoso. "We look forward to working together with Mayor Adams and the Department of Sanitation as we move toward the containerized trash solution that will most effectively clean up our streets and stem the rise of rodents."
"The reduced hours that trash will be on present on our streets will be a major deterrent to the issue of widespread problems with rodents in communities throughout the city," said New York City Councilmember Joann Ariola.
"There's no need for trash to be sitting out for hours and hours before it's scheduled to be picked up," said New York City Councilmember Justin Brannan. "This is a simple, common-sense fix that I believe will go a long way. Less trash means fewer rats and nobody likes a rat."
"Though the issue with New York City trash is ubiquitous, decreasing the duration garbage sits on our curbs will drastically reduce instances of rats and other vermin, making our city cleaner and safer," said New York City Council Majority Whip Selvena N. Brooks-Powers. "Correct implementation of pilot programs like Clean Curbs and these new rules will help increase containerization and ensure New York's Strongest can better facilitate trash collection. I applaud Mayor Eric Adams and Department of Sanitation Commissioner Tisch's commitment to prioritize these quality-of-life issues, offering a forum for the public to comment on potential upgrades to curbside pick-up."
"Sanitation has become an increasing concern within our community as rat mitigation has been a challenge and trash piles our sidewalks, making the living conditions in our city difficult," said New York City Councilmember Carmen De La Rosa. "I have had conversations with DSNY Commissioner Tisch, and we know she has been taking these issues very seriously. The proposed pick-up windows for trash are a welcomed initiative, and I am excited to continue working alongside her to improve the quality of life for our communities."
"This administration is making incredible strides toward a cleaner, healthier New York for all, and I look forward to seeing how these changes will improve our residents' quality of life," said New York City Councilmember Kamillah Hanks. "I hope everyone will take an opportunity to have their voices about this proposal heard during the comment period."
"I applaud Mayor Adams for his efforts to address our city's sanitation issues and encourage New Yorkers to engage in this public comment process," said New York City Councilmember Robert Holden. "The city needs to do more to get rid of pests that feed on garbage. More than ever, we need to rely on New York's Strongest and I thank them for their work."
"Increasing overnight DSNY collection and decreasing the time trash and recycling sits on our sidewalks will make a tremendous improvement in the cleanliness of our residential neighborhoods and busy commercial corridors," said New York City Councilmember Julie Menin. "This multi prong approach to cleaner streets puts New York City in line with other major American cities and will reduce rodents and improve the overall quality of life in our neighborhoods. All communities deserve to have clean and safe streets and I thank DSNY Commissioner Tisch and Mayor Adams for announcing this rule change."
"Our communities have experienced concerning health and safety issues, a direct result of the increase in waste production," said New York City Councilmember Marjorie Velázquez. "When you walk our streets, the odor is vile, impacting the air quality of our city. By decreasing trash exposure with modified regulations and increased trash pickups, we are giving our communities an improved quality of life. We must take action and enhance our sanitation practices as we work towards building a cleaner city. This initiative by Mayor Adams and DSNY Commissioner Tisch is key to our recovery, and I look forward to seeing our communities not only cleaner but safer. 
---