---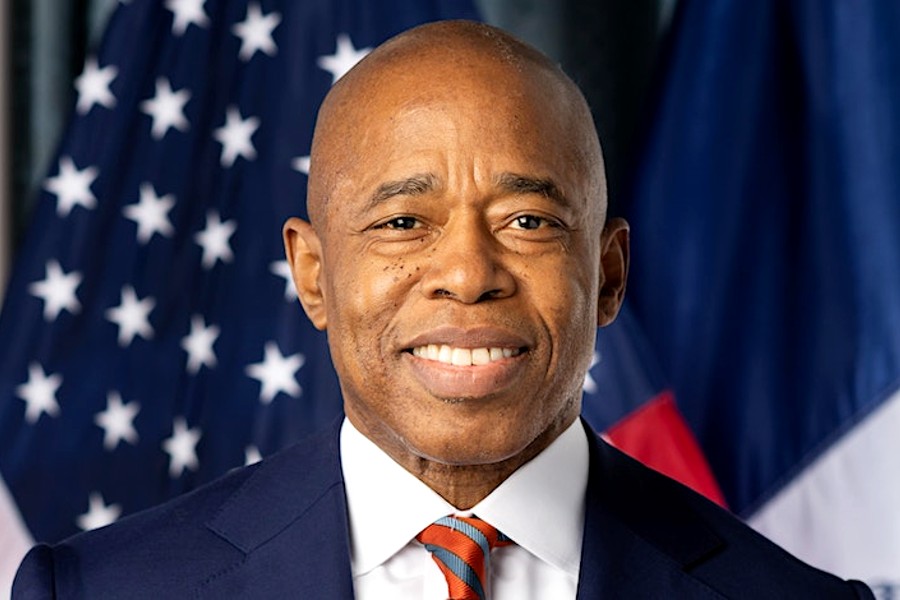 New York City Mayor Eric Adams and New York City Chief Service Officer Laura Rog today honored four recipients of the Mayoral Service Impact Awards.
As well as recognized nearly 4,000 volunteers from 150 not-for-profit organizations and 16 private sector businesses engaging 30 percent or more of their employees in volunteerism as part of the annual Mayoral Service Recognition Program.
"We overcame the darkest days in New York City history because of the selfless work of everyday New Yorkers and volunteers," said Mayor Adams. "Your time and talents are invaluable. One hour of service could mean a life changed forever. I want to thank the volunteers, our private sector partners, staff, and leaders of community-based organizations for dedicating your careers to serving others. And to the recipients of the Mayoral Service Impact Awards, I applaud you for your service to New York City. You've made the communities around you cleaner, healthier, and happier. And you've shown us how we can make a difference, too. Together, we will keep building this city up, one act of service at a time."
"Service is love in action and New Yorkers love hard," said Chief Engagement Officer Betsy MacLean. "Together, through love and service we are able to create positive change in this city that we love so dearly, and it's a privilege to honor thousands of volunteers who show their love each and every day through their talent, time, and resources."
"Volunteering and service are the cornerstones of thriving and healthy communities. When we act in service to others, we are connected to a movement bigger than ourselves and united by love for our communities," said Chief Service Officer Rog. "It's an honor to celebrate the organizations and people who have answered the call to serve in New York City."
The recognition program is a citywide celebration of volunteerism across sectors, underscoring the power of service to unite individuals and build a city where all New Yorkers can succeed. In March 2023, Mayor Adams announced the "Spread Love NYC" campaign, a nine-month-long cross-sector campaign to connect New Yorkers to both short one-hour and long-term service projects with local not-for-profit organizations. Since launching, more than 100 organizations have joined the campaign and more than 600 New Yorkers have committed to serve.
Mayor Adams and Chief Service Officer Rog also unveiled a new digital platform operated by NYC Service, as well as a new mission and vision for the mayoral office focused on building a culture of service in New York City and providing meaningful access and opportunities for New Yorkers to serve. The new additions to the digital platform offers the more than 380 not-for-profit community groups the ability to source in-kind donations for volunteer programs, as well as grow employee engagement partnerships with the private sector to further employee volunteer engagement.
Mayoral Service Impact Awards honor youth, business and community partnerships, community-based organizations, and AmeriCorps alumni for exceptional volunteer and service projects. NYC Service received more than 150 nominations for the four award categories.
The Mayoral Service Recognition Awardees honored for exceptional service in 2022 are:
Katharine Reed: Honored with the AmeriCorps Alum Impact Award for embodying the AmeriCorps spirit of "Getting Things Done" in New York City communities beyond her service year. Reed engaged over 900 volunteers in safe and accessible composting and community-clean-up projects.
Children of Promise, NYC: Honored with the Community Impact Award for leveraging the power of volunteers in innovative and resourceful ways to strategically address community needs. A total of 176 volunteers provided academic support to 180 youth, as well as supported their families and caregivers.
New York Yankees and Food Bank For New York City: Honored with the Partnership Impact Award for an innovative partnership in service to a community. Through the partnership, over 150,000 meals were distributed to more than 21,338 New Yorkers in the Bronx.
Afnan Faiza: Honored with the Youth Impact Award for going above and beyond to create tangible impact in her community through the Older Adult Center Enrichment Initiative in Sunnyside, Queens.
New Yorkers can learn more about the Mayoral Service Recognition Program online.
"During my time as an AmeriCorps member and now in my full-time position with the Sanitation Foundation, I have had the incredible opportunity to join forces with so many dedicated community leaders who are working together to create a cleaner and healthier city," said Katharine Reed, winner, AmeriCorps Alum Impact Award. "My AmeriCorps experience has and will continue to play a significant role in shaping my career path. I am both humbled and honored to accept this award."
"For 13 years, Children of Promise, NYC has been honored to partner with an incredible network of volunteers who dedicate their time and energy to empowering young people impacted by parental incarceration across the city," said Sharon Content, founder and president, Children of Promise, NYC, winner, Community Impact Award. "As the pandemic exacerbated many of the challenges facing our scholars, our volunteers leaned in to meet evolving community needs and we are thrilled to receive this honor amplifying our collective impact."
"As an organization, the Yankees remain steadfastly committed to positively impacting the health and wellness of the local community, and we are grateful to have a dedicated partner in the Food Bank For New York City with whom we can meet this challenge," said Brian Smith, senior vice president, Corporate/Community Relations, New York Yankees, winner, Partnership Impact Award with Food Bank For New York City. "Food insecurity has a debilitating effect on New York City residents of all ages, undermining the quality of life and future prospects for entire families and neighborhoods. Through our joint efforts with the Food Bank For New York City, we have been able to provide high-quality provisions for thousands of in-need New Yorkers on a consistent basis, and we can testify to the immense impact that can be made when organizations come together on a vision they could not realize alone."
"Food Bank For New York City is proud and thankful to have had the New York Yankees, a cornerstone institution in New York City and for many of its residents, as a partner for the past 12 years," said Leslie Gordon, president and CEO, Food Bank For New York City, winner, Partnership Impact Award with the New York Yankees. "The Yankees have been a pillar in helping Food Bank provide low-income communities with greater access to nutritious foods and, through their hard work and dedication, in 2022 alone, they've helped us distribute over 150,000 meals to more than 21,338 New Yorkers. With the Bronx having the highest rates of food insecurity in the city, we are forever thankful for their continued commitment, partnership, and devotion in helping to feed New Yorkers in need."
"The Sunnyside Community Older Adults Center helps so many people every day and I feel so privileged to have been given the opportunity to help at the center," said Afnan Faiza winner, Youth Impact Award. "Thank you to Ms. Serrano and the rest of the Sunnyside Community Services team for allowing me to play a small role in positively impacting the center and community."
Latest Posts
Related Articles
---