---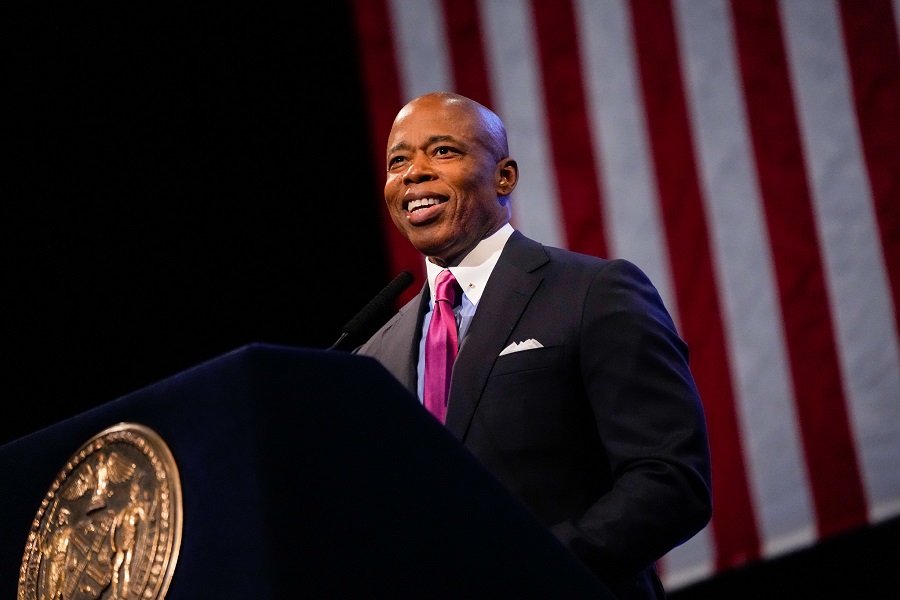 NYC Mayor Eric Adams today announced that the administration will fund the city's Crisis Management System (CMS) at a record level of $86 million in Fiscal Year 2024 via an investment of an additional $8.5 million.
The CMS strategy brings teams of credible messengers to mediate conflicts on the street and connect high-risk individuals to services that can reduce the long-term risk of violence. Overall, the city will invest nearly $200 million for programming in the upcoming fiscal year to reduce gun violence in communities and connect New Yorkers with city-funded services, including school conflict mediation, violence interruption, non-traditional therapeutic services, and more.  
Mayor Adams also announced that the Office of Neighborhood Safety, which manages the city's community violence intervention work, will transition from being overseen by the Mayor's Office of Criminal Justice to the New York City Department of Youth and Community Development (DYCD). DYCD is uniquely equipped to integrate this work, based on its proven track record of community programming, existing presence in CMS communities, a long-standing relationship with the New York City Police Department, robust agency data collection, and demonstrated capacity to pay out contracts expeditiously. This shift will also enable DYCD to integrate community violence intervention programming into the existing programs it runs, providing a more coordinated suite of services to New Yorkers who are at risk of gun violence. DYCD's leadership will help ensure the continuation of programs that have a positive impact in an expanded number of targeted communities. Newer and emerging community-based providers will also have an opportunity to engage in city contracting and provide direct services to New Yorkers who need them the most.
"We're proud to make a record investment in community violence intervention programs, because the best time to stop gun violence is before a gun is ever fired," said Mayor Adams. "These programs are part of how we've driven shootings down by double-digits over the course of this administration and make our city safer. We need to dam every river that feeds the sea of gun violence in this city, and community violence intervention is a key tool in our toolbox."
"This administration's model to address gun violence is focused on prevention — how to stop the violence from happening in the first place," said First Deputy Mayor Sheena Wright. "Today's record investment is a reaffirmation of Mayor Adams' belief that the only way of solving gun violence is by addressing the root causes. With our crisis management system partners who bring real lived experience and deep ties to impacted communities, our city is turning the page on finally bringing peace to our streets and delivering on safety for our young people."
"Today's record investment in gun violence prevention is about building a better future for our young people," said Deputy Mayor for Strategic Initiatives Ana Almanzar. "When we invest in local organizations with built in community trust and proven track records, we are able to speak directly to the people most impacted by gun violence. I applaud Mayor Adams and the Department of Youth and Community Development for their continued investment in addressing the root causes of gun violence in New York City."
"It's simply not possible to break the cycles of violence through traditional law enforcement methods alone," said Deputy Mayor for Public Safety Philip Banks III. "People need to have support from and feel connected to their communities in order to make a positive change in their lives, and that's what CMS teams provide. Instead of waiting for violence to fester, this administration looks upstream and makes the necessary investments for a better, safer future for our city."
"DYCD is excited to oversee the Office of Neighborhood Safety and integrate violence intervention organizations into our larger network of community partners," said DYCD Commissioner Keith Howard. "This record investment will create new partnerships, encourage the sharing of space and expertise, and expand the mission of our brave violence interrupters into even more communities. Together, we can elevate our work in addressing youth safety, mental health, community engagement, and family trauma. I thank Mayor Adams for his confidence in DYCD as we align with our community partners to make New York City safer for everyone."
"The Crisis Management System plays a vital role in curbing violence across the city's high-risk neighborhoods," said Mayor's Office of Criminal Justice Director Deanna Logan. "This commitment reflects the administration's dedication to implementing a holistic approach to public safety and a dedication to supporting preventative initiatives for youth. We are delighted to stand alongside DYCD, other sister agencies, and community partners to deliver innovative, comprehensive services that address the needs of New Yorkers."
The Office of Neighborhood Safety is comprised of CMS, the Mayor's Action Plan for Neighborhood Safety, Atlas, and the Precision Employment Initiative.
CMS is a partnership of organizations — including a network of residents, credible messengers, and community leaders — that mediate community conflicts, connect young people aged 16 to 24 most at risk of gun violence to mentorship and risk reduction plans, and mobilize the community to promote peace and shift norms around the use of violence. It is comprised of a street outreach and violence intervention model, with wrap-around services that improve quality of life, address trauma, and promote peace among those most affected by violence, while also ensuring historically disenfranchised New Yorkers have access to opportunities needed to thrive.
Teams of "violence interrupters" — typically credible messengers who have turned their lives around — engage individuals most likely to be involved in gun violence. The teams work to deescalate disputes before crises or violence erupt and connect high-risk individuals to extensive networks that provide job training, employment opportunities, mental health services, and legal services to increase the likelihood of long-term violence reduction.
"With these much-needed additional financial commitments supporting our model of community-driven, public health-focused approaches to public safety, we can expand the strategies of our credible messengers into other parts of the city stricken by gun violence," said A.T. Mitchell, co-chair, New York City Gun Violence Prevention Task Force, and founder and CEO, Man Up! "We are extremely grateful for Mayor Adams' support of the Crisis Management System, and for keeping his promise to not only sustain our citywide efforts, but to build on our successes. We also look forward to continuing our outstanding partnership with DYCD, which will help strengthen and build the capacity of our grassroots organizations. The courageous men and women who do this work are excited about 'CMS 2.0' and saving even more lives in the neighborhoods that we love and have the honor to serve."
"We are proud and excited about our new partnership with the Department of Youth and Community Development and our work to reduce violence under Mayor Adams' Cure Violence/Crisis Management System initiative," said Lance Feurtado, executive director, King of Kings Foundation. "This initiative is in line with our overall mission of helping to build stronger, safer, and closer communities."
"The 67th Precinct Clergy Council 'The GodSquad' wholeheartedly supports New York City's investment in the Crisis Management System and the relocation of the Office of Neighborhood Safety to the Department of Youth and Community Development," said Pastor Edward-Richard Hinds, president, 67th Precinct Clergy Council 'The GodSquad'. "With increased resources and funding, we can expand our outreach efforts with sizeable teams, establish stronger connections with organizations citywide, and leverage our collective expertise and resources to address the root causes of violence and crime in our communities. This unified approach is essential in ensuring the safety and well-being of New Yorkers, and it exemplifies the power of collaboration and shared responsibility. The GodSquad applauds the mayor, DYCD, and our community partners for their dedication and vision. Together, we will continue to strive for a city where all individuals feel secure, supported, and empowered to lead fulfilling lives."
"Keeping our young people close helps to keep them safe," said Iesha Sekou, CEO and founder, Street Corner Resources. "This funding will allow us to work with young people who are at a higher risk of becoming engaged in gun and gang violence and other criminal activity if they are not properly engaged and employed. We are also excited to receive funding for non-traditional mental health services to support our young participants and their families. Street Corner Resources thanks Mayor Eric Adams for his support of the Crisis Management System, the folks at DYCD, and of course those who are on the ground continuing to do the work. We look forward to safer neighborhoods and a safer New York City."
---