---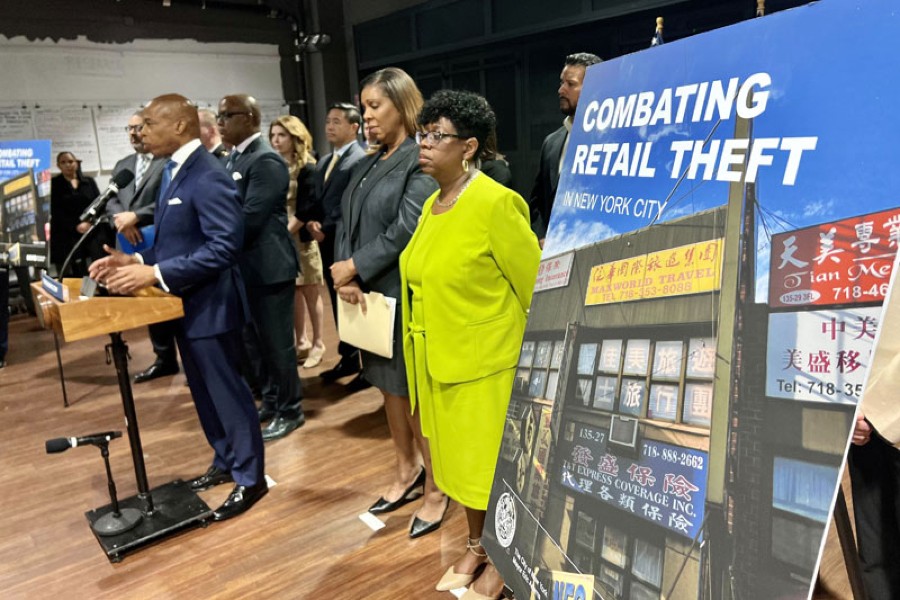 New York City Mayor Eric Adams today launched a task force to support the implementation of his plan to combat retail theft across New York City.
 Led by Deputy Mayor for Public Safety Philip Banks III, the task force delivers on a key commitment outlined in Mayor Adams' "Retail Theft Report" — created through a collaborative effort between retailers, law enforcement, and other stakeholders — that included upstream, program-oriented solutions and enhanced enforcement efforts to combat retail theft. 
The task force brings together elected officials, including New York Attorney General Letitia James and all five district attorneys in New York City, with additional representatives from law enforcement, as well as local business groups, national retailers, and organized labor. The Adams administration will be represented by the Office of Public Safety, the New York City Police Department (NYPD), the Mayor's Office of Criminal Justice (MOCJ), and the New York City Department of Small Business Services (SBS). 
"New York City's retailers are the heart and soul of our city, and retail theft hurts everyone, from our mom-and-pop shops to large department stores — and especially consumers," said Mayor Adams. "Because of the collaborative actions taken in the last few months between government, the private sector, law enforcement, and, most importantly, local businesses, retail theft is down this year, but there is always more work to do. I am proud to convene this group of experts and practitioners as we continue to take a 360-degree approach to combatting retail theft and curbing this serious issue that plagues cities across the country. Together, we recognize the importance of safeguarding our businesses, protecting jobs, and ensuring a safer and more vibrant city for all who live in, work in, and visit our great city." 
"Retail theft continues to harm New Yorkers, threaten businesses, and threaten the safety of our communities," said New York Attorney General Letitia James. "As we continue to see New Yorkers struggling to make ends meet and small businesses dealing with the consequences of retail theft, it's more important than ever that we work together to combat this problem. Mayor Adams' new retail theft task force will bring together law enforcement and community partners of all levels to develop the real solutions needed to address to this issue. I look forward to continuing to work with Mayor Adams and our other partners so New Yorkers can feel safe in their neighborhoods and all our businesses can thrive." 
"Retail theft is a serious problem that affects every one of us, and it is going to take all of us to solve it — law enforcement, government, retailers, and the public," said Deputy Mayor for Public Safety Banks. "Convening this task force allows us to fight shoplifting together from all fronts, using the best practices and latest intelligence to ensure that New York City remains a place where businesses can thrive and people are safe." 
"Our unified efforts to combat retail theft in New York City certainly require the continued, unwavering commitment of every single stakeholder," said NYPD Commissioner Edward A. Caban. "By launching this task force, we are confronting head-on the genesis of this persistent and very costly issue and developing collaborative responses to prevent it from enduring. The NYPD and our law enforcement partners are highly optimistic that by working together with our many partners in the community, the tide will soon turn on this widespread concern." 
"Public safety is paramount to the success of our city and our small businesses," said SBS Commissioner Kevin D. Kim. "This task force reflects the Adams administration's unwavering commitment to working with the small business community to fight retail theft. I am excited to work with our partners citywide in law enforcement, labor, and the business community to develop a comprehensive legislative agenda that stops retail theft in its tracks." 
"I'm proud to be a part of the retail theft task force. Retail theft is a complex problem that demands a holistic approach, and I look forward to working with other stakeholders to drive change in this area," said MOCJ Director Deanna Logan. "I am grateful for Mayor Adams' commitment to addressing this critical issue that may harm the prosperity of our city. The intelligence and research organized through this task force will inform the administration's efforts to combat retail theft in innovative ways — through developing key interventions, improving resource allocation, and fostering economic prosperity in communities citywide." 
After shoplifting rose in New York City and cities across the nation over several years, the Adams administration's partnerships with retailers and enhanced enforcement have begun to turn the tide. With the exception of 2020, the total number of citywide shoplifting complaints increased year over year between 2018 and 2022, with the largest increase — 44 percent — taking place from 2021 to 2022. However, year-to-date in 2023, shoplifting complaints are down 7.9 percent citywide as compared to 2022. Arrests for shoplifting increased 16.4 percent year-to-date in 2023 as compared to 2022 due to the NYPD's enhanced enforcement efforts.
The task force will advise the Adams administration on legislative proposals aimed at addressing retail theft, enhance intelligence sharing between stakeholders to identify and respond to emerging shoplifting trends and crime patterns, and ensure best practices are implemented throughout the city to utilize cutting-edge technology to deter, prevent, and respond to retail theft effectively.
In December 2022, Mayor Adams convened a summit with more than 70 stakeholders to collaborate on policy and find creative solutions to address retail theft across New York City. The Adams administration then analyzed the information shared by the attendees at the summit, conducted independent research and data analyses, and consulted with law enforcement and retail business management to develop recommendations in the Retail Theft Report. 
Those recommendations consist of targeted solutions to reduce retail theft perpetrated by both individual shoplifters and organized crime rings. This includes a combination of increased law enforcement efforts and enhanced social service programming and resources to prevent shoplifting, particularly by individuals struggling with substance use disorders, serious mental illness, homelessness, or poverty.
Members of the task force include:
Government and Law Enforcement: The Offices of New York Attorney General Letitia James, Bronx District Attorney Darcel Clark, Brooklyn District Attorney Eric Gonzalez, Manhattan District Attorney Alvin Bragg, Queens District Attorney Melinda Katz, Staten Island District Attorney Michael McMahon, New York City Mayor's Office of Public Safety, NYPD, MOCJ, and SBS.
Local Business Organizations: 125th Street Business Improvement District (BID) in Harlem, Association Bodegueros, Bodega and Small Business Association of New York, Chinatown Partnership, Fine Fare Supermarkets, Flatbush-Nostrand Junction BID, Flushing BID/Flushing Chinese Business Association, Fordham Road BID, Grand Street BID, Hudson Yards Hell's Kitchen Alliance, Jamaica Center BID, Korean American Business Council, Latino Supermarket Association, Madison Avenue BID, Pitkin Avenue BID, Retail Council of New York State, Washington Heights BID, and Yemeni American Merchants Association. 
Organized Labor: Retail, Wholesale, and Department Store Union.
National Retailers: Gap Inc., LVMH, Macy's, Starbucks, Target, Ulta, Victoria's Secret, and Walgreen Co.
"My office has focused on combatting retail theft by partnering with the NYPD to identify repeat offenders, pursuing bail and felony indictments when appropriate, and working with retailers to secure cooperation and streamline prosecutions," said Brooklyn District Attorney Gonzalez. "I'm grateful that the mayor is similarly focused on this issue and confident that the task force will add resources and allow for a more comprehensive and effective response across our city." 
"Local businesses are crucial to the success of our communities," said Queens District Attorney Katz. "My office, in partnership with the NYPD, launched the Queens Merchants Business Improvement Program to help combat retail theft in Queens. Retailers say it has made a difference. I look forward to working with stakeholders from the other boroughs on a citywide plan. I applaud Mayor Adams for his continued leadership on this issue." 
"Retail theft is an issue that frustrates law-abiding New Yorkers and the honest, hard-working business owners who fall victim to lowly larcenists. We should not have to keep day-to-day goods under lock and key, and addressing the spike in retail theft will take a cooperative effort between law enforcement, social service providers, and retailers themselves," said Richmond County District Attorney McMahon. "I am proud to take part in this effort and reaffirm that my office will continue to hold recidivist thieves fully accountable, while simultaneously using the leverage of the criminal justice system to encourage those who steal because of addiction, poverty, or mental health needs to treat those underlying conditions and prevent future criminal behavior." 
"Mayor Eric Adams is dedicated to enhancing New York City's status as the retail capital of the world, and store and community safety is an essential part of this effort," said Melissa O'Connor, president and CEO, Retail Council of New York State. "The retail industry has partnered with the administration, the New York City Police Department, prosecutors, and community groups over the past several months to address organized retail crime, and today's task force meeting is a necessary step in formalizing communication amongst all stakeholders in the five boroughs. We look forward to continuing the discussion in order to achieve results and would like to thank Mayor Adams and Deputy Mayor Banks for their partnership." 
"The creation of the retail theft task force is another proactive and necessary step in the right direction to deal with what has become an economic epidemic for many small businesses," said Wilma Alonso, president and CEO, Fordham Road Business Improvement District. "As the data starts to trend in the right direction, we are grateful to Mayor Adams and Deputy Mayor Banks for doubling down on their commitment to provide the necessary tools for our commercial corridors to promote public safety and for inspiring us to create our own Patrol Ambassador program to observe, deter, and report, including to such a responsive administration." 
---