---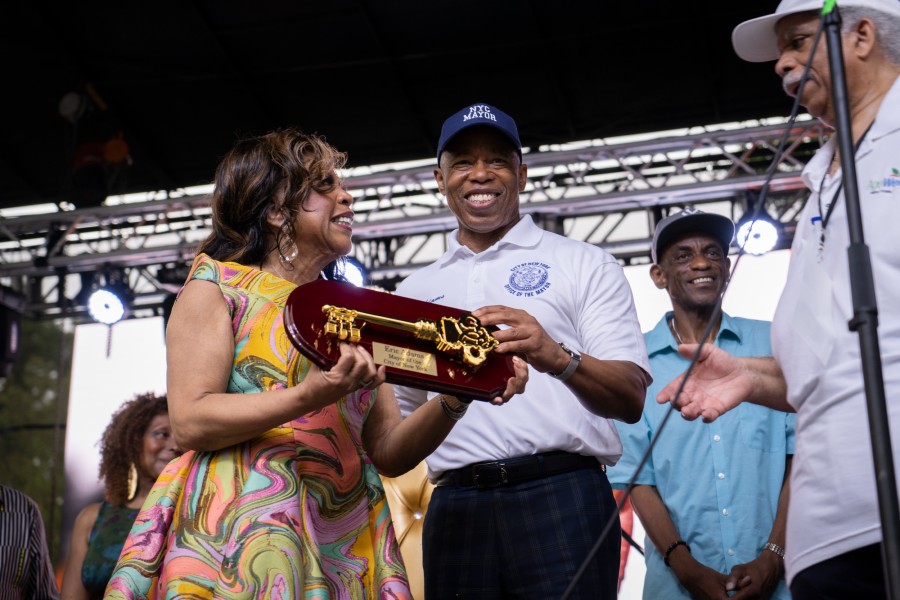 New York City Mayor Eric Adams on Sunday awarded a Key to the City of New York to legendary songwriter and music producer Valerie Simpson.
The will take place at the 22nd Annual St. Albans Jazz and Rhythm and Blues (R&B) Festival for her over 50 years of contributions to and influence on music history. Alongside her husband Nickolas Ashford as the iconic, prolific pair Ashford & Simpson, Simpson collaborated with music's largest stars to produce and perform songs such as "Ain't No Mountain High Enough" and "Solid."
"For more than 50 years, Valerie Simpson has been the heart of R&B in New York City and the nation," said Mayor Adams. "Every note in her songs has been infused with the love and soul of this city. Valerie's works have been performed by some of the most legendary artists of our time, but her songs will remain timeless. I am honored to present Valerie Simpson with a Key to the City of New York, and I know that her music will be loved by generations to come."
"I was born in the Bronx, and to receive a Key to the City from Mayor Adams at the St. Albans Jazz and Rhythm and Blues Festival was a true 'wow' moment," said Valerie Simpson. "I could feel all the love from the community. This was a special moment for me, and I'm humbled and appreciative of this honor."
Born in the Bronx, Simpson met Ashford at the White Rock Baptist Church in New York City in 1964 and soon began writing songs under their partnership of Ashford & Simpson. The duo rose to national fame after writing Ray Charles' "Let's Go Get Stoned" in 1964, which reached number 31 on the Billboard Hot 100 chart. They would go on to perform their own songs, such as "Solid" and "Found a Cure," as well as collaborate with music legends Ben E. King, Chaka Khan, Gladys Knight and the Pips, and Quincy Jones. The duo also wrote Marvin Gaye and Tammi Terrell's "Ain't Nothing Like the Real Thing" and Diana Ross' "Ain't No Mountain High Enough."
Ashford & Simpson were nominated for three Grammy Awards and wrote 16 albums, four of which went gold. Inducted into the Songwriters Hall of Fame in 2002, the duo has received over 50 awards from the American Society of Composers, Authors, and Publishers (ASCAP), including the ASCAP's Founder's Award in 1996, the Rhythm & Blues Foundation's Pioneer Award in 1999, and the Grammy Trustees Award in 2019. Ashford & Simpson has performed numerous times in Harlem at the Apollo Theatre, National Jazz Museum, White Rock Baptist Church, and many other venues. Today, Simpson is an ASCAP Foundation board member and runs The Sugar Bar, a music club that provides opportunities for young musicians to perform.
The Key to the City of New York was first awarded in 1702 by New York City Mayor Phillip French, when he offered "Freedom of the City" to Viscount Edward Cornbury, the then-governor of New York and New Jersey. By the mid-1800s, it became customary to award the Key to the City of New York as a direct symbol of the city's wish that a guest feel free to come and go at will.
Today, the Key to the City of New York is a beloved symbol of civic recognition and gratitude reserved for individuals whose service to the public and the common good rises to the highest level of achievement.
---