---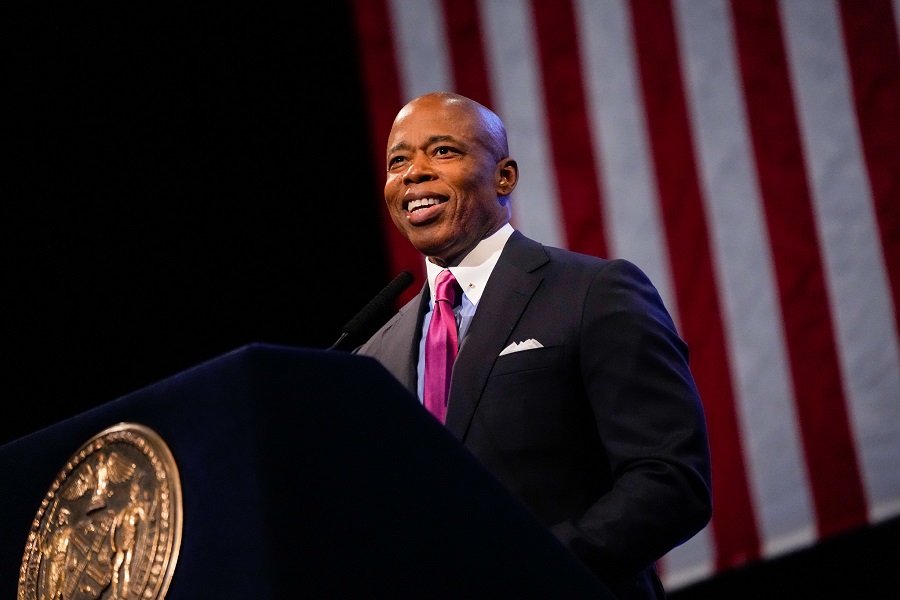 New York City Mayor Eric Adams today convened the city's first-ever Live Performance Industry Council meeting.
Where leaders in live performance and government gathered to address challenges facing the live performance industry. The council will develop strategies to drive inclusive growth in the sector, support New York City's creative economy, and ensure the industry recovers beyond pre-COVID-19 pandemic levels. The inaugural convening took place at Gracie Mansion and included Deputy Mayor for Housing, Economic Development, and Workforce Maria Torres Springer; Mayor's Office of Media and Entertainment (MOME) Commissioner Pat Swinney Kaufman; New York City Department of Cultural Affairs Commissioner Laurie Cumbo; and NYC Tourism + Conventions President and CEO Fred Dixon, alongside council co-chairs Coco Killingworth, vice president of social impact at the Brooklyn Academy of Music (BAM), and Ken Sunshine, founder of Sunshine Sachs.
"Live performance has long been the heart and soul of this city — that's why we're continuing to support the industry's comeback and finding ways to uplift the creative New Yorkers who drive it," said Mayor Adams. "By bringing together leaders from across the industry and city government, we are not only supporting the individuals who make the live performance industry great but also ensuring that New York City will always be a global creative capital. Let's keep finding ways to help our theatre, music, and dance industries and all the exceptional people who entertain us with creative live performances."
"New York City's iconic live performance industry is the engine of our creative economy, employing hundreds of thousands of New Yorkers in good-paying jobs," said Deputy Mayor for Housing, Economic Development, and Workforce Torres-Springer. "This first-ever council will bring together diverse leaders across the industry in partnership with city government to deliver on innovative, new strategies to build a more equitable and resilient future for this sector."
"We are so proud to have helped Mayor Adams convene this truly awesome collection of creative minds from across all verticals of New York City's live performance industry," said MOME Commissioner Kaufman. "We have an incredible opportunity with this council to communicate issues and brainstorm big ideas that will serve an industry that is not only an economic driver for this city, but one that also promotes tourism, safety, and small businesses."
"This is truly a unique moment and the beginning of an important conversation about the vital ecosystem of the live performing arts sector — the live beating heart of New York City," said Coco Killingsworth, vice president of social impact, BAM; and co-chair, Live Performance Industry Council. "We are why people come to New York City and, more importantly, we are why they stay, and this council will help us address some of the very real challenges but, also, enable us to think big about the next chapter for New York City."
"I commend Mayor Adams for convening one of the most distinguished meetings of leaders in live entertainment ever gathered together," said Ken Sunshine, founder, Sunshine Sachs; and co-chair, Live Performance Industry Council. "We look forward to both big and practical solutions to the challenges we all face in producing live shows in our great city."
The first-ever council includes the following 52 members:
Jessica Baker Vodoor, President and CEO, Snug Harbor (Staten Island)
Joe Benincasa, President and CEO, The Entertainment Community Fund
Steven Bensusan, Owner and Founder, Blue Note Entertainment Group
Randi Berry, Co-Founder and Executive Director, IndieSpace/IndieTheater Fund
Kristin Caskey, Executive Vice President of Theatrical Content and Creative, Ambassador Theatre Group; Chair-Elect, Broadway League, ATG North America
Steve Cohen, Owner, Chairman, and CEO, Citi Field
Richard Constable, Executive Vice President and Global Head of Government Affairs and Social Impact, Madison Square Garden Entertainment
Talia Corren, Co-Executive Director, Alliance of Resident Theatres/New York
Michelle Ebanks, President and CEO, The Apollo
Erika Elliott, Artistic Director, Summerstage
Charles Flateman, Executive Vice President, Shubert Organization; and Board Chair, NYC Tourism + Conventions
Sonia Friedman, Theatre Producer, Sonia Friedman Productions
Deeksha Gaur, Executive Director, Theatre Development Fund
Peter Gelb, General Manager, Metropolitan Opera
Clive Gillinson, Executive Artistic Director, Carnegie Hall
Lisa Gold, Executive Director, Asian American Arts Alliance
Tom Harris, President, Times Square Alliance
Heather Hitchens, President and CEO, American Theatre Wing
Wes Jackson, President, BRIC ARTS: Celebrate Brooklyn
Laurie Jacoby, Chief Entertainment Officer, Barclay Center
Leah Johnson, Executive Vice President and Chief Communications, Marketing, and Advocacy Officer, Lincoln Center
Coco Killingworth, Vice President of Social Impact, BAM
Randy Levine, President, New York Yankees
Julia Levy, Consulting Interim Executive Director, Roundabout Theatre Company
Matt Loeb, President, International Alliance of Theatrical Stage Employees
Jen Lyon, Board President, New York Independent Venue Association
Sade Lythcott, CEO, National Black Theatre
Kristin Marting, Founding Artistic Director, HERE Arts Center
Luis A. Miranda Jr., Founding Partner, MirRam Group
Jimmy Nederlander, President, Nederlander Organization
Tim Oliver Reid, Co-Founder, Black Theatre Coalition
Laura Penn, Co-Chair, Coalition of Broadway Unions and Guilds; and Executive Director, Stage Directors and Choreographers Society
Bill Rauch, Inaugural Artistic Director, Perelman Performing Arts Center
Lisa Richards Toney, President and CEO, Association of Professional Arts Presenters
Rosalba Rolon Pregones, Founder and Artistic Director, Pregones/ Puerto Rican Traveling Theater
Jordan Roth, Board Chair and Creative Director, Jujamcyn
Daryl Roth, Theater Owner and Producer, The Daryl Roth Theatres
Taryn Sacramone, Executive Director, Queens Theatre
Thomas Schumacher, President, Disney Theatrical Group
Jeffrey Seller, Theatre Producer and Co-Owner, Drama Bookshop
Lucy Sexton, Executive Director, New Yorkers for Culture and Arts
Linda Shelton, Executive Director, Joyce Theatre
Charlotte St. Martin, President, The Broadway League
Ken Sunshine, Founder, Sunshine Sachs
Candace Thompson-Zachery, Director of Programming and Justice Initiatives, Dance/NYC
Al Vincent, Executive Director, Actor's Equity Association
Bob Wankel, Chair and CEO, The Shubert Organization
Patrick Willingham, Executive Director, The Public Theater
Casey York, President, Off-Broadway League
Madani Younis, Chief Executive Producer, The Shed
Today's announcement and convening of the first-ever Live Performance Industry Council speaks to the Adams administration's ongoing commitment to invest in New York City's creative industry and workforce. Recent initiatives to support this sector include the creation of additional Industry Councils for TV/film and digital games; the extension of the NYC Women's Fund in Media, Music and Theatre; announcement of the Broadway Musicians Equity Partnership; release of the "Made in NY" Talks 2023 fall schedule; and ongoing support for the Broadway community via the Curtain Up! Broadway Festival and Broadway Week.
In 2019, the Mayor's Office of Media and Entertainment commissioned the All New York's A Stage; NYC Small Theater Industry Cultural and Economic Impact Study, which found that 748 venues and organizations are responsible for $1.3 billion in economic output, more than 8,400 full-time jobs, and $512 million in wages.
---