---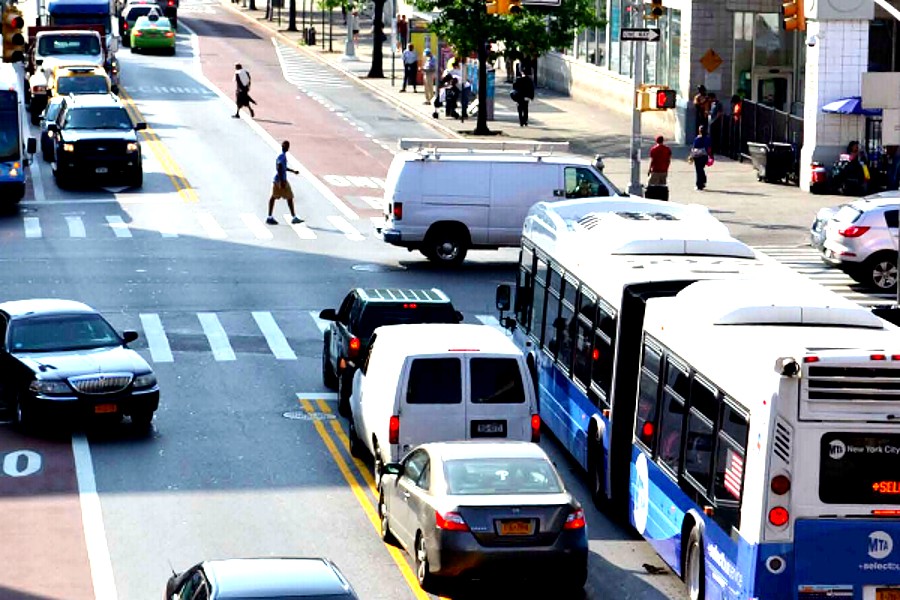 New York City Mayor Eric Adams and New York City Department of Transportation (DOT) Commissioner Ydanis Rodriguez made an announcement today.
They announced that the administration has met and surpassed its goal of making safety improvements at 1,000 intersections in 2022.
As of today, DOT had completed safety upgrades at more than 1,200 intersections. Building on this success, Mayor Adams and Commissioner Rodriguez set a new, more ambitious target of 1,400 intersections for safety improvements by the end of this year. This major success follows a series of victories and actions taken by the Adams administration in its first year, including turning on speed cameras 24/7 and investing a historic $900 million to carry out the goals of the NYC Streets Plan. Mayor Adams and Commissioner Rodriguez made the announcement along 8th Avenue in the Midtown Theater District, where a dramatic street redesign this year has increased pedestrian and cycling space, making every intersection along the corridor safer. The administration's focus on intersection safety reflects a data-driven approach to making the city's streets safer. Crashes at intersections account for 50 percent of all fatalities and 70 percent of all injuries, as well as 55 percent of pedestrian fatalities and 79 percent of pedestrian injuries. So far this year, New York City has recorded 88 pedestrian fatalities, among the fewest to date in the city's recorded history.
"Earlier this year, Commissioner Rodriguez and I committed to fixing 1,000 of New York City's most dangerous intersections," said Mayor Adams. "Today, I'm proud to say we're not only meeting out goals, but we're exceeding them — making more than 1,200 intersections safer for all who use them. Traffic safety is public safety, and no New Yorker should be scared to walk our streets. These upgraded intersections are going to reduce the risk of traffic violence, keeping all New Yorkers on our streets safer."
"Today, DOT's tireless work improving the safety of our city intersections is everywhere, not only meeting the target of improving 1,000 intersections, but surpassing it," said Deputy Mayor for Operations Meera Joshi. "Intersections in our city cannot be a safety gamble. DOT's work will result in fewer crashes and fatalities for pedestrians and bicyclists, and we will not slow down. There is still much work to do to ensure that all of our streets and intersections are safe havens for all New Yorkers."
"In January, we made a commitment: We declared intersections 'sacred spaces' and pledged to make safety enhancements at 1,000 of them — and today, we can proudly say both that we exceeded that pledge and that we are not done yet," said DOT Commissioner Rodriguez. "By the end of the year, the great team at DOT will have used its safety treatment toolkit to expand our total commitment. New York City is a model for Vision Zero cities across the country, and these efforts show this administration is committed to deploying our full toolkit to make our streets safer."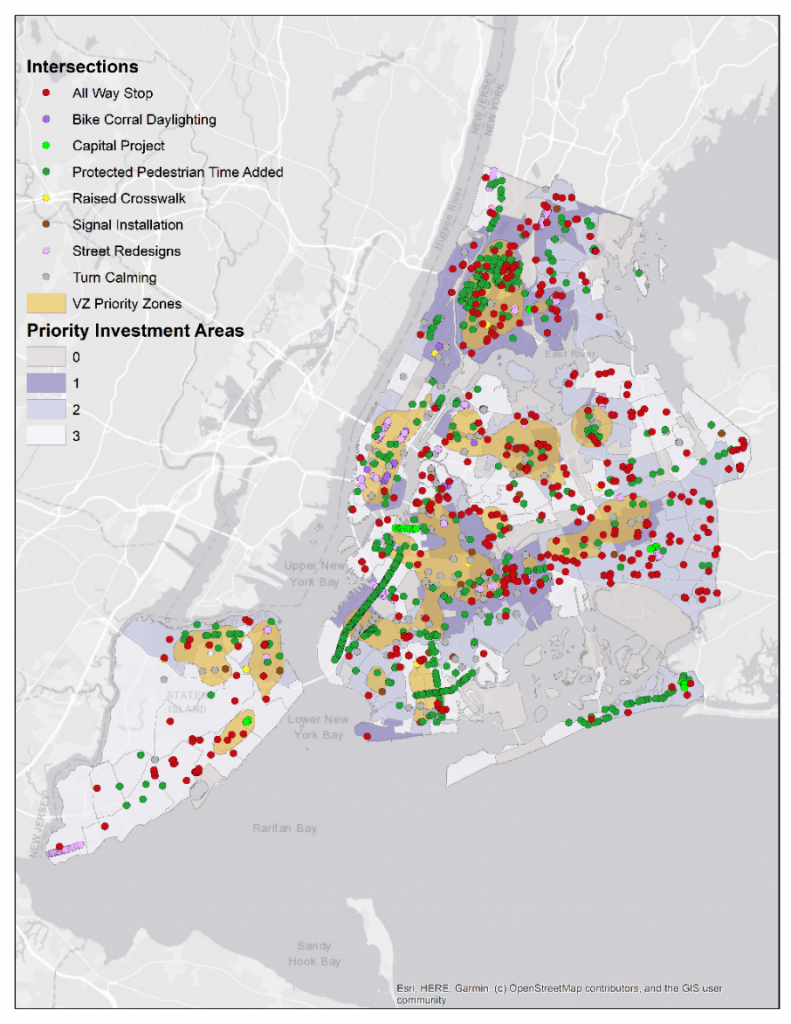 DOT's approach employs a proven and varied road design toolkit to address intersection safety. From multi-block street re-design projects to daylighted intersections, DOT identified intersections across the city to enhance for pedestrians — the most vulnerable road users — as well as cyclists, drivers, and all other road users. DOT has used the following tools to improve safety at intersections this year.
Intersection-Focused Street Improvement Projects: DOT, this year, focused its comprehensive street redesigns on Vision Zero priority areas — locations where fatalities and serious injuries have occurred — and Priority Investment Areas as defined in the NYC Streets Plan. DOT has so far made improvements at more than 200 intersections through individual Street Improvement Projects, including the intersection of West 46th Street and Eighth Avenue, the site of today's event.
Signal Improvements: DOT's suite of signal improvement tools includes pedestrian head-starts — known as Leading Pedestrian Intervals (LPIs) — as well as new signal installations and left-turn signal treatments. LPIs, which DOT installed more than 500 intersections, are proven to be highly effective — reducing crashes by as much as 60 percent. In addition to these core safety enhancements, DOT has also updated more than 380 intersections with Accessible Pedestrian Signals to bring the full measure of signal safety treatments to people with low vision as part of the city's larger commitment to accessibility. Intersections that only received Accessible Pedestrian Signals are not counted in the 1,200 intersection tally.
All-Way Stops: This year, DOT has dramatically increased its improvements to intersections without signals, adding new stop signs to calm traffic. With a special focus on intersections near schools, DOT has already added All-Way Stops at more than 350 intersections this year, the highest number ever in a single year.
Bike Corral Daylighting: DOT pledged to daylight 100 intersections with bike corrals in 2022 as part of its bike parking initiative. Bike corrals help provide visibility for everyone on the road and prevent drivers from cutting corners or making quick turns. With 32 completed and many currently being installed in the heart of construction season, DOT remains on track to meet this goal.
Doubling the Turn-Calming Program: DOT committed to doubling turn-calming efforts to force turns at slower speeds through the addition of low-level curbs and other vertical elements. With more than 100 intersections completed so far, DOT is on pace to reach the commitment of 200 intersections.
Raised Crosswalks: In January, Mayor Adams and Commissioner Rodriguez announced that DOT would begin an ambitious program to ultimately construct 100 raised crosswalks at curb level each year. DOT is partnering closely with the New York City Department of Design and Construction on this overall program and, in 2022, will jointly construct a record number of 40 raised crosswalks at intersections this year, nearly seven times higher than last year.
"One of the most important steps we can take towards making our streets safer is making our intersections safer," said New York State Senator Andrew Gounardes. "I'm thrilled to hear that Mayor Adams and Commissioner Rodriguez have already accomplished their set goal of making 1,000 intersections safer in 2022 — and it's still only October. I applaud both the mayor and the commissioner for their terrific work here, and I look forward to continuing to partner with them both to keep New Yorkers safer on all parts of our city's streets."
"Congratulations to Mayor Adams and DOT Commissioner Rodriguez for surpassing the city administration's street safety goal of making improvements at over 1,000 intersections across New York City by the end of the year, with two months to spare," said New York State Senator Brad Hoylman. "These changes are a significant boost to street safety and will help protect the lives of my constituents and so many others. I couldn't be more grateful for their leadership in this regard."
"I commend Mayor Eric Adams and the DOT under the fine leadership of Commissioner Ydanis Rodriguez for exceeding the yearly goal of safety upgrades at 1,000 intersections," said New York State Assemblymember Jenifer Rajkumar. "I personally worked with Commissioner Rodriguez to improve multiple intersections in my district, and saw firsthand how rapidly the DOT is completing safety upgrades. True to the 'Get Stuff Done' approach of this administration, the mayor and commissioner have blazed through every piece of red tape and agency silo to make our streets safer. The DOT is now completing intersection upgrades at a rate of more than three per day. Every one of these intersection upgrades translates into a life saved or tragedy averted. The street redesigns, signal improvements, all-way stops, daylighting, turn-calming, and raised crosswalks will combine to make our roads the safest they have ever been."
"Creating safer street designs is critical to reducing and eventually eliminating traffic related injuries and fatalities," said Brooklyn Borough President Antonio Reynoso. "Speeding up implementation of these proven design interventions will enhance safety for all road users and I hope we keep up the pace. I'm grateful to Mayor Adams and Commissioner Rodriguez for bringing this vision forward."
"We are heartened to see that the Adams administration has been able to incorporate more than 1,000 safety interventions at intersections across the city, and that more are on the way," said Fabiola Mendieta-Cuapio, member, Families for Safe Streets. "Had New York City had more raised crosswalks, curb extensions, and protected intersections for cyclists, there would be fewer people injured and killed in preventable crashes, fewer communities shattered by loss, and fewer members of Families for Safe Streets. We need to scale out these measures and focus on building life-saving physical infrastructure at all our intersections."
"We applaud DOT's focus on intersections, where pedestrians risk their lives by simply crossing the street with the walk sign," said Christine Berthet, co-founder, CHEKPEDS. "For our city to be equitable, pedestrians should always get the same amount of exclusive signal time as drivers do. Today is a welcome first step in this direction."
"We applaud the DOTs dedication to meeting and surpassing their ambitious safety goals. Redesigning these intersections will save lives and make real progress toward mitigating our deafly traffic crisis," said Sara Lind, chief strategy officer, Open Plans. "With new benchmarks on the horizon, we look forward to celebrating more daylighting and other bold solutions that have the most impact in making our streets safer and more inclusive for every user."
"Upgrading intersections for safety will make New York City's streets safer," said Danny Harris, executive director, Transportation Alternatives. "Today's announcement that the administration has completed 1,200 intersection redesigns is great news for all New Yorkers. We look forward to working with DOT as it meets its next intersection upgrade goal, while also implementing the requirements of the NYC Streets Plan."
"Times Square has been welcoming over 325,000 people per day on average with some days exceeding our 2019 pre-pandemic numbers," said Tom Harris, president, Times Square Alliance. "As we continue to welcome back more and more people, improvements to the pedestrian experience are all that much more important to ensure visitors and New Yorkers have a positive experience on our city's streets, sidewalks and plazas. We applaud Mayor Adams and Commissioner Rodriguez for not only meeting, but also exceeding their safety improvement goals."
Photo credit: 1) NYC Dot. 2) A map of the more than 1,200 intersections where DOT has made safety improvement, protecting road users in every corner of the city. Credit: New York City Department of Transportation
---