---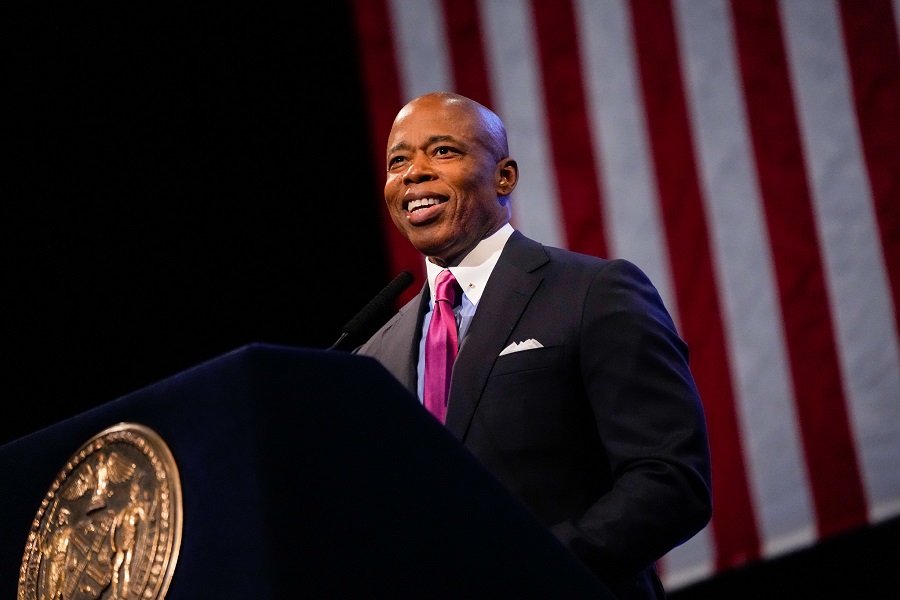 NYC Mayor Eric Adams and NYC Chief Medical Examiner Dr. Jason Graham today announced that, less than one year after the formation of the nation's first-ever DNA Gun Crimes Unit at a public DNA laboratory.
The New York City Office of Chief Medical Examiner (OCME) has achieved a 30-day or less turnaround time for testing and analysis of evidence from gun crimes. This unprecedented achievement not only delivers on a promise by Mayor Adams and Dr. Graham, but also secures New York City's position as home to the fastest big city lab for the testing and analysis of evidence in gun crimes in the nation — strengthening public safety and the city's criminal justice system.
"Public safety is the prerequisite to prosperity, and reducing gun violence is central to that mission. Last year, when we announced the DNA Gun Crimes Unit's creation, we promised that this would be the fastest lab to analyze and test evidence from gun crimes. Today, we are proud to announce that the testing lab has achieved a 30-day or less turnaround time for testing and analysis of evidence from gun crimes," said Mayor Adams. "New York City is now home to the fastest big city lab for testing and analyzing evidence. This means those involved in gun crime cases are being brought to justice faster, and we are getting more guns off the street. This is the real CSI: New York, where we are helping the criminal justice system to convict the guilty, exonerate the innocent, and keep our communities safe. And to those who commit crimes with a gun: The evidence doesn't lie. Science is coming for you fast."
"Justice delayed is justice denied, so the timely and accurate resolution of cases is critical to public safety," said Deputy Mayor for Public Safety Philip Banks III. "New York City is once again setting the gold standard for innovation and progress in the fight against gun violence."
"OCME is at the forefront of the city's person-centric approach to serving each person with care, compassion, and fairness," said Deputy Mayor for Health and Human Services Anne Williams-Isom. "The dedicated DNA Gun Crimes Unit is staffed by thoughtful scientists who actualize OCME's mission of science serving justice. The agency has achieved a nation-leading turnaround time with gun crime cases that helps law enforcement and families striving for justice and helps keep New Yorkers safe."
"Gun violence poses an urgent threat to public safety and exacts a profound toll on the health of our communities that reverberates across generations, which is why the Office of Chief Medical Examiner dedicates our scientific expertise to this important public health issue," said Chief Medical Examiner Dr. Graham. "When we launched the DNA Gun Crimes Unit last year, our testing turnaround times already stood among the best in the nation, and now, we are proud to have reached the next level in quality and timely service to New Yorkers."
"The city's scientific advances in testing and analyzing evidence from gun crimes underscores the NYPD's tireless work to eradicate gun violence and ensure public safety for all New Yorkers," said New York City Police Department (NYPD) Commissioner Keechant L. Sewell. "The ongoing successes now being achieved, in rapidly developing crucial evidence in criminal cases, reflects our seamless communications and coordination with all our government partners. It is built upon the NYPD's fundamental tenets of timely, intelligence-driven policing for the 21st century."
Funded by an investment of $2.5 million, OCME has hired and trained 24 new forensic scientists to ensure a fully staffed DNA Gun Crimes Unit dedicated solely to the testing and analysis of evidence from gun crimes throughout the five boroughs. Funding also supported upgrades in laboratory management software, the purchase of new equipment, and supplies that helped achieve these historic results.
During the month of May 2023, OCME achieved a 28-day turnaround time for the DNA testing of gun crime evidence, surpassing the initial 30-day goal for the first time. The 30-day turnaround time is measured from when testing is requested by a district attorney to the distribution of the case report to the district attorney and the NYPD.
Faster processing of DNA gun crime evidence helps move cases through the criminal justice system to keep communities safer. Recent cases handled by the OCME laboratory included the shooting of a New York City police officer in Jamaica, Queens, in April 2023, as well as the fatal shooting of a deli worker on the Upper East Side of Manhattan in March 2023, where swift analysis of DNA evidence contributed to prompt indictments of suspects in both cases.
While the 28-day turnaround time for testing gun crime evidence is unprecedented, the OCME DNA laboratory continues to perform at high levels across the board. The turnaround time for all violent crimes, including homicides, sexual assaults, robberies, and assaults, stood at 33 days for the month ending May 2023 — a benchmark achieved by no other big city forensic laboratory.
OCME operates the largest public DNA crime laboratory in North America, responsible for testing physical evidence from criminal cases within New York City. The lab tests approximately 50,000 items of evidence each year across all categories of crime.
Managed and staffed by scientists in OCME's Department of Forensic Biology, the city's DNA laboratory serves the criminal justice system as an independent resource, with testing results used to convict the guilty and exonerate the innocent. The lab is accredited by the American National Standards Institute National Accreditation Board and the New York State Forensic Laboratory Accreditation program.
---