---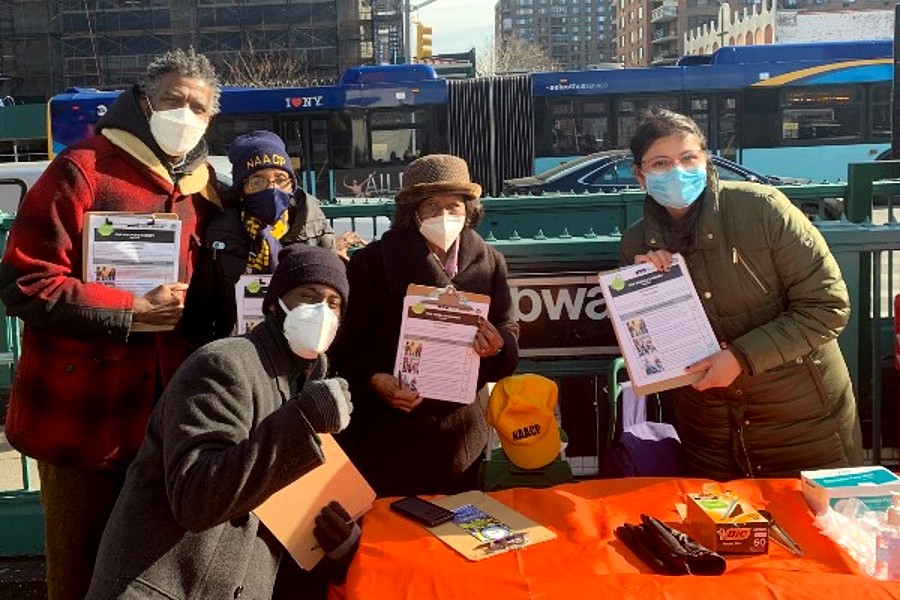 New York City Mayor Eric Adams and Civic Engagement Commission (CEC) Chair and Executive Director Dr. Sarah Sayeed today announced the launch of "The People's Money."
New York City's first-ever citywide participatory budgeting process.
All New Yorkers, ages 11 and up, will be able to decide how to spend $5 million of mayoral expense funding to address local community needs citywide. "The People's Money" builds on the foundation laid by the CEC's 2021 local process, which engaged residents of the 33 neighborhoods hardest hit by COVID-19 in a $1.3 million participatory budgeting process. Mayor Adams advocated for an expanded participatory budgeting process for years; as Brooklyn borough president, he was the first elected official or agency head outside of the City Council to participate in PB, allocating millions in funding to this community-driven initiative.
"Creating the first-ever citywide participatory budgeting process through the Civic Engagement Commission is a win for the community and keeps them both connected and engaged so that they know and have a say in where their tax dollars are," said Mayor Adams. "This initiative shows how being inclusive and open can yield results through strong civic engagement."
"Today's announcement is a celebration of the indisputable power of civic engagement," said Deputy Mayor for Strategic Initiatives Sheena Wright. "By expanding participatory budgeting citywide, the Adams administration, through the Civic Engagement Commission, is doubling down on its commitment to good governance and empowering New Yorkers to have a say in where their tax dollars go. I look forward to seeing the creative and collaborative projects New Yorkers will fund through this historic expansion." 
"The CEC is committed to the values of collaboration and manifesting community power. Participatory budgeting is one pathway for engagement that enables communities to move their voice into action on decisions that impact their lives," said Dr. Sarah Sayeed, chair and executive director, CEC. "We believe that by working together with people affected by policies, we can identify and solve our collective challenges and build the interdependence required for a healthy and resilient democracy."
Through a robust and inclusive engagement process with over 220 groups, entities, and community-based organizations' (CBOs) proposals, CEC will host idea generation sessions across the five boroughs in an effort to give New Yorkers the opportunities to brainstorm ideas for creative projects. Those projects will then be developed into ballot proposals, which will be voted on by residents in each borough. Winning projects will then be implemented starting in 2024.
Beginning with a week of action, starting on September 19th, the CEC and a diverse group of 86 partner organizations will be opening their doors to host idea-generating sessions. Residents will also be able to submit ideas and find further idea generation sessions via the CEC's online platform.
"We extend our full support to the first-ever citywide participatory budgeting process," said Department of Veterans' Services (DVS) Commissioner James Hendon. "We at DVS understand the value and importance of hearing directly from the members of the communities we serve. "The People's Money" initiative offers more transparency, access, and equity to those New Yorkers most-affected by the COVID-19 pandemic. We are confident New Yorkers will get the chance to have their voices heard, and their future needs met, as a result of this new venture."
"Through our work conducting proactive outreach to New Yorkers, the Public Engagement Unit sees firsthand the importance of fostering relationships between individual New Yorkers and the city," said Adrienne Lever, executive director, Public Engagement Unit. "It's critical for New Yorkers to have a voice in their government, and that includes having a say in where money goes. We're thrilled to support this participatory budgeting process and efforts like these to build civic power in New York City."
"Participatory budgeting is one of the most effective ways to inspire grassroots change in our communities," said New York State Assemblymember Chantel Jackson. "When engaging in a participatory budget process, it is the people who decide how money is spent. I would like to thank the mayor for creating the first ever city-wide budgeting process in New York City."
"Civic participation fosters greater faith in government and a deeper desire to help one's community," said New York State Assemblymember Jenifer Rajkumar. "Increasing civic participation is central to my leadership style. I got elected to office by increasing turnout three times higher than it has ever been in my district, and I regularly partner with neighborhood leaders to make policy and budgetary decisions. Citywide participatory budgeting takes civic participation to unprecedented heights, for the first time giving all New Yorkers the power of the purse to develop their own solutions to the challenges they face. I have so many constituents who will love joining the participatory budget process, from the idea generation stage, all the way to implementation, and know it will inspire many more to have their first meaningful engagement with their government."
"This program strengthens our communities in granting all New Yorkers an opportunity to participate in our first-ever citywide participatory budgeting process," said New York State Assembly member Amanda Septimo. "Bringing New Yorkers together to decide for themselves how to best spend city dollars in their own neighborhoods is empowering. Participatory budgeting builds inclusive and collaborative communities. When more residents get a seat at the table and have a say in how to invest in their own neighborhoods, we all benefit. I am thrilled that "The People's Money" will kick off in Roberto Clemente Plaza, where I am excited to be part of the South Bronx conversation and am looking forward to seeing constituent proposals come to fruition."
"I am excited to see Mayor Eric Adams build upon previous successes of participatory budgeting by providing an additional $5 million dollars of mayoral expense funding to address local community needs citywide," said New York State Assembly member Stefani Zinerman. "Up to now, participatory budget has been instrumental in engaging and empowering our communities to take charge of how we spend money on capital projects. This initiative will allow my beloved Brooklyn and other boroughs the opportunity to select and fund more programs that address the needs and speak to our values. This is civic engagement."
"Participatory budgeting gives New Yorkers a voice in how our city spends public dollars for their community, and I'm extremely excited to now see it implemented citywide," said New York City Comptroller Brad Lander. "As one of the first city council members to kick-off participatory budgeting in my district, I have witnessed firsthand how a community-driven budgeting process can empower our neighbors. I am thrilled to see what policies and programs our neighbors choose to prioritize in their neighborhoods."
"I was among the first councilmembers to pioneer participatory budgeting – where everyone votes on the future of their community, without age or status as an obstacle," said New York City Public Advocate Jumaane D. Williams. "I'm excited to see participatory budgeting expand to the entire city so that all New Yorkers can experience on-the-ground democracy at the most local level. Experts in our neighborhoods — the people who live, work, and raise families in New York City —will now have a direct say in how public money is spent in their communities." 
"This citywide participatory budgeting process is a great way to get New Yorkers more involved in determining how their hard-earned tax dollars are spent by city government," said Queens Borough President Donovan Richards Jr. "This process will lead to smarter decisions about government spending and help reassure residents that their voices are heard by local officials. Mayor Adams and the New York City Civic Engagement Commission should be commended for developing this innovative way of enabling all New Yorkers to have their say about matters that impact them and their families."
"As the former councilmember for the 16th district in the Bronx, the participatory budgeting process promoted civic engagement and transparency in a meaningful and creative way for the over 170,000 residents I represented," said Bronx Borough President Vanessa L. Gibson. "The People's Money," launched by New York City Mayor Eric Adams, and the Civic Engagement Commission follows this model by ensuring every New Yorker has a say and understanding of the budgetary process, and an equal say in the future of their neighborhoods. In engaging the youth, undocumented New Yorkers, justice-involved residents, and other traditionally marginalized communities, we can also be assured that access and equity in the allocation of the $5 million dollars available are at the foundation of all decision-making. I would like to thank Mayor Adams, and the Civic Engagement Commission for their commitment to this important initiative."
"The implementation of a city-wide participatory budgeting process is an important step towards improving transparency and increasing civic engagement within New York City's budget process," said New York City Councilmember Amanda Farias. "How our government spends its money has a profound impact on all New Yorkers and I am excited to see an opportunity for our neighbors to help make these decisions. Earlier this year my office facilitated council district 18's first ever participatory budgeting cycle and it was a hit! This program is critical to good local governance and allows elected officials to hear directly from the community on where they would like to see investments made. I applaud Mayor Adams and his office for the commitment to engaging New Yorkers of all ages in the civic budget process."
"One of the most important ways we can cultivate a more democratic, safer, healthier New York City is by making sure the everyday people who live, and work here, have a say in how we budget our resources," said New York City Councilmember Tiffany Cabán. "Participatory budgeting is more than a smart way to allocate funding to local organizations and services, it's a long-term investment in a future where the people have the power. Our neighborhoods don't need the wealthy and well-connected to decide what's best for us; we can decide for ourselves. Participatory budgeting allows us – and asks us – to decide."
"As my district gears up for its 12th cycle of participatory budgeting, I am thrilled to see the city take up participatory budgeting as a way to expand civic engagement," said New York City Councilmember Shahana Hanif. "Nearly eight million people, regardless of citizenship status, will have a voice in how millions of public dollars are spent. This is a beautiful and representative way to prove to New Yorkers their government works for them, and their voice is critical to our democracy."
"As a longtime proponent of participatory budgeting since I served on the Board of Citizens Union, I am delighted that New York City is announcing the first-ever citywide participatory budgeting process," said New York City Councilmember Julie Menin. "Our government is truly ensuring that communities expand their access to civic engagement and have a voice in the budgetary process. I thank Mayor Adams for helping foster community involvement across the city."  
"Participatory budgeting is a valuable way to directly involve constituents in the shape and direction of their districts," said New York City Councilmember Lynn Schulman. "I am proud to support this program and look forward to implementing it in my district this coming fiscal year."
"The Racial Justice Commission is excited to be a part of the CEC's launch for "The People's Money,"" said Harold Miller, executive director, NYC Racial Justice Commission. "By encouraging New Yorkers who have historically been left out of such decisions to have a voice in the city's spending, this initiative will be an important step in allowing underserved neighborhoods to not just survive but thrive." 
"The Fund for Public Housing is excited to support citywide participatory budgeting, ensuring public housing residents from across the five boroughs have the opportunity to participate in this innovative civic engagement process," said Alex Zablocki, executive director, Fund for Public Housing. "Over the next two months at events across the city and online, public housing residents will have a voice and seat at the table to identify needs in their community and generate ideas on how city funding can be used to address these needs. Participate, speak up and share your idea for a better city!"
"We're proud to partner with the New York City Civic Engagement Commission on this exciting new initiative that will engage members of the Staten Island community, and empower them to make their voices heard," said Orit Lender, CEO, Joan & Alan Bernikow JCC of Staten Island.
"The League of Asian Americans of New York (LAANY) is pleased to be a partner in "The People's Money" to introduce citywide participatory budgeting to immigrant and limited English proficient members of the AAPI community," said David Lee, president, League of Asian Americans Voters New York. "Over the last 10 years, the AAPI community has grown an astounding 30 %, mostly through the arrival of new immigrants. However, 45% of our community is burdened with limited English proficiency. It is also a community where the pandemic continues to cause immeasurable harm to the confidence of the people to walk the streets and where hard-hit businesses are still struggling to recover. We pride ourselves in maintaining a bridge between the new immigrant community, and institutional government affairs, and look forward to the launch of this timely initiative." 
"The Center for Independence of the Disabled, New York (CIDNY) is happy to be a part of this initiative to ensure that people with disabilities living in New York City can participate in community conversations," said Sharon McLennon-Wier, Ph.D., MSEd., CRC, LMHC, executive director, Center for the Independence of the Disabled, New York.  "It offers the first-glance opportunity to establish their priorities on how city funding is spent in all communities. In the past, people with disabilities did not get a direct chance to state their concerns regarding this salient topic,"
"YVote youth were honored to be chosen by peers from across the city for funding for our Green Space Project in 2021. There is nothing more empowering than being able to design much-needed enhancements for under-resourced communities and bring them to fruition, in our case, to cultivate gardens that provide beautiful, contemplative applied learning space for environmental education, mental health, and holistic well-being for young people. We are thrilled that this participatory budgeting initiative will now be available citywide–and delighted that it will continue to be open to community members as young as 11," said Sanda Balban, co-founder/director, YVote and Next Generation Politics.
"East Side House is thrilled to join our local partners across New York City, TRIE, and the participatory budgeting initiative to empower our community and provide equitable opportunities to come together to decide how to spend "The People's Money,"' said Daniel Diaz, executive director, East Side House Settlement. "As a historic settlement house, and Mott Haven partner, we are dedicated to providing quality services that meet the needs of our members. For this reason, we are looking forward to bringing the powerful voices of our community that are often underrepresented through interactive sessions – inclusive of our young adults, NYCHA residents, immigrant families, and older adults on how we can build, and strengthen the neighborhood through projects designed not only BY the community but also see the projects come to life for the community." 
"Citywide participatory budgeting is vital to the health of our civic democracy," said Murad Awawdeh, executive director, New York Immigration Coalition. "The People's Money plays an important role in giving New Yorkers decision-making power on how our city dollars can be used to improve the boroughs where we reside. For immigrant New Yorkers, in particular, and others who feel marginalized by our political process, it gives us a voice and a concrete way to strengthen our communities and make our city stronger."
"LiveOn NY applauds Mayor Eric Adams and the Civic Engagement Commission (CEC) on the launch of "The People's Money,"" said Allison Nickerson, executive director, LiveOn NY.  "As the population of older New Yorkers continues to rise, we look forward to working in collaboration with the city, community partners and older New Yorkers to bring forward exciting new ideas to strengthen our communities and make New York a better place to age."
"The NAACP Metropolitan Council of Branches is excited to participate in "The People's Money," and the New York City Civic Engagement Commission's citywide participatory budgeting process," said Dr. Hazel N. Dukes, president, NAACP New York State Conference. "This initiative will assist in educating our communities in knowing how the city budget is prepared and will help residents in speaking with their elected officials on the community services and resources that are needed."
"The People's Money" Background
In November 2018, 1 million New Yorkers voted and approved three ballot initiatives proposed by the 2018 Charter Revision Commission. These initiatives established the New York City CEC and included a mandate for the CEC to implement a citywide participatory budgeting process. Prior to receiving funding to run a citywide program, the CEC ran two localized participatory budgeting processes, beginning with "It's Our Money" in 2019 and "The People's Money" in 2021:
"It's Our Money" (2019) funded five $20,000 youth-focused projects and engaged over 3,000 young people citywide. This process was designed by youth, for youth, with the goal of empowering young people to voice their priorities and needs to determine which project ideas should be funded. Youth organizations were invited to submit project proposals that targeted young people's specific needs and interests.
"The People's Money" (2021) is a $1.3 million participatory budgeting process in the 33 neighborhoods hardest hit by COVID-19, as part of the Taskforce for Racial Inclusion and Equity (TRIE) Neighborhood Initiative and in partnership with the Young Men's Initiative. Residents decided how to spend over $40,000 in funding in programs and services for their neighborhood.
Traditionally, participatory budgeting in New York City has only been accessible to residents whose councilmembers have opted to run a process in their district, primarily through discretionary capital funding for projects that can take years to materialize. However, a process utilizing expense funding provides residents with the flexibility to submit creative ideas that may include projects, services, or events, and to see the projects that receive the majority vote implemented within the following year.
Implementation of citywide participatory budgeting will strengthen and expand what is currently the largest participatory budgeting process in the nation, while deepening civic trust and engaging communities in a process grounded in the principle of collective determination. Citywide participatory budgeting will showcase a new and unique collaboration between City Hall and its agencies, borough presidents, the City Council, community boards, CBOs, and New Yorkers, particularly those who have been historically underrepresented.
Related Articles
---