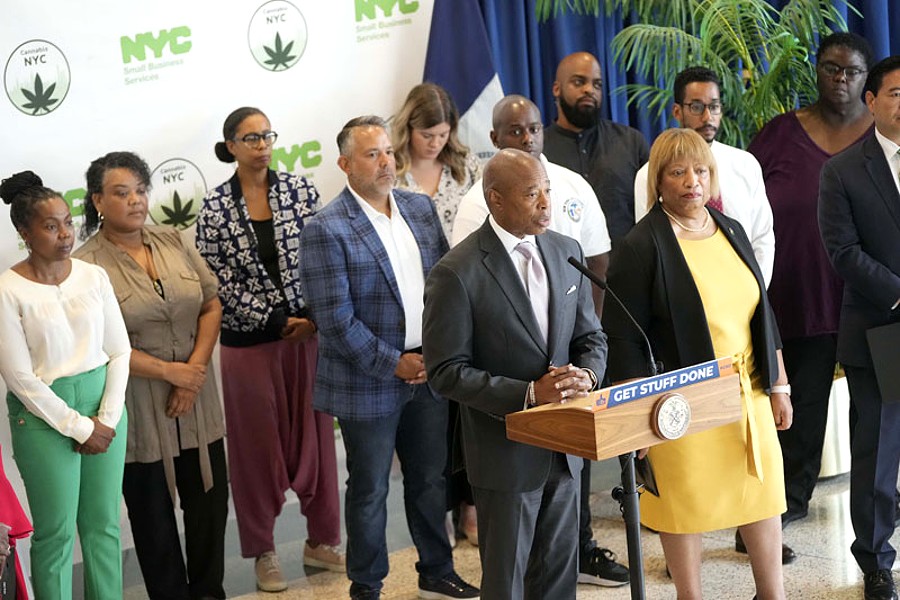 "Today marks a major milestone in our efforts to create the most equitable cannabis industry in the nation," said Mayor Adams.
"The opening of the first legal dispensary in our state right here in New York City is more than just a promising step for this budding industry — it represents a new chapter for those most harmed by the failed policies of the past. The legal cannabis market has the potential to be a major boon to New York's economic recovery — creating new jobs, building wealth in historically underserved communities, and increasing state and local tax revenue. At the same time, we will continue our efforts to educate unlicensed operators about the law and hold bad actors accountable. We are proud to celebrate this significant moment with Housing Works, lawmakers, and the advocates who made this day possible."
"New York City's economy has reinvented itself as enterprising New Yorkers regularly embraced new industries and opportunities," said Deputy Mayor for Economic and Workforce Development Maria Torres-Springer. "I am excited to see the state's first legal dispensary open in New York City, kicking off a new market for cannabis businesses to generate jobs and support economic development citywide. We must be vigilant to address the wrongs of past policies, ensuring that the communities that have been most impacted by the 'War on Drugs' benefit most from this growing industry. I appreciate all our city and state partners working together to achieve these aims with local organizations and businesses."
"From day one, this administration has made equity a primary focus of New York City's economic recovery, with small businesses at the heart of this effort," said SBS Commissioner Kevin D. Kim. "The cannabis industry has the potential to support up to 24,000 new jobs and generate over $1.3 billion in annual sales, and we have a responsibility to ensure that the seeds of this growing industry are planted in communities most harmed by the prohibition of the past. The Department of Small Business Services is proud to support the cannabis industry, and the many new licensed businesses that will take root across the five boroughs."
"Congratulations to Housing Works Cannabis Co. for being the first legal adult-use dispensary in the state and our initial demonstration of New York's equity-centered approach to building a thriving cannabis industry," said Cannabis NYC Founding Director Dasheeda Dawson. "By supporting this legal cannabis business, our tax dollars are being reinvested into the communities disproportionately harmed during prohibition, and we are also contributing to sustainable funding to provide ongoing support of a non-profit organization providing lifesaving services to under-resourced communities. This is just the first historic milestone for New York City on our mission to becoming the number one global hub for cannabis industry excellence in education and equity across business, science, and culture. Cannabis NYC will continue to curate cannabis-specific resources and business services for all New Yorkers interested in cannabis-related entrepreneurship and workforce development, and we will hold the line on restorative justice and economic recovery goals while ensuring public health and safety. As we continue to build this new legal industry, Cannabis NYC is here to offer support and the necessary education."
New Yorkers can learn more about Cannabis NYC online.
Related Articles
---