---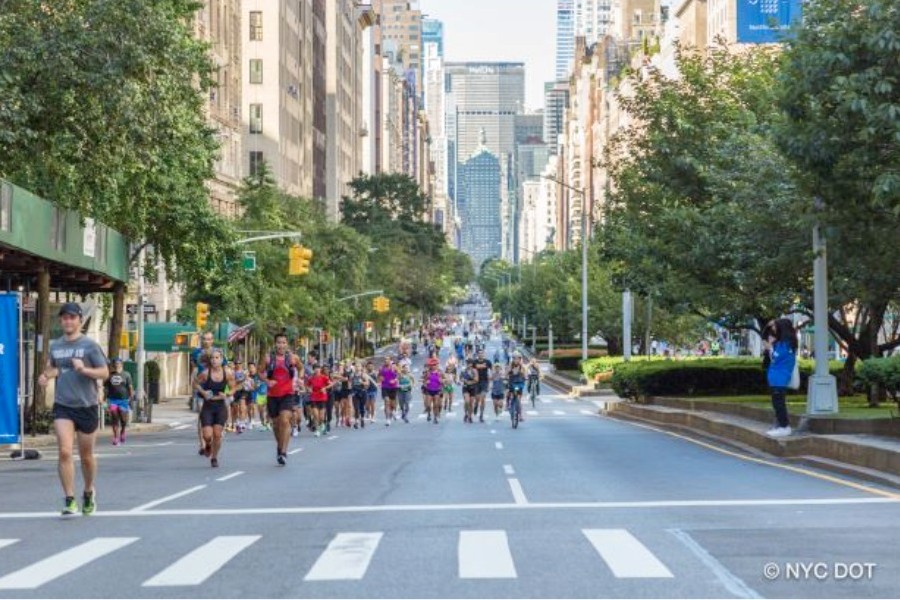 New York City Mayor Eric Adams and New York City Department of Transportation (DOT) Commissioner Ydanis Rodriguez today announced a major expansion of "Summer Streets."
Bringing the popular program to all five boroughs over five Saturdays between July and August and doubling its size to span car-free 20 miles. The five-borough Summer Streets program builds on Mayor Adams' "Working People's Agenda" and game-changing $375 million investment in creating vibrant, accessible public spaces across the entire city.
Building on last summer's two-mile expansion into East Harlem and the restoration of the three-Saturday schedule, this year's program will be the most ambitious version since Summer Streets launched in 2008 and brings a continued focus on equity. More than 500,000 people walked, ran, cycled, or played on Summer Streets last year.
"Something special happens when we open our streets to New Yorkers — so this year, we're more than doubling the size of the Summer Streets programming and offering 20 miles of car-free streets across all five boroughs," said Mayor Adams. "This is a bold new vision for public space in New York City — a bold new way of empowering residents, supporting local businesses, and creating open spaces. Every single New Yorker deserves access to safe, free, open space, and this administration is making it happen."
"For the last 15 years, our city's highly successful and much-loved Summer Streets program — a.k.a. the best block party in the city — was only held in Manhattan. With today's announcement, the Adams administration is bringing the fun to all five boroughs," said Deputy Mayor for Operations Meera Joshi. "Throughout summer 2023, New Yorkers will get to enjoy car-free boulevards in every borough, bringing miles of smiles to all of us who are fortunate enough to spend our summers in the city. Thank you to the Department of Transportation for this incredible program."
"Thanks to Mayor Adams' leadership, we are bringing an unprecedented number of Summer Streets to the people," said DOT Commissioner Rodriguez. "We are not only expanding the mileage of the Summer Streets program that New Yorkers have grown to love on Park Avenue, but we are also going to the Grand Concourse, Vernon Boulevard, Eastern Parkway, and Richmond Terrace to transform iconic streets in each borough. We thank the community leaders, advocates, and elected officials who so effectively championed this beloved program's expansion — and we cannot wait to see you out along 20 miles of Summer Streets this summer!"
Summer Streets this year will operate during its traditional hours between 7:00 AM and 1:00 PM on the following dates and streets:
Saturday, July 29: Queens and Staten Island
Summer Streets in Queens will run along Vernon Boulevard, from 44th Drive to 30th Drive. The program will allow users to enjoy the entire Queens waterfront in Long Island City and Astoria.
Summer Streets on Staten Island will run along Richmond Terrace, from York Avenue to Bard Avenue. The program will allow users to access the entire waterfront roadway along Staten Island's North Shore thoroughfare.
Saturday, August 5, 12, and 19: Manhattan
Summer Streets in Manhattan will extend the traditional route from Brooklyn Bridge all the way into Harlem, traveling along Lafayette Street and Park Avenue up to 109th Street; on Central Park North from Fifth Avenue to Adam Clayton Powell Boulevard; and finally along Adam Clayton Powell Boulevard from 110th Street to 125th Street.
Saturday, August 26: Brooklyn and the Bronx
Summer Streets in Brooklyn will travel along Eastern Parkway, from Grand Army Plaza to Buffalo Avenue, connecting Prospect Heights and Brownsville along the same route as the Caribbean Day Parade — one of the city's most popular annual events.
Summer Streets in the Bronx will follow Grand Concourse, from East Tremont Avenue to Mosholu Parkway, opening a major corridor to people from the west to the north Bronx.
Programming will be updated online periodically. Organizations interested in hosting activities, performances, or other programming should complete DOT's Summer Streets 2023 partner survey.
Summer Streets sponsors this year include Vita Coco, Cabot Creamery, I LOVE NY, C4 Energy, Forager Project, Super Coffee, Boxed Water, and Core Power Yoga. WABC-TV will serve as Summer Streets official media sponsor.
"With the return of the Summer Streets program, now New Yorkers across the five boroughs can take advantage of this opportunity to walk, bike, and play in a safe environment free of vehicle traffic," said U.S. Representative Jerrold Nadler. "I look forward to joining our neighbors for this event, which demonstrates how much more connected our neighborhoods become when we prioritize people over private car travel."
"Hundreds of thousands of New Yorkers have already enjoyed Summer Streets in Manhattan, so there is clearly sufficient demand to expand the program to Queens and throughout the city," said Queens Borough President Donovan Richards Jr. "The COVID-19 pandemic underlined the importance of providing access to ample public space in all of our communities, and the expansion of Summer Streets will strongly further our goal of equitably creating more such access in Queens and across the city. Our borough looks forward to what will be a fun and exciting Summer Streets Saturday along the Long Island City/Astoria waterfront on July 29."
"Summer Streets are coming to Brooklyn, just in time for the long, sunny days and beautiful weather," said Brooklyn Borough President Antonio Reynoso. "I'm so happy that the city has heard our call to give the streets back to the people to which they belong. Summer Streets are all about celebrating the New Yorkers who call this city home and the culture and arts they bring with them. I'm so grateful to Mayor Adams and Commissioner Rodriguez, and I can't wait to see all of Brooklyn show out to enjoy our borough and the city we share."
"Every year, Summer Streets showcase what improved space for people transportation like can look like in New York City," said Manhattan Borough President Mark Levine. "I am thrilled to see another expansion of the continuous car-free stretch from the Brooklyn Bridge to Harlem and look forward to seeing my neighbors enjoying the extra space and summer weather."
"The Summer Streets program affords communities the chance to come together on our streets and enjoy the city's diverse public spaces," said New York City Council Majority Whip Selvena N. Brooks-Powers, chair, Committee on Transportation and Infrastructure. "I commend the administration for emphasizing equity by extending this program throughout the five boroughs, and I look forward to the community's feedback on its expansion."
"There is no question that the Open Streets program has been a major success," said New York City Councilmember Gale A. Brewer. "I commend the administration for continuing and expanding Open Streets in a way that increases access for all New Yorkers."
"The Long Island City Partnership thanks Mayor Adams and the New York City Department of Transportation for bringing the popular Summer Streets program to Long Island City and beyond," said Laura Rothrock, president, Long Island City Partnership. "Summer Streets is a must-do for walkers, runners, bikers, or anyone who wants to celebrate the summer in New York."
"With this expansion of Summer Streets, Mayor Adams continues to demonstrate his commitment to creating safe, vibrant, and accessible outdoor spaces for New Yorkers and visitors to play, walk, and bike," said James Mettham, president, Flatiron NoMad Partnership. "We look forward to hosting Summer Streets blocks on Park Avenue South, complementing our Flatiron Public Plazas, Broadway Vision blocks, and other dynamic pedestrian spaces in Flatiron and NoMad."
"Summer Streets is a highlight of every year, and we're excited that even more of New York City can experience it in 2023," said Rob Byrnes, president, East Midtown Partnership. "Mayor Adams and Commissioner Rodriguez are to be commended for making this program a five-borough experience."
"Summer Streets is a gift to all New Yorkers, giving residents more space to connect with neighbors and enjoy the outdoors," said Linda E. Johnson, president and CEO, Brooklyn Public Library. "We applaud Mayor Adams and DOT Commissioner Ydanis Rodriguez for expanding this program to all five boroughs, and we especially look forward to welcoming cyclists and pedestrians traveling down Eastern Parkway to visit our historic Central Library on Grand Army Plaza."
"We applaud Mayor Adams and the Department of Transportation for significantly expanding Summer Streets and turning this cherished annual event into a five-borough celebration," said Ken Podziba, president and CEO, Bike New York.  "It's been a priority of Commissioner Rodriguez since he chaired the New York City Council Transportation Committee to open our streets to cyclists and pedestrians and bring quality cultural and educational programming to all New Yorkers. Today we see his vision become a reality. This year's Summer Streets is by far the most equitable and inclusive one ever and sets a new standard for this treasured event that allows New Yorkers to connect car-free with their communities and neighbors like nothing else can."
"This is such a victory for New Yorkers everywhere," said Jackson Chabot, director of advocacy and organizing, Open Plans. "For over a decade, Summer Streets has brought joy and energy to Manhattan streets — now New Yorkers across the city can enjoy the same in their own boroughs. This is the kind of investment in public space that will catapult New York into a healthier, happier future."
"Summer Streets has proved immensely popular since its inception in 2008, with hundreds of thousands of New Yorkers and out-of-town visitors flocking to Manhattan's car-free streets every August. We're excited that Mayor Adams is expanding the 2023 edition of Summer Streets to all five boroughs and look forward to festivities that will range from Richmond Terrace to the Grand Concourse," said Eric McClure, executive director, StreetsPAC. "We hope this summer's fun will lead to even more miles and days of Summer Streets in 2024."
"New Yorkers love streets for people, and Summer Streets are a great way to showcase their benefits. The expansion to all five boroughs is welcome news for millions of New Yorkers," said Danny Harris, executive director, Transportation Alternatives. "We look forward to this successful program continuing to expand to deliver safe, healthy, and vibrant streets to more neighborhoods — especially ones that lack open space."
"Summer Streets are a precious glimpse into a future where we have reimagined our public realm and allocated space more equitably for all New Yorkers and more sustainably for the planet," said Corey Hannigan, active transportation program manager, Tri-State Transportation Campaign. "We are thrilled to see the program expand beyond Manhattan to reach all five boroughs and urge everyone to get out and experience how quiet, safe, and joyful our streets can be once we think beyond the car."
Photo credit: 1) Summer Streets 2022 on the Upper East Side. Credit: New York City Department of Transportation. 2) Summer Streets 2022 in Lower Manhattan. Credit: New York City Department of Transportation.
---