---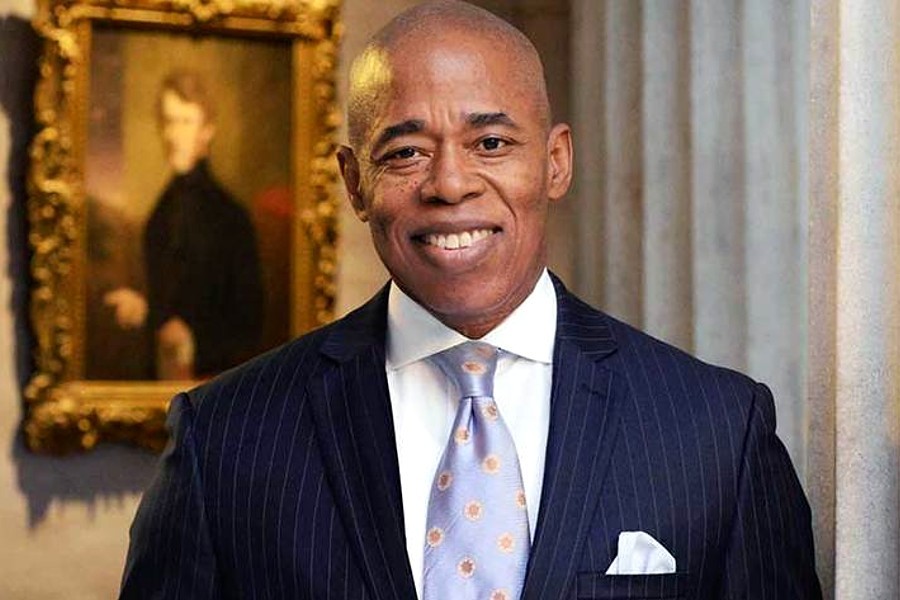 As part of its nationwide, $2 billion commitment to help bridge the digital divide, AT&T is working with New York City Mayor Eric Adams.
The New York City Department of Social Services, and nonprofits Digitunity, Human-I-T and Electronic Access Foundation (EAF) provide 2,500 laptops to non-profits serving families experiencing homelessness across New York City.
The refurbished donated laptops are being given to families across the five boroughs — with a focus on those who are experiencing homelessness — to support participation in online learning and digital life. This cross-sector collaboration is part of AT&T's pledge that began in 2022 to help provide 4,000 refurbished computers to underrepresented students in New York City by 2024.
EAF and Human-I-T are computer refurbishing organizations that work with Digitunity to provide underrepresented students across the nation with technology while protecting the planet by diverting devices and other e-waste from landfills. The donation also includes digital literacy resources and technical support services.
In addition, AT&T is collaborating with the Public Library Association (PLA) and two national digital equity nonprofit organizations, Digitunity and Connected Nation, to provide free educational resources to help families of students participate in digital engagement and learning. This includes The Achievery, a new, free digital learning platform created by AT&T to make digital learning more engaging, entertaining, and inspiring for K-12 students.
Why is this important? It's estimated that more than 945,000 K-12 students1 in New York City lack access to reliable internet service, computers or the skills needed to benefit from the online world, an issue known as the digital divide.
This New York City focus of a national AT&T initiative was announced by Mayor Adams, DSS Commissioner Gary Jenkins, and representatives from AT&T, Digitunity, Human-I-T and EAF at an event in the Bronx where laptops were distributed to children residing in a DSS family shelter. The 2,500 laptops are being donated across various DSS shelters serving families with children experiencing homelessness. DSS operates these shelters in partnership with not-for-profit social service providers, offering comprehensive social services and supports to families experiencing homelessness while prioritizing academic stability for children in the shelter system.
As digital learning becomes increasingly prevalent, students who lack computer or reliable internet access are at a significant learning disadvantage. Every student in the New York City, regardless of income, deserves the resources and supports they need to reach their full academic potential, which is why New York City and AT&T are committed to supporting student access to the digital devices and online resources that strengthen participation in online learning.
"Access to reliable internet and computers are no longer a luxury, but a necessity," said New York City Mayor Eric Adams. "These tools are vital to succeeding in school and work, and staying connected as a society. Bridging the digital divide is at the heart of building a more equitable city and I thank AT&T and Digitunity for their collaboration and generous donation of laptops to New York City's most vulnerable families."
"AT&T is honored to be joined by Mayor Adams and DSS to work with these important nonprofits that serve some of the city's most vulnerable families across the five boroughs to help close the digital equity gap in New York City. Many students in New York lack the devices needed for online learning — and we are dedicated to fixing that inequity,"said Judy Cavalieri, Vice President and General Manager, AT&T New York. "Access to computers is vital in helping to bridge the digital divide and we are glad we can provide these resources to those that need them most."
"In our increasingly digital world, access to a computer with a stable internet connection is a prerequisite for academic success. Still, far too many of our most vulnerable families and students lack this access and struggle to participate in crucial digital learning opportunities," said Department of Social Services Commissioner Gary P. Jenkins. "We are committed to overcoming this digital divide and ensuring that all students have access to the devices and resources that are critical to academic success. As such, we are thrilled to collaborate with AT&T, Digitunity, Human-I-T, and EAF as they provide laptops and digital resources to some of the city's most vulnerable families."
The more than 4,000 computers being donated in New York City are part of a 10-city project led by AT&T and Digitunity to provide more than 24,000 refurbished computers, digital literacy resources and technology support over the next two years to families across the nation. These efforts are the latest development within the AT&T Connected Learning initiative.
Created as part of AT&T's companywide, $2 billion commitment, AT&T's contributions to this initiative help address the digital divide through investments in digital literacy tools, education resources, broadband technology, low-cost internet service, computers, and more to help today's learners succeed wherever they are.
"Everyone who needs a computer should have one. It's the thing that allows people to participate fully in the modern economy,"said Scot Henley, Executive Director of Digitunity. "For students today, having a connected computer and the skills to use it is as critical to their success as having books, paper, and pencils. We're proud to support this effort to connect students in New York City."
Many students across the U.S. are affected by the digital divide and struggle to participate with online learning opportunities because of unreliable internet access, lack of computers, or poor digital literacy skills. This project will help under-resourced students engage in today's digital learning environment. Digital literacy is the new universal language, not only in the workplace, but in school. In fact, 7 out of 10 teachers assign online homework assignments as part of their school curriculum. Having a large screen device is necessary and critical to academic success and future opportunities for students.
"At Human-I-T, we believe access to technology is a right, not a privilege. We're excited to collaborate with AT&T, Digitunity, and the Mayor's office to provide access to technology to New York residents on the wrong side of the digital divide and empower them to achieve their fullest potential," said James Jack, Co-Founder and Chief Innovation Officer of Human-I-T.
"We're thrilled with the opportunity to collaborate with Digitunity and AT&T in this coordinated effort to support New York residents. It has been wonderful to create new partnerships with non-profit organizations in the city. We look forward to our ongoing relationships with them," said Greg Campbell, Director of Operations, Electronic Access Foundation.
Human-I-T
Human-I-T is a 501(c)3 social enterprise that creates equitable access to opportunity by providing devices, internet access, digital skills training, and technical support for community members, while at the same time, empowering businesses and organizations to do good by diverting technology from landfills to protect the planet. To learn more, please visit https://www.human-i-t.org.
Electronic Access Foundation
Electronic Access Foundation Inc. (EAF) is a non-profit 501(c)(3), all-volunteer organization based in Northern New Jersey established for the purpose of donating surplus electronic equipment to other qualified organizations in need. EAF offers free pickup of equipment and data sanitation and obtains donations through partnership with corporations, universities, and organizations by offering an alternative to recycling surplus electronic equipment. To learn more, please visit www.e-access.org.
Digitunity
Digitunity, a national nonprofit organization, connects corporate and individual donors of technology to 1,500 partner organizations serving people in need across North America. With a proven body of work spanning nearly 40 years and a national network of member organizations, Digitunity works to ensure barriers limiting equitable opportunity to participate in our digitally connected society are removed. Learn more at digitunity.org.
Philanthropy & Social Innovation at AT&T
We're committed to advancing education, creating opportunities, strengthening communities, and improving lives. As part of our companywide $2B commitment from 2021 to 2023 to address the digital divide, we launched AT&T Connected Learning to invest in connectivity and technology, digital literacy, and education solutions to help today's learners succeed inside and outside of the classroom. Since 2008 we've committed to programs that help millions of students across all 50 states and around the world, particularly those in underserved communities.
---