---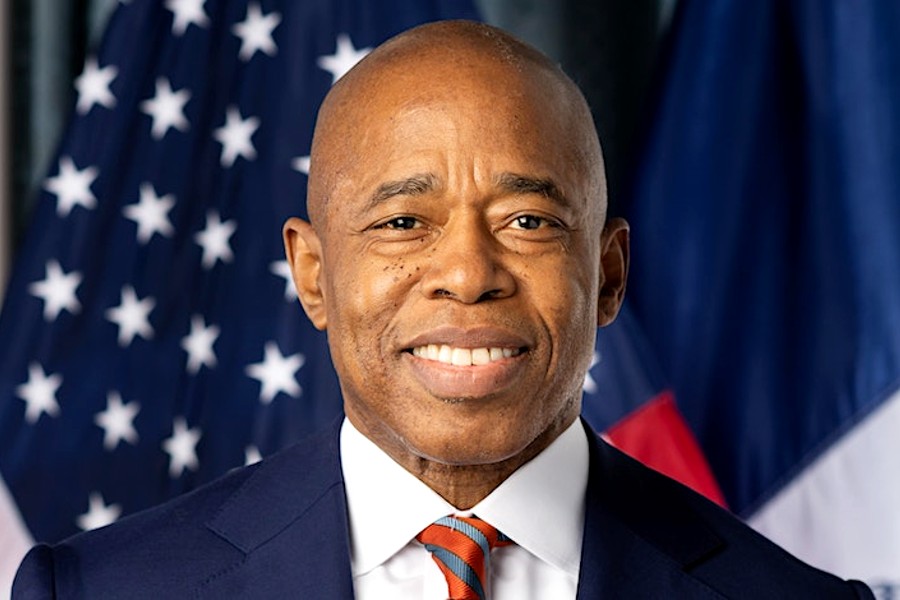 New York City Mayor Eric Adams today announced the appointment two new members to the team.
One of those appointed is Sideya Sherman as the city's chief equity officer and commissioner of the newly created Mayor's Office of Equity & Racial Justice (MOERJ) and Linda Tigani as chair and executive director of the New York City Commission on Racial Equity (CORE). Both Sherman and Tigani currently serve in leadership roles in the Adams administration, advancing equity and racial justice for New Yorkers. MOERJ and CORE were created by voters as part of the 2022 racial justice ballot proposals, which voters overwhelmingly approved to advance racial justice and equity for all.
"New Yorkers spoke clearly at the voting booth — and this administration listened. The fight for racial equity and justice still continues, and I am proud to have Commissioner Sideya Sherman and Linda Tigani on the frontlines," said Mayor Adams. "With this new office and leadership, we are tackling the root causes of racism to transform systems, address historic injustices, and deliver equity to our city."
"With the appointment of Commissioner Sideya Sherman and Linda Tigani, we are taking bold steps towards a future where every voice is heard, every perspective is valued, and every New Yorker's rights and dignity are upheld — regardless of their background," said First Deputy Mayor Sheena Wright. "This administration is proud to 'Get Stuff Done' and deliver on our promise to voters by establishing this new office and commission, marking a pivotal moment in our commitment to a more inclusive and just community."
"…our city's journey to equity for all…"
"This administration is thoroughly committed to progress and innovation, which is made evident by the creation of the Mayor's Office of Equity & Racial Justice and the Commission on Racial Equity," said Deputy Mayor for Strategic Initiatives Ana Almanzar. "As we embrace this historic chapter in our city's journey to equity for all, we are thrilled to entrust Commissioner Sideya Sherman and Linda Tigani with the authority to build a path to a brighter future for New York City."
"I am deeply honored to continue working alongside Mayor Adams and leaders across this administration to root out inequities and help level the playing field for all New Yorkers," said Chief Equity Officer and MOERJ Commissioner Sideya Sherman. "We have made great strides in addressing inequities through policies and programs, but there is structural work we must undertake to repair the harms of the past and bring about lasting change. I look forward to partnering with newly appointed chair and executive director Linda Tigani and the commission to engage New Yorkers and ensure our city fulfills its promise."
"Our nation stands at a critical juncture, where regressive policies are eroding the progress made in advancing racial equity," said Commission on Racial Equity Chair and Executive Director Linda Tigani. "I am honored to work on behalf of New Yorkers, specifically communities who experience the impact of longstanding racial oppression, to bring their perspectives into the decision-making process. I look forward to working with Chief Equity Officer and Commissioner Sherman to ensure that community priorities inform racial equity planning and action in New York City."
The appointments of Sherman and Tigani, along with the launches of the new office and commission, fulfill the city's promises made to New Yorkers last year. In November 2022, New York City voters overwhelmingly passed all three racial justice measures on the ballot: adding a statement of values to guide the city's charter; requiring the city to establish a racial equity office and commission, as well as racial equity plans; and calling for the city to measure the true cost of living for city residents.
The Mayor's Office of Equity & Racial Justice — established as the city's Racial Equity Office — will lead implementation of these measures and start by producing the city's first citywide racial equity plan. The office will work closely with the Commission on Racial Equity, an independent commission charged with engaging New Yorkers, to ensure community voice and racial equity priorities shape the city's plan.
Sideya Sherman
Sherman has served as commissioner of the Mayor's Office of Equity, which she has led since its inception in 2022, and will now expand its scope to become MOERJ. In her new role, she will lead the implementation of groundbreaking racial justice amendments to the City Charter and continue to oversee the New York City Young Men's Initiative, the New York City Unity Project, and the New York City Commission on Gender Equity, as well as multiagency entities like the New York City Pay Equity Cabinet and the New York City Taskforce on Racial Inclusion & Equity.
Sherman brings nearly two decades of equity-focused community and economic development experience to the role, after serving as executive director of the New York City Taskforce on Racial Inclusion & Equity (TRIE) and executive vice president for community engagement and partnerships at the New York City Housing Authority (NYCHA).
In her time at TRIE, Sherman worked across over 60 city agencies and offices to advance new programs, policies, and initiatives that center equity in the city's ongoing pandemic response and recovery. At NYCHA, she implemented new high-impact resident programs, established innovative, cross-sector partnerships, and garnered new resources to support resident health, social services, youth, economic opportunity, and community engagement initiatives.
Prior to her career in government, Sherman served diverse communities in the nonprofit sector, working at the Municipal Art Society of New York, the Local Initiatives Support Corporation, and the Lower East Side Business Improvement District.
She holds a bachelor's degree in political science from Utica College and a master's degree in urban affairs from Hunter College.
Linda Tigani
Linda Tigani served as acting chief equity and strategy officer for DOHMH since 2022 and will now serve as chair and executive director of the Commission on Racial Equity. With a proven track record of strategic planning and extensive experience in implementing programs, Tigani has served as a critical force on moving racial justice forward across the city, driving key interagency efforts and effectuating change citywide. Tigani was jointly approved by Mayor Adams and New York City Council Speaker Adrienne Adams, and will serve as chair of the commission, leading the efforts of this new body and its 15 commissioners.
While at DOHMH, Tigani led the "Race to Justice" team and reforming the agency internally in line with the principles of anti-racism. She worked with DOHMH Commissioner Dr. Ashwin Vasan and across the agency to implement an equity-focused strategic plan in all agency programming and operations.
She has also served as senior director for children, youth, and families in the Mayor's Office of Community Mental Health and as an education policy advisor for former First Deputy Mayor Dean Fuleihan.
Tigani holds a bachelor's degree in sociology from Bard College and a master's degree in social work from Silberman School of Social Work at Hunter College.
"A deep commitment to and sustainable investment in equity points our city in the direction of justice. The Mayor's Office of Equity & Racial Justice and the Commission on Racial Equity are necessary infrastructure for implementation to move us from words to action," said New York City Chief Engagement Officer Betsy MacLean. "If anyone can get this job done, it's Chief Equity Officer Sideya Sherman and Executive Director Linda Tigani, whose extensive track records in the tough work of advancing equity speak for themselves. We know that meaningful community engagement must be the foundation of the upcoming racial equity planning process, and I can't wait to work with Sideya, Linda, and their teams to shift the paradigm and create the conditions for a just and inclusive city for all New Yorkers."
"When it comes to making our city healthier, fairer, stronger, and more inclusive, all roads run through equity," said DOHMH Commissioner Dr. Ashwin Vasan. "The new Mayor's Office of Equity & Racial Justice and the Commission on Racial Equity will ensure that New York City leads with action and accountability. As this is a transformational moment for our city, it is also an extremely proud moment for public health and for the New York City Department of Health and Mental Hygiene, as our very own Linda Tigani has been tapped to lead the new commission. We are proud and glad that she will carry the torch for public health in all that she does in leading the commission and partnering with the outstanding Commissioner and Chief Equity Officer Sherman to increase racial equity citywide."
"To chart a path toward a more equitable New York City, we have to ensure we have the right people with the right vision advancing this invaluable work. The new appointments of Commissioner Sherman and Linda Tigani affirm that we are heading in the right direction," said New York City Department of Citywide Administrative Services Commissioner Dawn M. Pinnock. "Mayor Adams' administration has long championed building inclusive, safe spaces that reflect the diversity of the city we serve. I look forward to working closely with this new office and commission to increase equity and access for all."
"…roots are deeply enmeshed with the fight for racial justice…"
"Commissioner Sherma and Linda Tigani both exemplify the dedication and compassion necessary in our fight for racial equity," said New York City Commission on Human Rights Commissioner and Chair Annabel Palma. "The commission's roots are deeply enmeshed with the fight for racial justice, and we look forward to continuing our partnership with Commissioner Sherman and Linda Tigani in their new roles." 
"Mayor Adams has an unparalleled commitment to diversity and inclusion," said New York State Assemblymember Jenifer Rajkumar. "This year, the mayor and I worked together to empower all the diverse communities of this city when we partnered to make Diwali a public-school holiday, expand access to Halal school meals, and increase the MWBE discretionary purchase threshold. Today, the mayor continues this work with the appointment of two exceptional and eminently qualified individuals who will ensure we have a city where everyone has a shot at the American dream. Sideya Sherman and Linda Tigani boast distinguished careers in and out of government to advance equity and justice. As the first South Asian American woman elected to New York State Office, I look forward to working with them both so that our city provides equal opportunity to all eight million New Yorkers."
"New York City is stronger when we prioritize racial justice and confront long-standing structural and systemic inequities that impact New Yorkers," said New York City Council Speaker Adrienne Adams. "The appointments of Sideya Sherman as chief equity officer and commissioner and Linda Tigani as chair and executive director of the Commission on Racial Equity are important steps forward to address racial disparities in our city. I look forward to working with them to create a more just and equitable city for all."
"I am thrilled by Mayor Adams' appointments of Sideya Sherman and Linda Tigani, a crucial step towards advancing equity and racial justice for New Yorkers," said New York City Councilmember Nantasha Williams.  "Their leadership in the newly created Mayor's Office of Equity & Racial Justice and the Commission on Racial Equity is promising. I am excited about what this signifies for our city's future—a strong commitment to unity, diversity, and creating a more equitable society. Together, we are poised to make significant strides, and I eagerly anticipate the positive changes to come. I look forward to working with their respective offices to advance our Juneteenth package of bills."
"…building a path to a higher future of New York City."
"The development of the new NYC Mayor's Office of Equity & Racial Justice and the NYC Commission on Racial Equity marks an unprecedented, historic chapter in our city's journey towards equity for all," said Dr. Hazel Dukes, president, NAACP New York State Conference. "With the office under the leadership of Chief Equity Officer and Commissioner Sherman, and CORE under the leadership of Chair & Executive Director Tigani, we embrace the change to come and look toward building a path to a higher future of New York City."
"The appointments of Sideya Sherman as commissioner and chief equity officer and Linda Tigani as chair and executive director of the NYC Commission on Racial Equity by Mayor Adams evidence his sincere commitment to advancing justice and equity for all New Yorkers, especially those who've been marginalized intergenerationally because of their identities," said Jennifer Jones Austin, CEO and executive director, Federation of Protestant Welfare Agencies "As the chair of the former New York City Racial Justice Commission, I am heartened to learn that Ms. Sherman and Ms. Tigani, both proven leaders, will be leading the city in the implementation of the racial justice charter revisions that were articulated by the commissioners and subsequently embraced by New York City electorate."
"The launch of the new NYC Mayor's Office of Equity & Racial Justice and the NYC Commission on Racial Equity are crucial steps toward transforming our city into a more just and equitable home for all New Yorkers," said United Way of New York City president and CEO Grace C. Bonilla, and inaugural executive director of New York City's Taskforce on Racial Equity & Inclusion. "I have immense confidence in Commissioner and Chief Equity Officer Sherman and Chair & Executive Director Tigani as they work to dismantle the systemic barriers that have adversely affected people of color in New York City for so long. I know I speak on behalf of my entire organization when I say we look forward to collaborating with them in our work to help all New Yorkers thrive."
---