---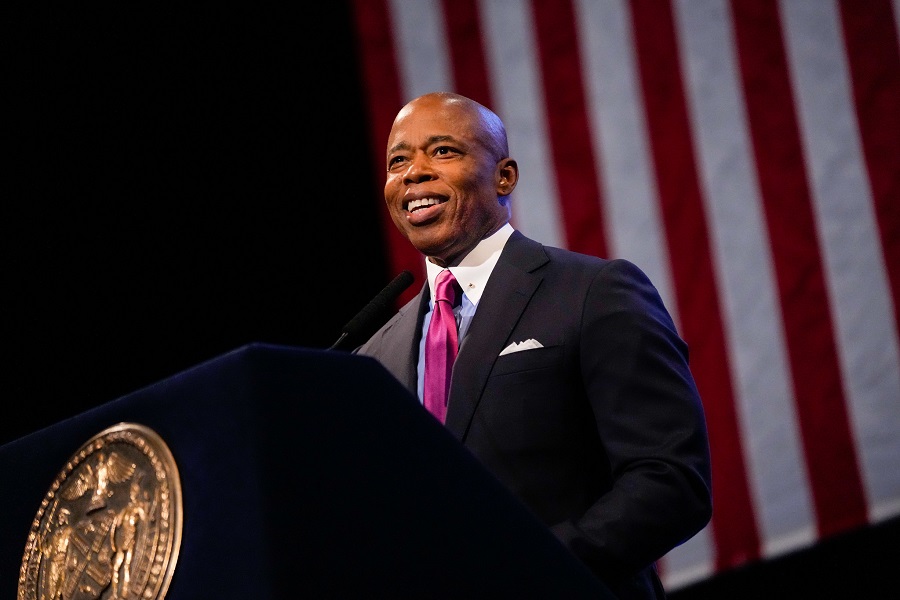 New York City Mayor Eric Adams today announced that Deputy Mayor Maria Torres Springer will serve in a newly expanded role as deputy mayor for housing, economic development, and workforce.
In her expanded role, Deputy Mayor Torres-Springer will drive the city's efforts to preserve and improve the New York City Housing Authority (NYCHA), move New Yorkers experiencing homelessness into stable housing, and advance Mayor Adams' moonshot goal of creating 500,000 new homes for New Yorkers over the next decade.
Since January 2022, Deputy Mayor Torres-Springer has helped lead the Adams administration's work to accelerate the creation of much-needed housing in her oversight of the New York City Department of City Planning and the New York City Economic Development Corporation (NYCEDC). She was one of the chief architects of Mayor Adams' "Get Stuff Built" plan to speed up housing construction as a co-chair of the Building and Land Use Approval Streamlining Task Force; the "City of Yes" citywide zoning text amendments to support small businesses, create new housing, and promote sustainability; the transformation of Willets Point with 2,500 affordable homes; and the administration's community planning efforts in the East Bronx, Central Brooklyn, the North Shore of Staten Island, Midtown South, and Jamaica.
"In a year and half with this administration and throughout her career in public service, Deputy Mayor Torres-Springer has shown clearly that she is ready to take bold action to tackle the city's affordable housing crisis," said Mayor Adams. "She has a proven record of creating affordable housing and economic opportunity for New Yorkers, and her leadership of our economic recovery efforts has delivered real results. She is the right person at the right time to create and preserve the safe, high-quality, affordable housing New Yorkers so desperately need, and I congratulate her on this expanded role that will allow her to serve even more New Yorkers."
"Having grown up in Section 8 housing, I know firsthand that safe and affordable housing is about more than mere brick and mortar — it's about creating opportunity and improving lives," said Deputy Mayor Maria Torres-Springer. "Under Mayor Adams' leadership, we came in with a bold agenda to change the paradigm for how we grow equitably as a city. I am incredibly humbled to further serve New Yorkers as we strive to provide stable housing for our neighbors, protect our existing affordable and public housing, and identify new ways to make housing affordable for all New Yorkers at this critical moment in our city's history. I want to thank Jessica Katz for her tireless efforts and Mayor Adams for entrusting me to carry this critical work forward."
"Maria Torres-Springer has been one of the primary drivers of our administration's efforts to build more of the housing New Yorkers so desperately need and build it faster in every corner of our city," said First Deputy Mayor Sheena Wright. "She has a long record of delivering results at the highest levels of city government and of partnering with impacted communities to ensure their voices are heard and their needs are being met. There could not be a better choice to continue the work started by the chief housing officer and her team, and I am excited to continue working with Deputy Mayor Torres-Springer to keep this city affordable for working- and middle-class families in all five boroughs."
"Deputy Mayor Torres-Springer has a proven record of results delivering new housing for New Yorkers and helping to make this city more affordable," said Chief of Staff Camille Joseph Varlack. "She has been a tremendous partner and a pivotal member of the leadership team since day one of this administration, and I am excited to work with her to protect NYCHA tenants, prevent New Yorkers from experiencing homelessness and housing instability, and speed up the production of new homes in all five boroughs."
"Over the last 17 months, I have been thrilled and delighted to work closely with Deputy Mayor Torres-Springer to advance new housing developments and other critical community investments," said Chief Advisor Ingrid P. Lewis-Martin. "Maria is a visionary with the experience, the creativity, and the compassion that we need to tackle the housing crisis head on and to deliver on Mayor Adams' vision for a stronger and more affordable New York City."
"Having worked with Maria for years, I'm thrilled to see her continue the important work of solving our city's housing crisis as deputy mayor for housing, economic development, and workforce," said Chief Housing Officer Jessica Katz. "Maria is committed to ensuring New Yorkers have safe, stable, and affordable homes, and she will keep tenants and our neighbors experiencing homelessness centered in these conversations at City Hall."
Maria Torres-Springer
Maria Torres-Springer has served as the deputy mayor for economic and workforce development since January 2022, spearheading the Adams administration's efforts to strengthen and diversify the city's economy, invest in emerging industries, bolster small businesses, connect New Yorkers to family-sustaining jobs, and expand access to arts and culture. As deputy mayor, she has overseen "Rebuild, Renew, Reinvent: A Blueprint for New York City's Economic Recovery" and the city's strong jobs recovery, efforts to support small businesses with the "Small Business Forward" executive order, commercial district recovery and the "New" New York panel's "Making New York Work for Everyone" action plan, and transformational projects in Willets Point and on Governors Island.
She was previously vice president of U.S. programs at the Ford Foundation, where she oversaw the foundation's domestic grantmaking and made historic investments in support of racial equity, workers' rights, voting rights, and arts and culture across the country.
Torres-Springer has a long track record of public service in New York City, having led three city agencies with over 3,000 employees and approximately $2 billion in annual operating budgets, addressing some of the city's most significant public policy challenges. As commissioner of the New York City Department of Housing Preservation and Development, she oversaw the financing of approximately 60,000 affordable homes — the most over any two-year period in the agency's history. She also helped develop comprehensive plans for investments in Inwood, Downtown Far Rockaway, Jerome Avenue, and other neighborhoods; advanced initiatives to promote innovations in design and construction; and launched several new programs to protect tenants' rights. She has served as board chair of the New York City Housing Development Corporation and as a board member of the New York City Housing Authority.
As the first woman to serve as president of NYCEDC, she led the implementation of the citywide NYC Ferry service and oversaw major investments in key sectors of the city's economy. Working closely with community leaders, she also spearheaded several neighborhood revitalization plans across the city.
As commissioner of the New York City Department of Small Business Services, she prioritized efforts to raise wages and support women- and immigrant-owned businesses. She also launched Women Entrepreneurs NYC and worked to prepare New Yorkers for 21st-century jobs through the Tech to Talent Pipeline program.
Torres-Springer earned a bachelor's degree in ethics, politics, and economics from Yale University and a master's degree in public policy from the Kennedy School of Government at Harvard University.
Deputy Mayor Torres-Springer will continue to report to First Deputy Mayor Sheena Wright.
"I had the pleasure of working with Maria for many years and saw firsthand what an effective and passionate leader she is," said Alicia Glen, former deputy mayor of housing and economic development. "And with housing issues more front and center in New York City than ever, I commend Mayor Adams for recognizing the importance of having someone who has a deep understanding of the relationship between affordability and economic development to be charged with delivering practical solutions and moving forward a pro-growth agenda."
"Getting things done in government is hard, which is why reducing bureaucratic friction is so important. Putting agencies that need to work together under a single deputy mayor makes complete sense," said Dan Doctoroff, former deputy mayor for economic development; and co-chair, "New" New York panel. "That's why having Deputy Mayor Maria Torres-Springer, with her deep and valuable experience, lead housing is a great decision and represents a significant move by Mayor Adams."
"No issue is more critical to the future of our city than expanding access to affordable housing.  And no person is more prepared to lead that charge than Deputy Mayor Maria Torres-Springer," said Richard Buery, CEO, Robin Hood; former deputy mayor for strategic initiatives; and co-chair, "New" New York panel. "Throughout her career, Deputy Mayor Torres-Springer has developed and implemented innovative strategies to make sure that New York City can be a place that truly works for all New Yorkers. We at Robin Hood are excited to partner with her and the administration to make that vision a reality."
"Our city's current housing crisis is historic in proportion. We need fearless and empathetic leadership. Mayor Adams couldn't make a better choice in expanding Maria's role to include oversight of the critical housing agencies," said Mathew Wambua, co-chair, New York Housing Conference; and former commissioner, New York City Department of Housing Preservation and Development (HPD). "Maria has successfully headed up three agencies, spanning three administrations. Her entire career has been committed to public service, in pursuit of greater equity and opportunity for all New Yorkers. She is battle-tested and uniquely qualified to lead this work."
"Having known Maria for two decades, I have no doubt that she will bring her deep devotion to New Yorkers, long record of public service, and unwavering commitment to finding solutions that promote housing security to her expanded role," said Denise Scott, president, Local Initiatives Support Corporation. "Maria has successfully managed numerous complex agencies for the city. This could not have come at a more critical time given the city's dire housing crisis and the need to take bold steps to ensure all New Yorkers have access to safe, dignified, and affordable homes."
"I applaud Mayor Adams for adding the housing agencies under Deputy Mayor Torres-Springer's portfolio," said Michelle de la Uz, executive director, Fifth Avenue Committee. "She is uniquely qualified to ensure the city has the capacity and internal alignment necessary to meet this critical moment."
"We look forward to working with Maria Torres-Springer, who has a deep understanding of the city's complex housing system and its challenges based on both professional and firsthand experience," said Jolie Milstein, president and CEO, New York State Association for Affordable Housing. "Her knowledge of policy and ability to navigate city government make her the right person for the job as we tackle the current housing crises."
"New York Housing Conference has great confidence in Deputy Mayor Torres-Springer and her ability to lead New York City's housing agencies at this critical time for our city — facing record homelessness, rising rents, and a severe shortage of affordable homes," said Rachel Fee, executive director, New York Housing Conference. "She's a public servant who leads with integrity, competence, and compassion and the right person to align housing with other related city priorities in planning and economic development. We look forward to working with her to advance affordable housing priorities."
"Henry Street Settlement applauds the decision to position the city's response to today's acute housing challenges under the capable, compassionate, and highly experienced leadership of Maria Torres-Springer, elevating and prioritizing this area of critical importance to the city's future," said David Garza, president and CEO, Henry Street Settlement. "As an organization that serves thousands of low-income New Yorkers, we understand that affordable, accessible housing is a fundamental precursor to economic stability, health, and family success and that progress will require comprehensive integrated solutions across policy, practice, and advocacy related to economic development, housing, employment, education, and a range of social services. I am optimistic that Deputy Mayor Torres-Springer will lead confidently on this issue, particularly as the needs of a new migrant population challenges us to find new solutions to longtime problems."
"I commend Mayor Eric Adams for adding housing to the portfolio of Deputy Mayor Maria Torres-Springer," said Wayne Ho, president and CEO, Chinese-American Planning Council. "It is critically important for the City of New York to have a people-centered, comprehensive plan to increase affordable housing, support the unhoused, and promote quality jobs and equitable economic development. Because Asian Americans have the highest rate of overcrowded housing and the highest rate of poverty among all racial groups, we look forward to our continued partnership with Deputy Mayor Torres-Springer to ensure the city's fastest growing racial group is housed, employed, and thriving."
"We welcome the mayor's decision to expand the current role of Maria Torres-Springer, deputy mayor for economic and workforce development, to include oversight of New York City's housing agencies," said Yvonne Stennett, executive director, Community League of the Heights. "As the former commissioner of HPD, Ms. Torres-Springer possesses a vast understanding of the city's housing issues as well as the leadership abilities needed to strategically anchor both HPD and NYCHA. Her compassion, vision, and deep experience in both housing and economic development will allow Deputy Mayor Torres-Springer to address holistically the critical issues facing the city and its neighborhoods."
"Meeting the moment for New York City today requires a serious and sustained commitment to fixing our housing issues," said Howard Slatkin, executive director, Citizens Housing and Planning Council. "Maria Torres-Springer's experience and focus will be critical to moving us forward on imperatives that range from expanding the supply of all types of housing across our neighborhoods to fixing NYCHA with residents at the center of the conversation."
"Deputy Mayor Torres-Springer has a breadth of experience in housing, a strong track record of leadership, and a clear commitment to real action on complex policy challenges," said Annemarie Gray, executive director, Open New York. "In this moment when far too many of our elected leaders across the state are failing to take meaningful action to address the housing crisis, we look forward to working with Deputy Mayor Torres-Springer to ensure that the Adams administration uses every tool at its disposal to prioritize creating stable, dignified housing options for all. There is no higher priority for the future of New York."
"To meet our current housing needs and support future growth, New York State needs to build more than 800,000 new units of housing over the next decade, with New York City contributing a majority of those homes. We can think of no one better and more qualified to take on this formidable challenge than Deputy Mayor Maria Torres-Springer," said Tom Wright, president and CEO, Regional Plan Association (RPA). "RPA supports the deputy mayor and Mayor Adams as we push for legislation to support affordable housing, including reforms to make commercial to residential conversions easier, extending the existing 421-a program, and lifting the 12 FAR cap on residential development in Manhattan."
"Deputy Mayor Torres-Springer is an exceptional choice by Mayor Adams to lead his administration's efforts as we confront the current housing crisis," said Steven Rubinstein, chairman, and Melva Miller, CEO, Association for a Better New York. "Few public servants have her depth of experience bringing together nonprofits, the private sector, and government to get new housing built and to protect affordable apartments across the city. We congratulate the deputy mayor and look forward to working with her to keep this a city where native New Yorkers and newcomers all have a place to call home."
"Deputy Mayor Torres-Springer has the passion, institutional knowledge, and professional relationships that are necessary to drive the mayor's housing agenda," said Kathryn Wylde, president and CEO, Partnership for New York City. "She is uniquely qualified for this most important role."
---