---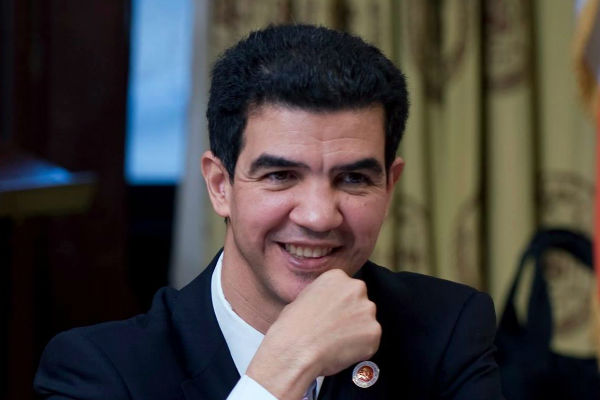 New York City Mayor Eric Adams and New York City Department of Sanitation (DSNY) Commissioner Jessica S. Tisch today unveiled the city's first containerized waste bins in a New York City commercial district.
This is part of efforts to clean up city streets and expand the Clean Curbs Pilot to all five boroughs across New York City.
The program tests methods for getting garbage bags off the streets — which in turn will reduce the convergence of rodents, improve aesthetics, and take back parts of city streetscape currently overburdened by piles of trash — and will include possible tests in business improvement districts (BID) and for both residential and commercial waste. Today's pilot began in one of New York City's busiest corridors: Times Square.
"Environmental justice begins at the street level, and it starts now," said Mayor Adams. "Clean streets are vital to vibrant neighborhoods and to New York City's economic comeback. We need to stop dodging black garbage bags and instead fund and test container models throughout the city that will make our streets cleaner and more inviting for both New Yorkers and visitors."
"For decades, New Yorkers have normalized the sight of black trash bags on our city's sidewalks. With the launch of 'Clean Curbs,' the Adams administration is transforming what is containing trash across the five boroughs," said Deputy Mayor for Operations Meera Joshi. "The partnership between city agencies and our neighborhood business districts brings a new vision of how we prioritize sidewalk and curb space for safer, greener, cleaner public spaces throughout the city."
"Clean curbs mean better experiences for workers, small businesses, families, and tourists in our commercial districts," said Deputy Mayor for Economic and Workforce Development Maria Torres-Springer. "The interagency partnership between SBS, DSNY, and DOT to get this initiative done is a great example of how we are working together to improve our city, enliven our business districts, and accelerate our city's economic recovery."
"Containerization is something that has been talked about for many years, but now we are actually testing what works and what doesn't in the real world," said DSNY Commissioner Tisch. "Today's announcement is a key step in finding ways to take back our streetscape from the mountains of black bags."
"SBS is excited to work with DSNY and our many nonprofit partners to identify creative solutions to beautify our neighborhoods and accelerate our city's economic recovery," said Small Business Services (SBS) Commissioner Kevin D. Kim. "Dynamic BIDs like the Times Square Alliance are essential to the success of our local small businesses. SBS is proud to help fund these pilot programs, which will help push for innovation and help clean up our business corridors."
"Sidewalks are an essential part of our infrastructure, where millions of New Yorkers and visitors cross paths every day," said New York City Department of Transportation (DOT) Commissioner Ydanis Rodriguez. "Waste containerization is critical to making our public space cleaner, neater, and more accessible for all, and we're happy to partner with DSNY on this program."
"With 300,000 people once again walking through Times Square, our commitment to clean sidewalks is a priority at Times Square Alliance," said Tom Harris, president, Times Square Alliance. "We are thrilled to work with the city to pilot this program here in Times Square and support Mayor Adams' initiative to bring this to more streets throughout New York City. We appreciate our partnership on this program with DSNY, DOT, and SBS, in addition to our councilmember, Erik Bottcher, who has advocated for cleaner streets throughout Midtown."
The Times Square bins are the first example of DSNY's Clean Curbs Pilot Program and will test sealed containers that hold trash collected from sidewalk litter and nearby litter baskets. Currently, many litter baskets in BIDs are cared for by the local association, which monitors litter baskets, and, when full, places bags next to baskets for collection, increasing capacity for the litter baskets but at the same time making trash accessible to rodents. The new containers will act as a centralized site to hold bags in a sealed atmosphere prior to collection.
Times Square Alliance installed two containers, which they maintain; one is located at 41st Street and 7th Avenue, and the other is located at 43rd Street and 8th Avenue.
This pilot is just one initiative underway in the Clean Curbs programs. DSNY and SBS recently announced the Neighborhood Challenge grant program for BIDs and community-based development organizations to make public space and cleanliness improvements with a particular focus on BIDs in underserved communities. Applications for the first round of funding are due this Friday, April 22, and a second round of grant applications will open this summer. The new five-borough test includes $1.3 million in new funding in Fiscal Year 2023.
Our pilot program for waste containerization is one that is overdue but necessary to keep our streets and communities clean," said Brooklyn Borough President Antonio Reynoso. "As the former sanitation chair for the City Council, I know how long we've been advocating for such a pilot that will create efficiency in trash storage, reduce rats, and keep our streets and sidewalks today."
"Containerized trash is long overdue, and I'm thrilled to have the first bins for commercial use installed right here in Times Square," said New York State Senator Brad Hoylman. "I'm confident the commercial containerization and 'Clean Curbs' pilot program will prove a success in making cleaner neighborhoods, combatting the rat infestation, and creating a more pleasant experience for pedestrians that currently navigate piles of trash bags bigger than they are. Thank you to Mayor Adams, Sanitation Commissioner Tisch, and the Times Square Alliance for working together to implement this much-needed new program. I'm looking forward to expanding these efforts citywide."
"Today's debut of containerized waste bins and expansion of the 'Clean Curbs' pilot are important steps that will bring us closer to cleaner streets," said New York City Councilmember Sandy Nurse, chair, Committee on Sanitation and Solid Waste Management. "As we move forward with expanding containerization, we must prioritize pilots in environmental justice communities and other areas of our city where litter and trash are impacting quality of life, so that all New Yorkers can have the clean streets that we deserve."
"It's time to toss out the old way of collecting trash in our city," said New York City Councilmember Shaun Abreu. "The 'Clean Curbs' pilot will introduce a top-notch tactic for keeping trash from piling up on our streets. Our residents and businesses can breathe a sigh of relief knowing these containers will keep the neighborhood clean and rodents at bay. I applaud the mayor for giving the streets back to New Yorkers."
"The 'Clean Curbs' program is a welcome response to so many complaints regarding trash collected from sidewalks that are currently placed in bags and left at nearby litter baskets for pick up," said New York City Councilmember Joann Ariola. "Providing a sealed container to hold the trash bags, prior to collection, will mitigate the issue of the bags being opened by rodents and will create a cleaner condition for our business districts. I look forward to the program expanding into the outer-boroughs."
"Go anywhere in New York City to ask people their concerns, and undoubtedly they will respond that they want less trash on the streets. I am delighted that Mayor Adams and his administration are prioritizing the installation of containerized waste bins, starting in Times Square, to improve the way we manage our garbage," said New York City Councilmember Gale A. Brewer. "Clean streets are vital for healthy communities and a vibrant economy, and this pilot program will accomplish both improved aesthetics and fewer rodents in our neighborhoods."
"We need to better secure waste as local baskets await service," said New York City Councilmember David Carr. "Too often, we see wastebaskets overflowing onto commercial corridors, leaving local business owners to pick up after others. Containerizing our waste in our BIDs and merchant areas could help keep them the clean, walkable neighborhoods they are supposed to be. I applaud the mayor for investing in this initiative."
"New York City must be a leader on waste management, and the current system is not working and impacts residents' quality of life," said New York City Councilmember Robert Holden. "In the past, residents put out garbage in cans and not plastic bags to prevent rodents from gaining access and leading to dirty sidewalks and streets. This pilot expansion is a great step toward keeping our city clean, and I applaud the Adams administration for making this a priority."
"Containerized waste bins reduce the visibility of consolidated material set out on city sidewalks and improve aesthetics and the cleanliness of our city streets and sidewalks," said New York City Councilmember Julie Menin. "This pilot program is a great step forward in taking back our streetscape from trash and pests and shows the city's dedication to transforming waste storage."
"When facing an issue of such universal agreement as rodents, the city must act quickly and decisively to address it," said New York City Councilmember Chi Ossé. "New York stands nearly alone in its garbage disposal system's reliance on thin plastic bags sitting for hours on the curb, often piling as tall as a person stands and calling the city's rodents to feast. This program to lock away our trash until sanitation services can collect it is a common-sense measure to make New York more beautiful, healthy, and safe; its pilot expansion to the five boroughs should be watched with anticipation and universally applauded."
"For too long, trash has plagued New York City, resulting in littered sidewalks, rodents, and dirty streets," said New York City Councilmember Keith Powers. "Mayor Adams' 'Clean Curbs' pilot program will transform our city by greatly improving how we dispose of trash. I commend the mayor and all relevant stakeholders for their work on this and look forward to its implementation."
"Containerization is a strong first step in the effort to reach our ambitious zero-waste goal. I am pleased to see the expansion of the 'Clean Curbs' program to neighborhoods citywide and look forward to working closely with the mayor and New York's Strongest on further programs to reduce waste," said New York City Councilmember Carlina Rivera. "We must continue to build upon these successes to create a future where all New Yorkers can enjoy the significant quality-of-life improvements containerized waste management will bring to their communities."
"Containerizing New York City waste is essential to ensuring that all neighborhoods, including those without well-funded BIDs, can be kept clean," said Clare Miflin, executive director, Center for Zero Waste Design. "We value Mayor Adams' intent to modernize New York City's waste system and the announcement, with new Sanitation Commissioner Tisch, of waste containerization pilots in all five boroughs. As our 'Put Waste to Work' campaign outlined, getting trash out of bags and into containers is key to the transformation of New York City's waste system, allowing easier implementation of a Save-As-You-Throw program, reduced costs for organic waste collection, and better jobs for Sanitation Workers."
Photo credit: Uptowns Ydanis Rodriguez.
---