---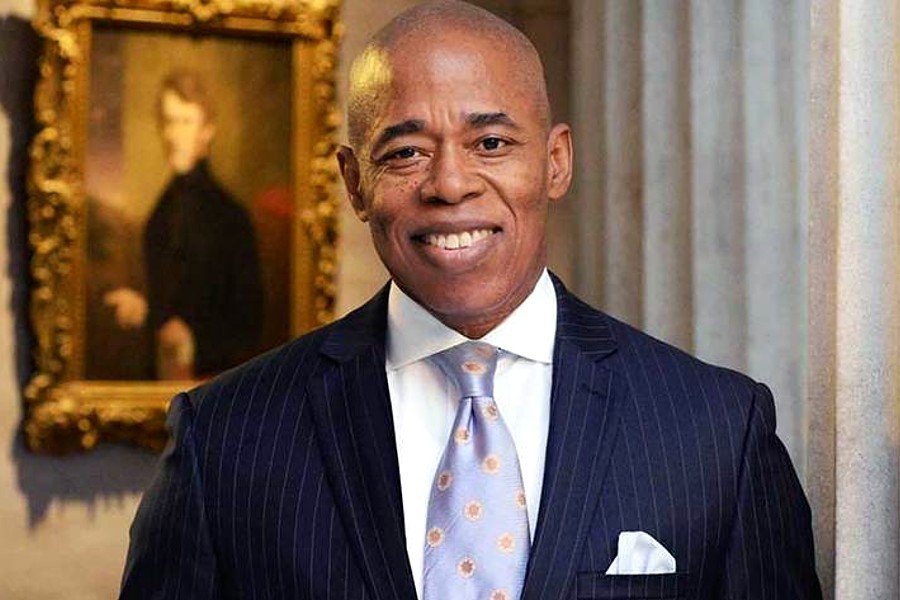 New York City Mayor Eric Adams and Israeli Minister of Economy and Industry Nir Barkat today announced a joint commitment to strengthening economic ties and fostering innovation between the City of New York and the State of Israel.
"NYC is proud to have the largest Jewish population in the world outside of Israel…"
"New York City and Israel share an unbreakable bond. We are both leading the world in innovation, we are both home to diverse communities and safe harbors for the oppressed, and New York City is proud to have to the largest Jewish population in the world outside of Israel," said Mayor Adams. "But today, we are taking the next step and strengthening our bond with this commitment that will help us continue to foster our economic ties, lead to the next set of groundbreaking advances in tech, health care, and climate, and allow us to better exchange ideas and best practices for fighting hate and antisemitism. Thank you to Minister Barkat for helping to strengthen Israel's economic ties to New York City. Together, we will continue to fight for all of our Jewish brothers and sisters."
"If New York City was a country, its economy would be ranked in the world's top 10 economies. This is a global hub of business, technology, finance, culture, art, and more. To Israelis and Israeli companies, New York City became a second home next to Israel," said Minister Barkat. "We share much in common, and it is easy for an Israeli to feel at home in New York and for a New Yorker to feel at home in Tel Aviv. These are the same shared values that lead us today to declare our joint commitment to encourage, with all of our capabilities, entrepreneurs, companies, and entities from both sides to form new ties and strengthen existing ones in order to bring further prosperity for our economies and for our communities. I would like to thank my friend, Mayor Adams, for showing his great commitment towards the State of Israel and towards the Jewish community in New York City."
The text of the declaration of intent between New York City and Israel can be found below:
New York – A Business and Financial Leader: New York City stands as a beacon of economic prowess and innovation. With its diverse and vibrant economy, it is home to some of the world's largest corporations, financial institutions, and tech giants. New York City's robust financial markets and thriving startup ecosystem make it a vital global hub for innovation and commerce. Its dynamic workforce and commitment to fostering innovation make it a key player in shaping the future of various industries.
Israel – Startup Nation and Leader in Innovation: Israel, the "Startup Nation," has consistently demonstrated its ability to pioneer groundbreaking technologies across various sectors, from cybersecurity and artificial intelligence to biotechnology and renewable energy. Israel's entrepreneurial spirit, world-class research institutions, and government encouragement for innovation have propelled it to the forefront of global technological advancements.
Expanding Collaboration: With a shared vision to harness the potential of our respective strengths, we seek to foster an environment that is mutually conducive to each other's economies by turning New York City into a hub for Israeli innovation and supporting New York City's entrepreneurial ecosystem. This will be achieved through organizing business delegations, collaborating on projects, supporting Israeli startups' growth in New York City, and working jointly to further develop and expand partnerships.
Realizing the Vision – A Joint Economic Council: As we work to turn this vision into reality, we are excited to announce that we have instructed our teams to prepare a Memorandum of Understanding by the end of 2023 that will establish a joint public-private partnership mechanism (a joint New York City-Israel Economic Council) to facilitate and enhance economic cooperation. The Council will seek to improve the ease of doing business between New York City and Israel through a wide variety of partnerships, such as collaborating around the upcoming Israel Cluster Conference that will take place in New York City during May 2024.
We are excited about the opportunities this partnership will offer to entrepreneurs, businesses, and innovators on both sides.
Together, we will foster economic growth, drive innovation, and make significant contributions to the global economy.
---