---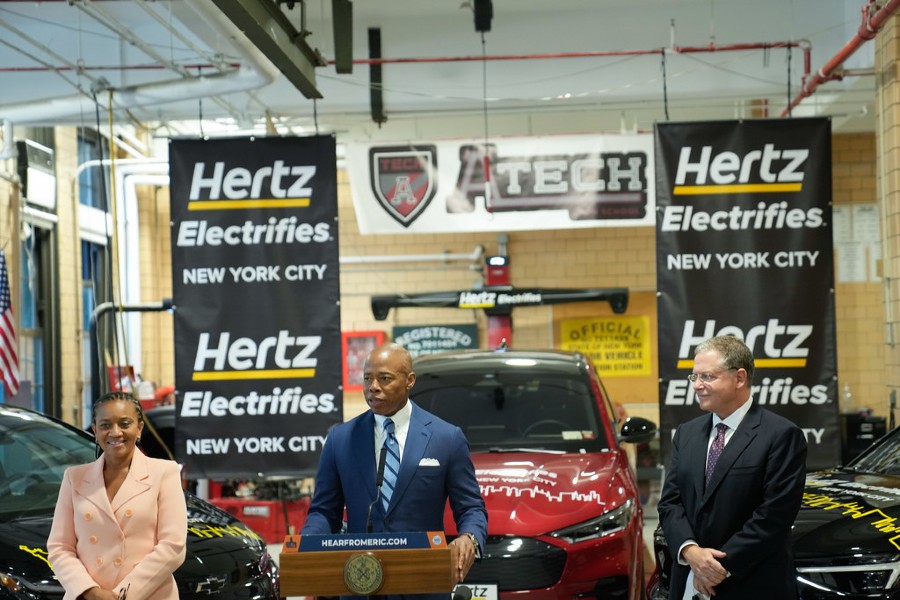 New York City Mayor Eric Adams today celebrated Climate Week from Harlem to Hollis by launching "Hertz Electrifies New York City."
A partnership with car rental company Hertz will help advance the city's vehicle electrification efforts and create good-paying jobs in the green economy of the future. Through the partnership, Hertz intends to create 100 new jobs to serve its growing New York presence, donate five electric vehicles (EV) to automotive technical schools run by the New York City Department of Education (DOE), and add up to 1,700 electric vehicles to its New York City fleet for leisure and business customers. The company will also partner with four public high schools to provide EV education and training opportunities for students.
"Hertz Electrifies New York City" builds on Mayor Adams' nation-leading efforts to make vehicles in the city more sustainable. The administration is rapidly transitioning the city fleet to electric vehicles and building the necessary infrastructure to support that transition, while setting a new national standard by requiring rideshare vehicle companies to be completely zero-emission or wheelchair-accessible by 2030 and pursuing a broader agenda to promote driving electric across the city.
"New York City is in the driver's seat as we accelerate towards our clean, green, electric future, and public-private partnerships, like what we're announcing today with Hertz, will help us get there because to successfully transition New York City to electric vehicles and properly fight climate change, everyone must come along for the ride — from the public to the private sector," said Mayor Adams. "As we celebrate Climate Week, we're proud to announce our partnership with Hertz that will help support job training and job opportunities for our students, create 100 jobs, and add more than 1,700 electric vehicles to our rental fleet. This investment will also make more EVs available to New Yorkers, while preparing our youth for the emerging green economy of the future and helping us fight climate change from behind the wheel."
"Hertz is investing in the largest EV rental fleet in North America," said Stephen Scherr, chair and CEO, Hertz. "New York City has always been on the cutting edge of technology and innovation, making it a natural accelerator for the most significant transformation that's happened in the auto industry in a century. We are excited to partner with Mayor Adams to launch 'Hertz Electrifies' during Climate Week, helping to make the electric driving experience more accessible in New York City while investing in the city's workforce."
"We are excited to announce this dynamic partnership with 'Hertz Electrifies,'" said First Deputy Mayor Sheena Wright. "Creating a better and more eco-friendly environment requires more than a singular change. Through this partnership, not only are we building a cleaner city by introducing more electric vehicles to New York City, but we are also preparing for the future by training the next generation of a green economy workforce."
"'Hertz Electrifies' is good for New York City and an especially important announcement during Climate Week," said Deputy Mayor for Housing, Economic, and Workforce Development Maria Torres-Springer. "This public-private partnership is another example of the mayor's leadership to bring the right people together to solve problems and, working together, we will grow the green economy, create and fill the jobs of the future with New Yorkers, and meet the urgency of climate change."
"Decarbonizing transportation is essential to the health of our city and planet," said Deputy Mayor for Operations Meera Joshi. "Today's partnership with Hertz will help students learn about electric vehicles and become climate leaders. Together with New York City's commitment to provide climate education at every grade level in our public schools, the future of climate jobs and leadership is bright."
"New York City is always leading the charge in modeling important transformation for our country, and the city's investment in the green economy is no different," said DOE Chancellor David C. Banks. "There's no better way to ensure that we see the return on that investment than to have our students trained on the importance of electric vehicles. Not only are we setting our children up with bold futures in emerging industries, but we are teaching them to use innovation to create a better tomorrow for everyone."
"Mayor Adams is setting the standard for a green transformation in New York City that other cities should strive to reach," said New York City Chief Climate Officer and New York City Department of Environmental Protection Commissioner Rohit T. Aggarwala. "Climate Week is a time to prove the city's commitment to a clean future, and our partnership with Hertz will help accelerate New York City's migration to electric vehicles — an important step in the urgent work of reducing carbon emissions."
"DYCD is uniquely positioned to ensure no young person is left behind when it comes to the green economy," said New York City Department of Youth and Community Development (DYCD) Commissioner Keith Howard. "I applaud the mayor and Hertz on this outstanding win-win partnership that will teach our youngest New Yorkers valuable skills to make our city greener and more sustainable."
"Electrifying our city's fleet and ensuring that we build a green workforce of the future is among the most important work we are doing at DCAS, and it is only strengthened when the private sector seeks to collaborate and do the same," said New York City Department of Citywide Administrative Services Commissioner Dawn M. Pinnock. "With this partnership, Hertz and Mayor Adams are making a long-term investment in clean energy and our young people which is a win for all New Yorkers."
"The electric vehicle revolution will bring not just cleaner physical mobility, but economic mobility for a new generation of talent here in the five boroughs," said Mayor's Office of Talent and Workforce Development Executive Director Abby Jo Sigal. "With EVs bringing new opportunities for jobs in vehicle operation, maintenance, and infrastructure, we look forward to working with Hertz to ensure that these donations produce job matching and long-term career growth for the students of our city."
"This important partnership with Hertz will help us reach our PlaNYC: Getting Sustainability Done goals of ensuring that every New Yorker is no more than 2.5 miles from an EV fast-charging hub, requiring rideshare vehicles to be zero-emission by 2030, and positioning New Yorkers for fulfilling green economy careers," said Mayor's Office of Climate & Environmental Justice Acting Executive Director Victoria Cerullo. "By sharing data from its fleet, Hertz is also helping the city plan for expanded EV charging infrastructure. Public-private partnerships like this one are critical in our actions to reduce emissions, create cleaner air and better health for all New Yorkers, and create job pathways for young New Yorkers seeking green careers."
As part of "Hertz Electrifies New York City," Hertz is partnering with and donating electric vehicles to A-Tech High School in Brooklyn, Thomas Edison Career and Technical Education High School in Queens, Alfred E. Smith Career and Technical Education High School in the Bronx, and Ralph R. McKee Career and Technical Education High School in Staten Island. Hertz will provide electric vehicle operations training and materials for instructors, host students to observe job and career pathways at local Hertz locations, and more.
Additionally, Hertz will share telematic insights from its fleet of connected cars through the "Hertz Charging Opportunity Index." This information will assist the city in planning for additional public charging infrastructure across all neighborhoods. New York is the fifth and largest city to partner with Hertz through "Hertz Electrifies" to accelerate consumer adoption of electric vehicles and bring environmental and economic benefits to cities and communities across the country.
New York City is committed to cutting transportation emissions in half by 2030 and achieving net-zero transportation emissions by 2050. This requires helping more New Yorkers walk, bike, and take public transit, and, when they need to drive, encouraging them to drive electric — a key component of Mayor Adams' "PlaNYC: Getting Sustainability Done." The plan commits to ensuring no New Yorker is more than 2.5 miles from an electric vehicle fast-charging hub, requires parking garages and lots to make charging available to their customers, and requires all rideshare vehicles to be either zero-emission or wheelchair accessible by 2030. The city is also supporting the electrification of freight vehicles, working to pilot the East Coast's first low-emissions zone, and creating shared charging depots for electric trucks. The city is leading by example with its own fleet, having already replaced nearly 4,500 fossil-fuel-powered vehicles with electric vehicles and operating its own 1,700-port electric vehicle charging network.
"Our green economy is the future of New York City's workforce," said New York City Councilmember Amanda Farías. "I applaud the mayor and Hertz for their incredible public partnership this climate week to create 100 new jobs, provide job training to students, and add electric vehicles to its New York fleet to ensure we meet our climate goals by 2030. Since the beginning of my term, I have been advocating for our city to anticipate the increasing needs for sector education, job training, EV charging infrastructure, and EV fleet transition. As Chair of the Committee on Economic Development and the council member for a large portion of taxi and rideshare drivers, I am enthusiastic about this initiative as it is one step closer to helping thousands of New Yorkers and our climate. I look forward to continuing to work with the administration on this issue."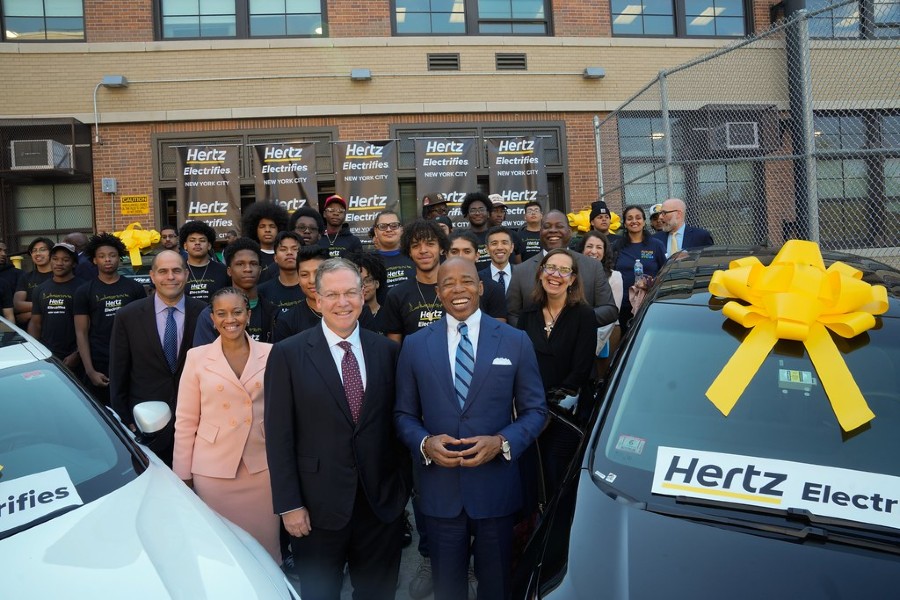 Photo credit: 1-2) NYC.gov.
---