---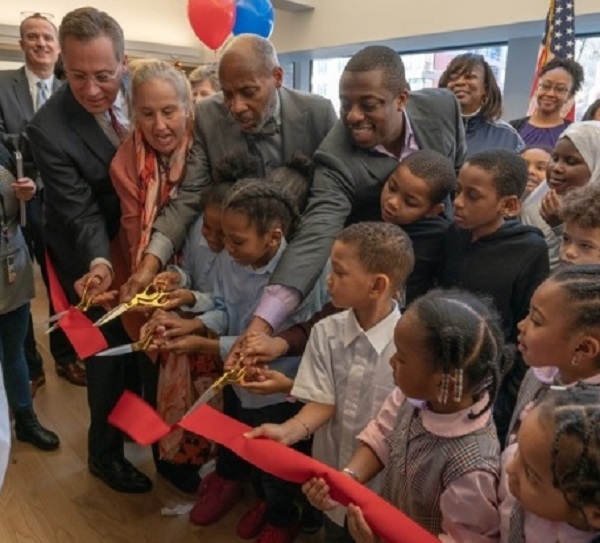 The New York Public Library's new Macombs Bridge branch opened Thursday in Harlem following a $4.8 million project yielding a library that is five times the size of the branch it's replacing.
The new library branch, located across the street from its original location on Adam Clayton Powell Junior Boulevard near West 151st Street, has new features such as an adult reading room, an expanded computer facility, space for on-site classes and children's programs, more charging stations and a public restroom.
The Macombs Bridge library branch is located in a building owned by the New York City Housing Authority, officials said. The new branch is the first New York Public Library capital project completed in 2020.
"For 65 years the mighty Macomb's Bridge Library offered Harlem patrons exceptional service for a space that was too small," Tony Marx, President of The New York Public Library, said ina statement. "Together with NYCHA, the City, and local officials, it is an honor and privilege to introduce the community to the branch's new and much larger home."
Residents loved the Macomb's Bridge previous location, but it was limited by its size. The facility, which opened in 1955, was one of the smallest libraries in the NYPL system at 685 square feet, compared to the new facility's 3,375 square feet. Extra space means greater possibilities for educational programming, workshops and classes, library officials said.
Library and NYCHA officials held community planning sessions with area residents in October to solicit feedback that was incorporated into plans for the new facility. Funding for the new facility was provided by Mayor Bill de Blasio and local lawmakers such as Borough President Gale Brewer, Assemblymembers Inez Dickens and Al Taylor, State Senator Brian Benjamin and City Councilmember Bill Perkins.
---