---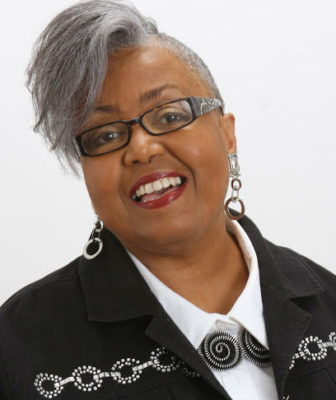 Marjorie Moon, Executive Director Emeritus of Brooklyn's esteemed Billie Holiday Theatre, has joined the team of Woodie King, Jr.'s and Harlem fave New Federal Theatre, www.newfederaltheatre.com, as Administrative Consultant.
Ms. Moon is a veteran producer, director and educator who served as Executive/Producing Director of The Billie Holiday Theatre (http://thebillieholiday.org), a cultural landmark in Bedford-Stuyvesant, for over 40 years. During her tenure, Ms. Moon produced more than 120 productions there including "Inacent Black and the Five Brothers" by A.Marcus Hemphill, starring Melba Moore, which went on to be the first Broadway production to derive more than 50% of its financing from the Black community. She also developed a grassroots marketing plan which pushed audience attendance from 7,000 to 38,000 per season and nurtured the development of theater artists including Debbie Allen, Bill Cobbs, Samuel L. Jackson, Tichina Arnold, Samm-Art Williams,John Henry Redwood and Jackie Alexander among others. William "Smokey" Robinson made his debut as a musical theatre composer/lyricist there in 1997 with the musical "Raisin' Hell." Ms. Moon directed over 20 plays there, including works by Judi Ann Mason, Leslie Lee, John Henry Redwood, Samuel L. Kelley and Weldon Irvine.
She has also been a guest director at Woodie King Jr.'s New Federal Theatre, Music Hall in Houston, Players and Players Theatre in Philadelphia, the Historical Tacoma Theatre and the Warner Theatre in Washington, D.C.
She has received numerous AUDELCO Awards for excellence in Black Theater and two Obie Awards: for Sustained Artistic Excellence and for Outstanding Work with Emerging Artists. In 2016, she was inducted into the Howard County Hall of Legends, whose previous inductees include talk show host and author Tavis Smiley and 60 Minutes' Steve Kroft. Her other awards include National Association of University Women's Woman of Character, Courage and Commitment Award in partnership with Medgar Evers Community Council; The International African Arts Festival's Community Stalwart Award, National Black Theatre Festival's Larry Leon Hamlin Producer Award, National Black Theatre Teer Spirit Award and RHYTHMCOLOR Associates' TRAILBLAZING WOMEN & INSTITUTIONS in the ARTS. Along with Tony Nominee Ruben Santiago-Hudson, she was presented The 2017 Inaugural Harry Belafonte Artist and Activist Award by Bedford Stuyvesant Restoration Corporation.
Ms. Moon received her early theatrical training at the famed Karamu House in Cleveland, Ohio where she was also a member of the Cleveland Women's Orchestra. She earned her BFA with a four -year scholarship in Music from Ohio University, Athens Ohio and her MFA in Theater from Temple University, Philadelphia, PA. She joined the Drama Faculty at Hampton (Institute) University for three years prior to moving to New York, where she joined the faculty at the City University of New York – Brooklyn College as an adjunct lecturer. Ms. Moon has served on various panels and advisory boards including the National Endowment for the Arts, New York and New Jersey Councils on the Arts, New York City Department of Cultural Affairs, Brooklyn Arts Council and the Fashion Institute of Technology.
New Federal Theatre was founded by Woodie King, Jr. in 1970 with the bold mission of integrating people of color and women into mainstream American theater. It has since become a launching pad for emerging artists and groundbreaking theatre works. The theatre and its workshops in playwriting and drama have helped bring to national attention such playwrights as Ed Bullins, Amiri Baraka, J.e Franklin, Ntozake Shange, David Henry Hwang, Ron Milner, Joseph Lazardi, Damien Leake, Genny Lim, Laurence Holder, Alexis DeVeaux, and others. Actor veterans include Morgan Freeman, Denzel Washington, Debbie Allen, Samuel L. Jackson, Laurence Fishburne, Robert Downey, Jr., Ruby Dee, Leslie Uggams, Jackée Harry, Phylicia Rashad, Dick Anthony Williams, Glynn Turman, Taurean Blacque, Garrett Morris, Sam MacMurray, Debbie Morgan, Lynn Whitfield, Reginald Vel-Johnson, Vondie Curtis-Hall, Ella Joyce and many more.
NFT was in residence at the Henry Street Settlement from its founding until 2016. Now its performance headquarters is The Castillo Theatre, located in the non-profit All Stars performing arts and development center, 543 West 42nd Street. NFT's historic Theatre Training Workshops are now held at Dwyer Cultural Center, 258 St. Nicholas Ave. (at 123rd Street).
The company will produce two mainstage productions there this season, both at Castillo Theatre, 543 West 42nd Street. "Freight: The Five Incarnations of Abel Green" by Howard Craft, performed by J. Alphonse Nicholson and directed by Joseph Megel, will be offered October 19 to November 26. The play is a journey through the incarnations of an African-American male who exists in five dimensions of the same universe at different points in American history. The 20th anniversary return of "Harriet's Return," a bioplay on Harriet Tubman written and performed by Karen Jones Meadows, will be presented February 8 to March 11, 2018. The piece takes audiences on a deeply personal, high energy journey into the private and public life of the famed Underground Railroad conductor, spiritual icon, revolutionary, and entrepreneur, whose life spanned nine decades and still influences the consciousness of people throughout the world.
Woodie King, Jr.'s staff at New Federal Theatre also includes Executive Director Patricia White, Office Manager Karimah, Workshop Coordinator Ajene D. Washington and Social Media Coordinator Cherith Scott.
Via Jonathan Slaff & Associates
No related posts found...
---