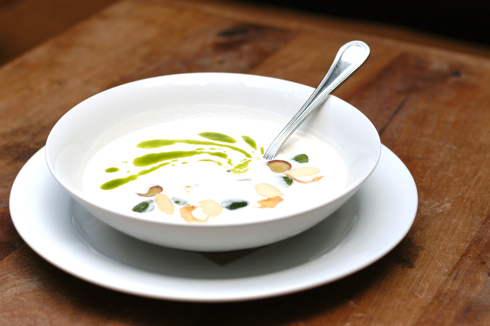 Since his arrival at August Restaurant in the West Village, new Executive Chef Jordan Frosolone, has revamped the menu with something great for cool Harlem weather.  
You can enjoy a hearty weekend brunch with friends in their backyard patio, or fantastic modern European fare and a cocktail for a weekday dinnerdate.  Chef Jordan has generously shared one of his most popular recipes, White Gazpacho Soup, with MarcusSamuelsson.com readers.
This soup is perfect for summer, when you need a cooling start to a meal.  With it's gorgeous garnishes, it's a perfect starter for an elegant dinner party.  Though the recipe has many components, it's up to you how much you decide to make. The soup tastes great on its own, though the bites of cucumber and grapes offer refreshing bursts of sweet and cold throughout.
Save the extra cucumber for cocktails with dinner!  Muddle the cucumber with a few leaves of mint and a spoonful of sugar.  Top with gin and soda water for a summery spritzer!
August Restaurant's White Gazpacho Soup Recipe
Servings:6
Ingredients
Soup
2 cups blanched, peeled

almonds

1 tbsp

olive oil

1 small

white onion

, cut into 1/4-inch slices

3 cloves

garlic

, thinly sliced

4 cups

whole milk

, plus for adjusting consistency

1 tbsp

creme fraiche

1 tsp

sherry vinegar

Juice of 1 lemon

Salt

, to taste

Freshly ground pepper

, to taste
Garnish
1 large

cucumber

6

red grapes

, cut horizontally into 1/8-inch slices

1/4 cup sliced

almonds

, lightly toasted

Chive Oil
Chive Oil
1 large bunch

chives

, about 30 strands

1/4 cup

grapeseed or olive oil
Directions
To Make Chive Oil:
Set aside a large bowl of ice water. Bring a large pot of water to a boil, and add the chives. Cook for about 30 seconds, just to blanch, and drain. Place the blanched chives in the ice water to stop the cooking. Remove from the water after 15 seconds, and dry on a clean kitchen towel.
Process the chives a blender with the grapeseed oil, until well-combined. Strain the oil through a coffee filter. Covered, oil will keep for up to 1 week.
To Make Soup:
---
---
1. Using the small end of a melon baller, scoop 30 "Parisienne" balls out of the cucumber. Save the rest of the cucumber for a cocktail.
2. Heat about 1 teaspoon of the olive oil in a medium saute pan, lightly toast the blanched, peeled almonds, set aside.
3. Add the remaining olive oil to the pan and heat over low heat. Cook the onions until soft and translucent, taking care not to get any color on them.
4. Add the onions and almonds to a large pot and cover by about two inches with milk (should be most of the four cups). Bring to a simmer over medium heat, taking care not to boil the milk.
5. Let the almond-milk mixture simmer for about 45 minutes. Stir occasionally with a wooden spoon or spatula.
6. After the mixture has simmered for 45 minutes, strain the mixture, reserving the liquid.
7. Transfer the almond and onions to a food processor and add the onions, garlic, creme fraiche, vinegar, and lemon juice. Process until smooth and slowly add milk while processing. You may need to add additional milk.
8. Transfer the mixture to a high-powered blender. Process until emulsified and smooth. Pass the liquid through a fine sieve several times to desired consistency. Discard anything left inside. Note: almonds can leave grainy texture, so it's up to you how many times to pass it through the strainer (Source).
Related Articles