---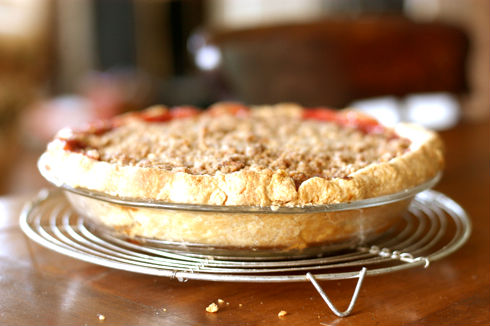 By Marcus Samuelsson
My favorite recipes to bake are homey, American desserts, and my favorite reason to cook is to feed a large group of people. When those two components come together, I'm about as happy of a chef as can be. Luckily for me, I had a fantastic opportunity to combine the two this weekend.Over the long Fourth of July weekend, I stayed at my aunt's house with my cousins. It was a great weekend, filled with drinking, frisbee, blue skies, running, and games. Pretty much a quintessential, doesn't-happen-all-that-often, American weekend.
Sour cherries are absolutely perfect in a pie. In fact, their tart and delicate flavor would be overwhelmed by a normal batter.
For first time sour cherry bakers, don't be dissuaded by the term "sour" in the title. Sour cherries are deliciously tart and taste fantastic with a crumble topping enriched with brown butter. A bonus discovery: sour cherries are light-colored inside, leaving you free to pit them in a white sundress, if the desire strikes.  Pitting the cherries is very easy, even if you don't have a cherry pitter. Simply pry the cherry open with two fingers where the stem detaches.  Then pull out the seed. Voila!
Of course, you don't need brown butter, but if you've tried this recipe, or ever smelled the hazelnut glory, called beurre noisette in French, you won't need much convincing. It gives the pie a savory depth, which is perfect with a tart filling.
Very few desserts could so perfectly fit with an all-American weekend as this did. Sharing slices with my grandparents, who came for Saturday lunch, my cousins, my aunt, and my cousin's boyfriend, it was a great holiday.
Prep Details
Servings: Makes one 9-inch pie
Ingredients
For the Brown Butter Almond Crumble:
6 tbsp unsalted butter, cut into 6 pieces
2/3 cup whole oats, ground to a flour in a food processor
1/2 cup all-purpose flour
1/2 cup sugar
1/4 tsp ground cinnamon
1/2 tsp kosher salt
3/4 cup unsalted whole almonds, coarsely ground in a food processor or chopped medium fine by hand
For Sour Cherry Filling
2 1/4 lbs fresh sour cherries, pitted, or 2 pounds frozen sour cherries, partially thawed
1/2 cup sugar
3 tbsp cornstarch
1/4 tsp kosher salt
Directions
1. Roll the chilled pie dough into a 12-inch round. Gently fit into a 9- or 9.5-inch pie plate. Fold the edges under and crimp decoratively. Refrigerate until firm, about 30 minutes, or place in the freezer, to ensure that the crust is cold enough and won't absorb too much of the cherry liquid.
2. Preheat the oven to 375 degrees F.
3. Make the brown butter for the crumble: Heat butter in a small, heavy skillet over medium heat until milk solids on bottom are dark brown. Stir while the butter is melting to encourage the browning. You will know when the butter is ready by the nutty smell and the foam starts to recede. Transfer the brown butter to a heat-proof bowl to cool, making sure to scrape all the browned bits on the bottom of the pan into the bowl. Set aside.
4. Make the sour cherry filling: Combine the cherries, sugar, cornstarch, and salt in a medium bowl, set aside.
5. When the brown butter has cooled, transfer it to a medium bowl and add the remaining crumble ingredients. Stir to combine, and then use your hands to encourage clumps.
6. Assemble the pie: Remove the crust from the refrigerator or freezer. Using a slotted spoon, transfer the cherries to the chilled pie crust. Spread them out and pack them down lightly with the spoon. Then, pour the remaining juices from the bowl over the cherries.
7. Evenly sprinkle the crumble on top of the cherries, encouraging clumping. Transfer the pie plate to a baking sheet. Bake the pie in the oven for 1 hour or until the juices are thick and bubble on the sides of the crust. Remove to a wire rack and cool to room temperature before serving.
Via source
Related Articles
---