---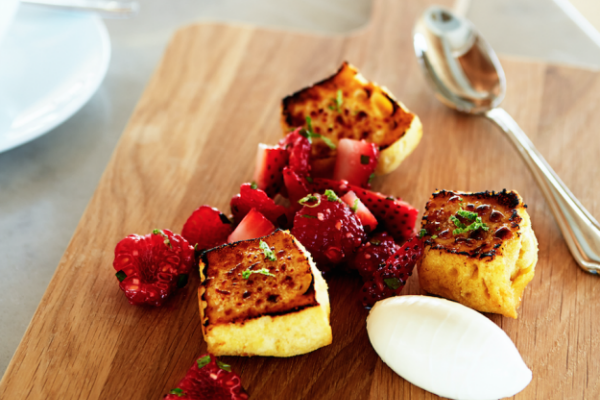 By Marcus Samuelsson
I've been really loving rum cake lately. It is a very versatile cake that is infinitely adaptable. I've previously featured my chocolate rum cake, which I fill with spices that remind me of Ethiopia. This cake uses more traditional flavors, though I opted to use fresh macerated strawberries on top instead of the dried fruits often found inside the rum cakes of the Caribbean. You can find a version of this cake at my new restaurant, Marcus' Bermuda, located inside the Hamilton Princess and Beach Club.
Rum Cake with Strawberry Salad and Crème Fraiche
Prep Time: 30 minutes30 minutes
Cook Time:20-25 minutes
Total Time:1 hour
Ingredients
Soaking Syrup
1/2 cup

butter

, softened

1/4 cup

water

1 cup

sugar

1/2 cup

Meyers rum

1/2 tsp

vanilla

1/2 tsp

cardamom

1/2 tsp

cinnamon

1/2 tsp

ground ginger
Pastry Cream
1/2 cup

heavy cream

6

egg yolks

1/3 cup

corn starch

2/3 cup

sugar

2 1/2 cups

milk

1/2

vanilla bean

, split in half and seeds scraped

Pinch

of salt
Batter
1 1/2 cups

sugar

1/2 cup

unsalted butter

2 cups

all-purpose flour

1/2 cup

pastry cream

2 tsp

baking powder

1 tsp

salt

1/2 cup

vegetable oil

1/2 cup

milk

4

eggs

1/2 cup

Meyers rum

2 tsp

vanilla extract

3/4 cup

turbinado sugar

, to brûlée
Strawberry Salad (For Four Servings)
1 cup

strawberries

2 tsp

fresh ginger, minced

1 tsp

lime zest

1/8 cup

sugar

1 tsp

mint, chopped

3/4 cup

crème fraiche
Directions
For the Soaking Syrup:
1. Combine all ingredients except vanilla in a pot, bring to a simmer, and let cook for 5 minutes. Remove from heat and add vanilla. Set aside.
For the Pastry Cream:
1. Whisk heavy cream with egg yolks, corn starch and 2 tablespoons of the sugar in a medium bowl. Set aside.
2. In a medium pot combine milk, vanilla, and remaining sugar over medium heat until it begins to simmer on the edges.
3. When the milk begins to simmer, turn heat to low and slowly drizzle half into the heavy cream and egg yolk mixture, whisking constantly. Pour the tempered egg yolk and heavy cream mixture back into the remaining milk in the pot over low heat, and whisk until the mixture begins to thicken, about 2 minutes.
4. Pour into a flat 9x13in cake pan to cool. Place plastic wrap over the pastry cream, being sure it touches the surface of the liquid. Cool in refrigerator for 1 hour. Can be left in the refrigerator for 5 days.
For the Cake:
1. Preheat oven to 350 degrees. Line a 9x13in cake pan with parchment paper.
2. Place sugar and butter in mixer with paddle attachment, and beat until light in color and fluffy. Add pastry cream and blend until combined.
3. Combine flour, baking powder, and salt in a bowl and set aside. In a separate bowl combine the milk, rum, and vanilla and set aside.
4. To the mixer, add vegetable oil, then add eggs one at a time until combined.
5. Add half of the dry ingredients to the mixer, then add all wet ingredients. Add remaining dry ingredients, and mix until combined.
6. Transfer batter to prepared cake pan and bake for 20-25 minutes, or until tester comes out clean. Remove cake from the oven and let cool.
7. Brush 1/3 of the soaking liquid over the cake. Once cool, flip cake over and shave the top crust off of the cake then poke with a fork. Brush another 1/3 of the soaking liquid over cake then let sit for 10 minutes. Pour remaining soaking syrup over the cake.
8. Preheat the oven broiler. Sprinkle ¾ cup turbinado sugar over the cake and brûlée for 2-3 minutes.
For the Strawberry Salad:
1. Mix all ingredients together thoroughly and let sit at least 10 minutes to macerate.
To Serve:
1. Slice cake and serve brûléed, topped with 2-3 Tbsp strawberry salad and 3 Tbsp crème fraiche.
Check out more on Marcuss Samuelsson on Harlem World Magazine here.
---