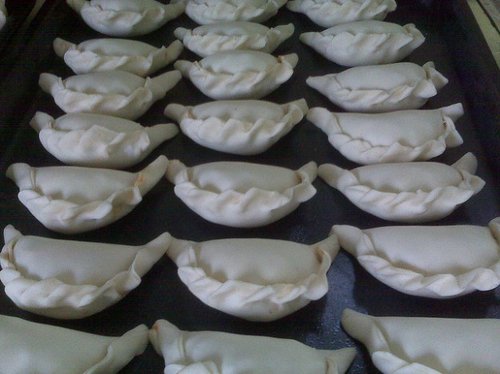 By Marcus Samuelsson
This Puerto Rican savory pies are filled with meat, with a flakier dough than traditional empanadas.
Marcus Samuelsson: Whole-Wheat Vegan Chocolate Avocado Cake RecipeRecipe by Lindsay Hunt Finally it's spring, and what better way to celebrate than with a brightly c…Jul 17 2017harlemworldmag.com
Recipe Courtesy of thenoshery.com
Ingredients
Meat Filling
1 lbs beef tips, diced
2 potatoes, diced
1 onion, minced
3 cloves of garlic, minced
1/4 cup recaito
1 envelope of Sazon sin achiote
---
---
10 pimiento stuffed olives, cut in half
olive oil
Adobo
2 bay leaves
1/2 cup water
Dough
3 1/2 cups of flour
2 1/2 tsp of salt
2 tsp of baking powder
3 1/2 Tbs of vegetable oil, cold
1 egg, slightly beaten
3/4 cup of water
vegetable oil for frying
For the filling:
1. Heat skillet at med-high, drizzle with olive oil. Saute onions, garlic and recaito until onions are translucent.
2. Drizzle beef with olive oil and season with Adobo. Add beef, potatoes, olives, bay leaves, Sazon and water to skillet, stir and cover. Simmer on a low heat for about 45 mins, or until meat is tender.
For the dough:
1. Sift flour, baking powder and salt into a large bowl.
2. Cut in vegetable oil into the flour mixture. When a fat such as butter or oil is mixed with a dry ingredient like flour until they form into small particles.) I would use a food processor fitted with a metal blade and just pulse it. You can also use your trusty fingers to do the job.
3. Place mixture in large bowl, add the egg and mix using a fork.
4. Add the water a little at a time, mixing with a fork. When done mixing the dough brittle, or in pieces.
5. Dust a workspace with flour, collect all of your dough. Knead the dough using your palm, as if you were washing clothes on an old washboard. Knead until the dough is soft and smooth. Form into a ball, cover with a cloth and let it rest for 30 minutes.
6. Roll dough out into a rope about 15 inches long. Once rolled out cut off disks about 3/4 of an inch think. Dust your rolling pin and workspace and roll out into a thin paper circle. If you like you can cut and press them out, separate with wax paper and freeze for later use.
To assemble:
1. Make sure you get the oil is nice and hot, you need the oil to be a least 1 1/2 inch deep. Take your disk of rolled out dough, and fill with 1 spoonful of filling.
2. Wet the edges of the dough with water or oil. Fold over to make a half moon, Trim the edges if you need to make them even. Pinch the dough together using your fingers, then go over it, pressing it with the teeth of a fork. You now have a pastelillo.
3. Take your pastelillo and carfully drop into the oil. You should almost immediatly begin to puff and float, cook on each side about 2 minutes, or until golden brown and crispy. Drain on a paper towel-lined plate.
Via source
Related Articles
VIDEO
---
Harlem Cultural Archives is a donor and foundation-supported Historical Society, Its mission is to create, maintain and grow a remotely accessible, online, interactive repository of audio-visual materials documenting Harlem's remarkable and varied multicultural legacies, including its storied past as well as its continuing contributions to the City and State of New York, the nation, and the world.
Support Harlem Cultural Archives
and
click here to get more Harlem History
, Thank you.