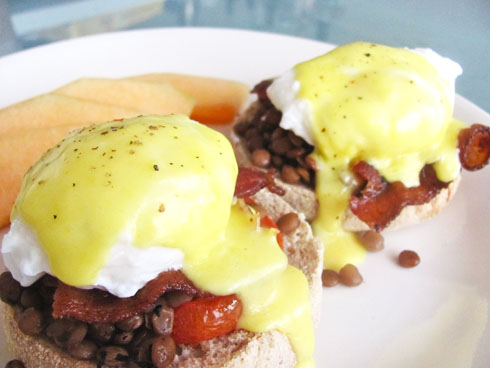 By Emma Haberman for Marcus Samuelsson
If I could eat one meal for the rest of my life, it would be a bacon, lettuce and tomato sandwich. Crispy bacon, sweet tomatoes and crunchy lettuce make a BLT ideal for any meal, but I've adapted it for those who don't gravitate towards sandwiches for breakfast.
A BLT folds nicely into this version of Eggs Benedict, with lentils subbing in for lettuce to avoid sogginess. Since tomatoes aren't quite in season, I cut them into thick slices and roasted them to enhance their sweetness. The earthy lentils nicely complement the salty bacon, and buttery, lemony Hollandaise sauce drizzled over the whole thing makes for a filling and decadent brunch.

BLT Benedict Recipe
Calories: 550 per serving
Servings: 4
Prep Time: 30 mins
Total Time: 30 mins
Ingredients
For Hollandaise sauce:
4

egg yolks

1 tbsp

lemon juice

1 stick

unsalted butter

, melted

Pinch of

cayenne pepper

Pinch of

salt
For assembly:
8 strips of

bacon

2 large

tomatoes

, thickly sliced

1/2 cup

lentils

, drained and rinsed

4

whole wheat English muffins

, split

2 tsp

white vinegar

8

eggs

Butter

Olive oil

Salt and pepper

, to taste
Directions
1. Pre-heat the oven to 400°. Brush each side of the tomatoes with olive oil and season with salt. Roast the tomatoes for about 25 minutes, turning them over halfway through, until slightly browned and shriveled.
2. Meanwhile, cook the bacon in a medium-sized skillet. Cut each slice in half and set aside. Season the lentils with salt and pepper and saute in the bacon skillet. Keep bacon and lentils warm in the oven while you prepare the Hollandaise sauce.
3. Whisk the egg yolks and lemon together vigorously until thickened and doubled in volume. Place the bowl over a saucepan containing barely simmering water – make sure that the water does not touch the bottom of the bowl. Be careful not to let the eggs get too hot or they will scramble. Slowly drizzle in the melted butter and continue to whisk until the sauce is thickened. Remove from heat and whisk in salt and cayenne pepper. Cover and keep warm in the oven until you are ready to assemble the dish. If the sauce gets too thick, whisk in a few drops of warm water.
4. Poach the eggs in a large simmering skillet filled with 3-4 inches of water and 2 teaspoons of white vinegar. Poach as many at a time as you're comfortable with. Keep cooked eggs warm in the oven until ready to serve.
---
---
5. As you poach the final eggs, spread a dab of butter on each English muffin half and toast.
6. Assemble the Eggs Benedict: place a slice of tomato on top of each English muffin. Top with a tablespoon of lentils, two half slices of bacon, and a poached egg. Drizzle with Hollandaise sauce, and top with freshly ground pepper.
Photo credit: 1) Photo: Emma Haberman. 2) You can follow Emma on Twitter (@habermania).
Related Articles