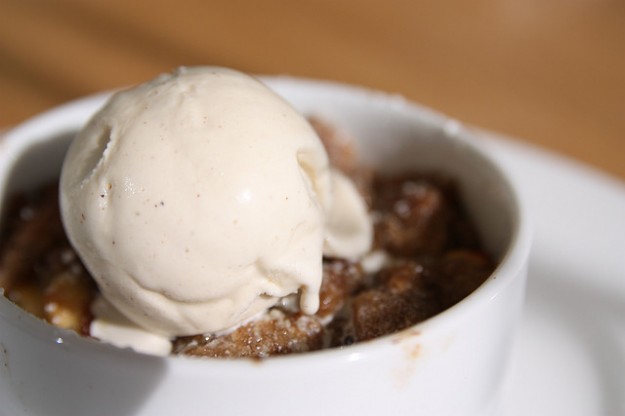 By Marcus Samuelsson
I love visiting the vendor I've come to simply call the Peach Man at the Harlem Harvest Farmer's Market in Marcus Garvey Park on 124th & Fifth Avenue. He comes up from West Virginia with his team every weekend to sell us some of the yummiest peaches I've ever tasted. I recently prepared Baked Peach Pudding using peaches from my most recent visit to the market and hope you will too. Here's the recipe:
Baked Peach Pudding with Buttermilk Ice Cream Recipe
Ingredients
Baked Peach Pudding
1/3 cup

granulated sugar

1 1/2 tsp

cornstarch

1/2-inch piece

ginger

, peeled and finely chopped

1 1/2 cups fresh

raspberries

2 cups

white peach

, pitted and cubed

Zest of 1 lemon

1/2

vanilla bean

1 cup unbleached

all-purpose flour

2 tsp

baking powder

1/2 tsp

salt

8 tbsp (1 stick)

unsalted butter

at room temperature

1/2 cup packed

light brown sugar

1 large

egg

at room temperature

1/2 cup

sour cream

at room temperature
Buttermilk Ice Cream
1 cup

whipping cream

6 large

egg yolks

1/2 cup

sugar

1 cup cold

buttermilk
Directions
Baked Peach Pudding:
1. Preheat the oven to 400°F. Butter an 8-inch square baking dish. Set aside.
2. Bring the sugar, cornstarch, ginger, and 1/4 cup water to a boil in a large saucepan over medium heat. Add the raspberries, peach, and lemon zest. With a sharp knife, slice the vanilla bean lengthwise, then use the back of the knife to scrape the seeds into the pan. Add the vanilla bean. Reduce the heat to a simmer and cook until the raspberries and peach start to release their liquid and break down slightly, about 2 minutes. Remove and discard the vanilla bean. Remove from the heat.
3. Sift together the flour, baking powder, and salt. Set aside.
4. In the bowl of an electric mixer fitted with a paddle attachment, mix the butter and brown sugar until light and fluffy, about 2 minutes. Add the egg and mix to combine. With the mixer turned to low, add the flour mixture and sour cream, alternating between the two. Mix until completely combined. Fold in half of the peach-and-raspberries mixture. Pour into the prepared baking dish and top with the remaining peach-and-raspberries mixture.
5. Bake for about 30 minutes, or until the pudding pulls away from the sides of the pan and the surface is golden. Remove from the oven and let rest for 10 minutes before serving. To serve, cut into 12 pieces.
Buttermilk Ice Cream:
1. Bring whipping cream to simmer in heavy medium saucepan.
---
---
2. Whisk egg yolks and sugar in medium bowl to blend. Gradually whisk hot cream into egg yolk mixture. Return mixture to saucepan and stir over medium heat until custard thickens slightly, about 6 minutes (do not boil).
3. Strain into bowl. Stir in 1 cup cold buttermilk.
4. Refrigerate custard until cold, about 2 hours. Process in ice cream maker according to manufacturer's instructions. (Can be prepared up to 5 days ahead. Freeze in covered container.)
Photo Sifu Renka
Related Articles