---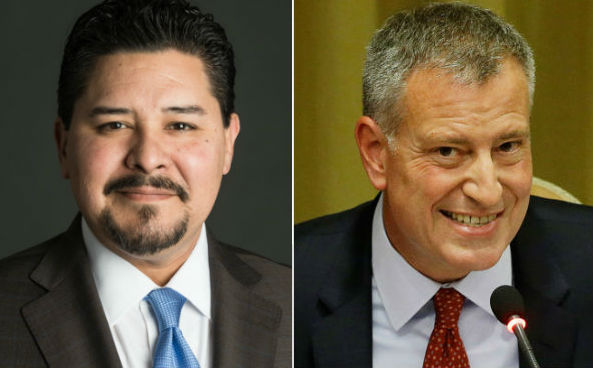 Mayor Bill de Blasio and Schools Chancellor Richard A. Carranza today celebrated the results of two different national program assessment tools that show the vast majority of pre-K programs are demonstrating predictors of positive student outcomes.
That meaning children are more likely to demonstrate reading, math, language, and social skills such as being independent, understanding shapes, and using expanded vocabulary.
The Early Childhood Environmental Rating Scale—Revised (ECERS-R) and Classroom Assessment Scoring System (CLASS), two tools used to measure the quality of pre-K programs across the country, show that Pre-K for All continues to improve. On ECERS-R, 95 percent of evaluated City programs met or exceeded the threshold that predicts positive student outcomes, a 7 percentage point increase from when programs were evaluated in 2016-17. On CLASS, 99.8 percent of sites with scores met at least one of three thresholds for positive student outcomes in 2018-19, representing a 0.8 percentage point increase from 2016-17. City pre-K programs are outpacing or on par with 2018 National Head Start averages in CLASS scores.
"These results confirm what we knew all along: Pre-K for All lays a foundation for success for kids all around our city," said Mayor Bill de Blasio. "We are investing in our future by ensuring that every single 4-year-old in New York City has access to free, high quality Pre-K."
"We know that when students get in the classroom at a younger age, they are set up for academic success in later years, and this is evidence that in New York City, Pre-K for All is a strong foundation for our students," said Schools Chancellor Richard A. Carranza. "Free, full-day, high-quality Pre-K is available to every four year-old in the City, and I encourage all families to take advantage and apply today!"
Developed by early childhood education experts across the country, ECERS-R and CLASS are nationally recognized instruments to assess and monitor program quality, and help educators create high quality programs for the children and families they serve. Programs are assessed on a three year cycle, meaning in a three year period, a program will receive a CLASS and ECERS-R assessments at least once.
High quality programs measured by ECERS-R and CLASS engage families as strong partners and encourage families to support children's learning with meaningful activities outside the classroom. Teachers are emotionally supportive, sensitive and responsive to students' unique perspectives, and create a positive classroom environment. The space is clean and well maintained with child-size furniture conducive to student learning; meals and snacks are well balanced, and children's work is displayed throughout the room.
Pre-K for All is having an impact on academic performance and closing the achievement gap. For the first time this school year, third graders who had participated in the City's pre-K program took State tests. According to 2019 State test scores, the White-Black and White-Hispanic achievement gaps were narrower for students who attended Pre-K for All compared to those who did not, illustrating the long term benefit of the program. Additionally, third grade students who attended Pre-K for All outperformed students who did not attend Pre-K for All.
A summary of the 2018-19 Pre-K ECERS-R and CLASS assessments is available online.
Applications for free, full-day, high-quality 3-K and Pre-K for All opened on Wednesday, February 5. Families can find programs and apply online at MySchools.nyc. Families can also apply over the phone at 718-935-2009, or in person at a Family Welcome Center. The online application is available in ten languages, and families can submit an application over the phone or in person in over 200 languages. All New York City families with children born in 2016 can apply for pre-K, and all families with children born in 2017 can apply for 3-K in the 2020-21 school year.
The Pre-K application will remain open until March 16. The 3-K application will remain open until April 24. Families can make changes to their application at any time before submitting, and can find out their school district by calling 311 or visiting schools.nyc.gov/find-a-school.
Access to free, full-day, high-quality pre-K prepares children for kindergarten and puts them on the path to success throughout their time in school. Research has shown that every dollar invested in high-quality early education saves taxpayers as much as $13 long-term. Specifically in New York City, research has found that families with children enrolled in free, full-day pre-K save an average of $10,000 per year on childcare costs, and access to Pre-K for All increases the chance that a low-income child is properly diagnosed with asthma or vision problems and receives appropriate treatment. Since 2014 the City has more than tripled the number of 4-year-olds enrolled in pre-K, from approximately 19,000 in 2013-14 to approximately 70,000 students enrolled today. The City is now going a step further with the expansion of 3-K for All.
For the 2020-21 school year, 3-K will expand to two additional districts: District 1 (Chinatown, East Village, Lower East Side) and District 14 (Greenpoint, Williamsburg). This expansion comes in addition to District 12 (Central Bronx) and District 29 (Cambria Heights, Hollis, Laurelton, Queens Village, Springfield Gardens, St. Albans) as announced in 2018. Each year, the City has outpaced its planned 3-K for All growth. Originally, 3-K was expected to be in only eight districts by Fall 2020; with this expansion, 3-K for All will serve 26,000 children citywide for the 2020-21 school year. Families applying to 3-K can begin filling out an application now, and additional programs in Districts 1 and 14 will be added to the application in the coming weeks.
Pre-K for All and 3-K for All are part of the Mayor and Chancellor's Equity and Excellence for All agenda, which is building a pathway to success in college and careers for all students. 3-K for All and Pre-K for All are strengthening foundational skills and instruction earlier; Universal Literacy is working towards ensuring every student is reading on grade level by the end of 2nd grade; and Algebra for All is improving elementary- and middle-school math instruction and ensuring that all 8th graders have access to algebra. Equity and Excellence for All is also offering students more challenging, hands-on, college and career-aligned coursework – Computer Science for All brings 21st-century computer science instruction to every school, and AP for All is giving all high school students access to at least five Advanced Placement courses. Along the way, they are giving students and families additional support through College Access for All, Single Shepherd, and investment in Community Schools. Efforts to create more diverse and inclusive classrooms, outlined in the 2017 New York City school diversity plan and through diversity pilots taking root in eight districts, are central to this pathway.
"The City's steady progress on key indicators of Pre-K instructional quality is very encouraging and is the result of the deep work on the part of teachers, coaches, principals, center directors and the Division of early childhood to build strong professional learning communities," said Shael Polakow-Suransky, President of the Bank Street College of Education.
"I commend Mayor Bill de Blasio & Chancellor Richard Carranza on their Equity and Excellence for all agenda, which includes Pre- K for All and 3-K. The newly released national results of Pre-K programs showing strong outcomes emphasize their key role in closing the achievement gap & expanding academic access for all children. While there's always more to be done, I'm proud that early education will continue to open doors for students across the Bronx and NYC and powerfully support students' learning experience and future potential," said State Senator Luis Sepúlveda.
"Helping to fund and bring high quality Pre-K to the children of our city and state has been a high point of my career," said Assembly Member Catherine Nolan, former Assembly Education Chair. "Congratulations to Mayor de Blasio and his team for all their efforts on behalf of families."
"Pre-K for All is working. I am pleased that test results demonstrate that our youngest children are succeeding in school as they begin the journey to graduation and adulthood," said Assistant Speaker Felix W. Ortiz. "An education is one of the most important tools a child can receive as they grow up. An early start helps guarantee that they are in the right course towards successful lives."
"I commend the Mayor and Schools Chancellor for the success of the first students who are excelling in grade school as a result of having been beneficiaries of universal Pre-K.  A high quality, early education is the foundation for later positive outcomes. The vision for positive social, emotional and academic learning for every child is becoming realized thanks to this important initiative.  We encourage constituents with children born in 2016 to apply for free, full day, high quality pre-k today," said Assembly Member Rebecca A. Seawright.
"Giving our children an early start to education, with programs like 3-K and Pre-K for All, is a proven way to in increase educational outcomes, improve math and reading, enhance language and social skills and place students on a path of success," said Assemblyman David I. Weprin. "I am glad that our city's 3-K and Pre-K programs are exceeding in providing in quality education for our students and thank Mayor Bill de Blasio and Department of Education Chancellor Richard A. Carranza for their support of these important programs."
---