---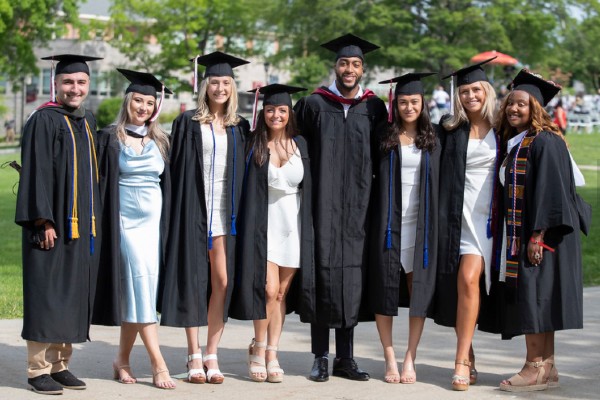 Manhattanville College's 2020 graduates finally got their turn to walk along with their 2021 classmates at five separate in-person commencement ceremonies this past week.
Three for undergraduate students and two for Masters's and doctoral students. Manhattanville is among the few colleges in the area to offer in-person ceremonies this year.
The ceremonies were smaller to observe capacity limits and social distancing guidelines.
Ethel Kennedy, an alumna of Manhattanville, was among the honorary degree recipients.
The weather was perfect for the ceremonies held Thursday, Friday, and Saturday on the campus quad for graduate and undergraduate students.
More than 1,300 students from the classes of 2020 and 2021 received degrees with more than 500 graduates walking in the socially distanced ceremonies.
More than 1,300 students from the classes of 2020 and 2021 received degrees with more than 500 graduates walking in the socially distanced ceremonies.
Approximately one-third of the graduates walking in the ceremonies were from the class of 2020. They waited more than a year for this moment as restrictions related to the pandemic finally eased.
In keeping with college tradition, many students decorated their graduation caps. One summed it up with a quote from the popular cartoon, SpongeBob SquarePants, "One eternity later."
"I'm so happy I actually got a chance to come down here and celebrate and have a last hoorah with all my friends," said Helena Rampersaud, class of 2020. "It's been a really hard year."
Honorary degrees were awarded to Ethel Kennedy (Class of 1949), New York City Civil Court Judge Emily Morales-Minerva (Class of 1998), and a posthumous award to Peekskill School District's first woman and African American Superintendent of Schools Judith Johnson, a visionary educator who devoted her life to making quality education available to all children.
Judge Morales-Minerva delivered the undergraduate address. The graduate address was given by Kerry Kennedy on behalf of her mother, Ethel.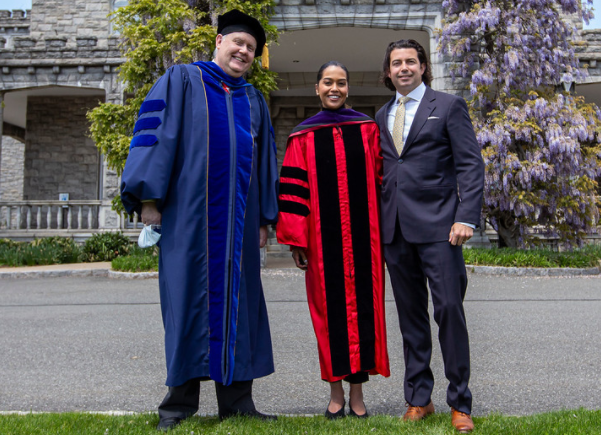 In introducing Judge Morales-Minerva, Manhattanville College President Michael E. Geisler said that the virus was only one of the battles faced this year.
He pointed to growing social struggles over institutional racism that he said have not only held back people of color, but the entire country as well.
"And as Judge Emily Morales-Minerva found her own fortitude to deal with adversity, I would like to charge all of you, whatever the color of your skin or the flavor of your political beliefs, to take the fortitude and strength of character given to you by the experience of having gone through – and survived – COVID-19 to finally turn this society into one of justice and equality for all Americans,'' said President Geisler.
Judge Morales-Minerva, the daughter of immigrants from the Dominican Republic, was elected in 2016 to serve as a judge in civil court in New York City and assigned to the Bronx Family Court in 2017.
"Everyone here has surely dreamt of this moment growing up or later in life. You and yours have a right to feel all types of understandably contradicting emotions,'' she said. "Happy, sad, angry, unsure, anxious, and all these things at once. Still — despite your unique struggle — you carried out, with courage and determination, everything required of you to earn your degree.''
In separate ceremonies, graduate students heard from Kerry Kennedy, daughter of Ethel Kennedy, who talked about her mother's youthful mischief during her carefree college days, and how her college friendships resulted in her meeting her husband, Robert F. "Bobby" Kennedy.
"I asked her (my mother) to tell me about her memories of Manhattanville,'' said Kerry Kennedy. "She reminded me that my aunt, Jean Kennedy, was her roommate at Manhattanville, and they plotted to have their two families meet on a ski weekend in Mont Tremblant. That's when my mother met my father, and she was smitten. So, I am here today because of this wonderful college, and very grateful indeed."
She also spoke about how Manhattanville prepared her mother to be a woman of substance and principal who raised 11 children to be passionate about human rights.
She encouraged students to use her mother's life's work as a champion of human rights as inspiration, "to speak truth to power and do so with a light touch – with a sense of humor."
Marco Pochintesta, Superintendent of Pearl River Schools, was among the graduating students who walked in the ceremonies, and he did so along with his daughter, Emma Pochintesta. Both waited more than a year for the chance to celebrate this moment.
"Getting through the rigors of the Manhattanville College doctoral program stands out as a life accomplishment that will always be a source of personal pride," said Pochintesta. "There were times of doubt, and also times of exhilaration as milestones in the journey were reached. Completing my studies and experiencing Commencement, together with my oldest daughter, an educator herself, has given us a family memory to be treasured." Marco earned his doctorate in educational leadership and Emma, who is a kindergarten teacher at a private school in White Plains, earned her Master's degree in education.
"Studying Early Childhood Education at Manhattanville while working as a lead teacher for the first time provided me with valuable professional learning and introduced me to a new community of educators that supported my growth and a network of Valiant colleagues in the field," said Emma Pochintesta. "Sharing the graduation ceremony with my dad created a memory of a lifetime that I will always cherish." The two will share another memory this summer as Marco walks Emma down the aisle at her wedding.
"Each and every one of you sitting here today, has certainly shown that "To a Valiant heart, nothing is impossible," said President Geisler, referring to the college mascot the Valiant which traces its roots to the fifteenth-century French quote by Jacques Coeur.
"You have overcome tremendous financial and physical odds to be sitting here today, and I salute you for that," said Geisler.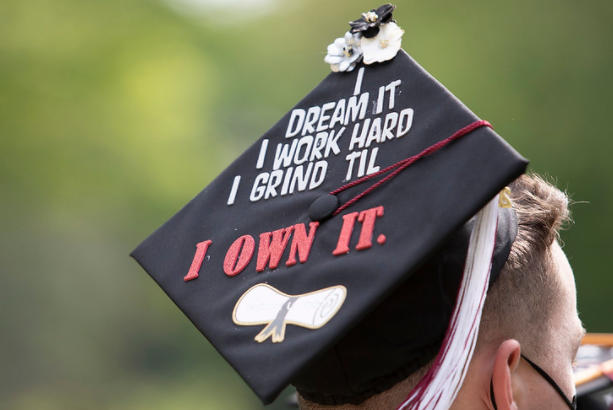 Manhattanville College is a small, private liberal arts institution dedicated to academic excellence, purposeful education, and social justice.
Located 30 miles from New York City on a 100-acre suburban campus in the heart of bustling Westchester County, Manhattanville enables easy access to robust entertainment offerings, educational resources, and business opportunities for its primarily residential and diverse student body.
The College serves more than 1,500 undergraduate students and nearly 1,000 graduate students from more than 44 countries and 33 states.
The College serves more than 1,500 undergraduate students and nearly 1,000 graduate students from more than 44 countries and 33 states.
Founded in 1841, the College offers more than 75 undergraduate and graduate areas of study in the arts and sciences, education, business, and creative writing, as well as continuing and executive education programs.
Graduate students can choose from over 70 graduate and certificate programs. Extracurricular offerings include more than 45 clubs and 20 NCAA Division III teams.
To learn more, visit www.mville.edu.
Photo credit (l to r): 1) Students, Manhattanville College. 2) College President Michael E. Geisler, Judge Morales-Minerva (center), and partner, Manhattanville College. 3) Student, Manhattanville College.
---