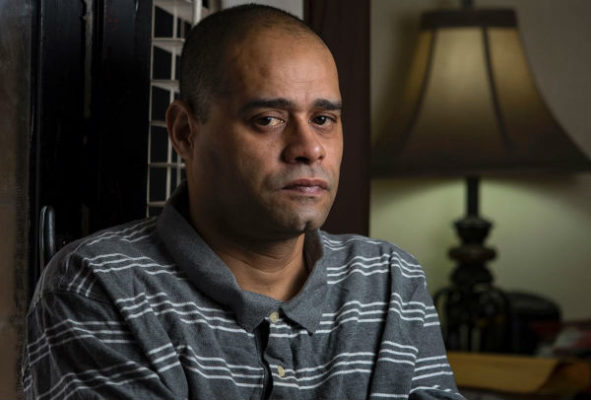 An East Harlem cop with an "odd fetish" on the job illegally stuck his finger in a disabled man's anus during a bogus search at a bodega, a new lawsuit claims.
John Hidalgo says he went to a deli on E. 106th St. between First and Second Aves. on Sept. 7 to buy his daughter candy.
After greeting the clerk, a plainclothes NYPD officer in the store told Hidalgo he had a "bulge" in his shirt — which Hidalgo explained was his cell phone in a belt holder. He showed the officer the device.
But the officer, identified in the suit as Officer Febres from the 23rd Precinct, insisted on conducting a search. Despite not finding contraband, he allegedly "slipped his hands up into Plaintiff's shorts, and reached his hand to his underwear and started fondling, squeezing, jerking and pinching Plaintiff's testicles through his underwear," Hidalgo's Manhattan federal lawsuit alleges.
"At one point, Plaintiff felt a finger on the shaft of his penis (again through the underwear)," the suit claims. "Then, the officer manipulated his hands to the backside inside the shorts and again through plaintiff's underwear, which was somewhat sheer.
"Then, extraordinarily, Plaintiff felt the officer's index finger wiggle around inside his buttocks cheeks, then his anus. Then he stuck a finger into his anus approximately an inch."
Reached by phone, Febres declined to comment "at this time."
"I wasn't sure what was happening," he said. "I'm feeling like I'm being violated."
"I remember feeling his finger on the tip of my phallus," Hidalgo, 48, recalled. "I said you ''What are you doing?'"
"He got more angry. He pushed me more hard to the wall and said 'Don't move,'" Hidalgo said. "He started on my back, in my butt, and then he started wiggling his finger."
"I got mad. I said, 'Why are you violating me?' I said, 'I wish I had the right to shoot you in the head,'" he said.
Hidalgo admits he shouted a pejorative term for homosexuals at some point during the encounter.
His lawyer said Hidalgo is not a homophobe but was simply scared.
"Rather, as a heterosexual with a limited IQ who had never before been anally penetrated, let alone by someone's bare, dirty hand and without lubricant, this seemed terribly wrong to him and his reaction was perfectly appropriate under the circumstances," the lawsuit states.
Hidalgo received a summons for disorderly conduct, which was ultimately tossed, his lawyer said.
"He issued that summons as an excuse for having done what he did," said Hidalgo's lawyer, Gregory Antollino, who blamed pressure on cops to issue summons and make arrests.
Hidalgo went to the hospital after the encounter and did not have any physical injuries.
But, he said, "I have dreams of this happening over and over again."
Hidalgo's lawyer claims Febres has an "odd fetish (at least for a police officer on the job)."
In court papers, Hidalgo cited an Oct. 6 tweet on the 23rd Precinct's Twitter account featuring a photo of Officer Febres and a caption that read, "Carrying your #marijuana stash where the sun don't shine won't keep Officer Febres from finding it. That's dedication. #itswhatwedo." The tweet did not refer to Hidalgo.
Asked about the tweet, the NYPD said it referred to a suspect who "was found to be in possession of a weapon. During a search incidental to arrest, the suspect was found to have a quantity of marijuana in his pants."
The department refused to comment on Hidalgo's lawsuit.
"The complaint will be reviewed by the Law Department," a city Law Department spokesman said.
Related Articles