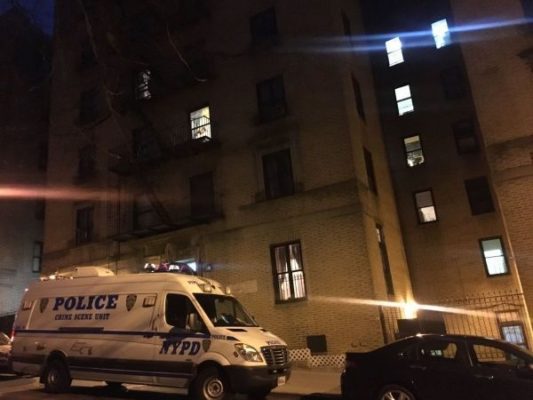 A man who authorities say killed his former high school teacher and their love child in her Harlem apartment was formally indicted Tuesday on multiple murder charges.
Isaac Duran Infante, 23, will face two counts of first-degree and second-degree murder, the Manhattan District Attorney's office announced. Infante is accused of fatally strangling Felicia Barahona, 36 and Miguel Barahona, 4, the night of December 22, 2016.
Barahona and her son were found dead Dec. 26 in an apartment on West 153rd Street between Broadway and Riverside Drive, police said. When officers entered the third-floor apartment around 8:15 Monday morning they found Felicia Barahona in the living room with an electrical cord wrapped around her neck and Miguel Barahona face-down in the bathtub. EMS pronounced both dead on the scene, police said.
Infante strangled Barahona with an electrical cord in the apartment's living room and when he heard 4-year-old Migual Barahona crying in the bathroom after witnessing the murder he strangled the boy with a computer cord, according to the DA's office.
Infante confessed to police that he killed Barahona and their son because he was angry at the way she was raising and dressing the child, a law enforcement source told Patch.
"This indictment reveals unconscionable acts of violence against a single mother and the defendant's own defenseless, four-year-old son," District Attorney Cyrus Vance said in a statement. "Isaac Duran Infante is accused of brutally murdering two people, squeezing the life out of his young son and the boy's mother just two days before Christmas. Fortunately, his attempts to evade detection and flee the jurisdiction were foiled by the NYPD and my Office's prosecutors, and he will now face justice for these vicious crimes."
Infante impregnated Barahona in 2012 when he was her student at Clinton DeWitt High School in the Bronx, the New York Post reported in 2013. Barahona allegedly seduced Duran for years before turning the relationship sexual when he turned 17 — the legal age of consent — according to the report. The two would have sex as many as five times a week, and Barahona would convince Duran not to use condoms or practice safe sex, the Post reported in 2013.
Barahona was fired from her job teaching science at the school — which paid $73,000 a year — according to the report.
Photo by Feroze Dhanoa/Patch
Related Articles