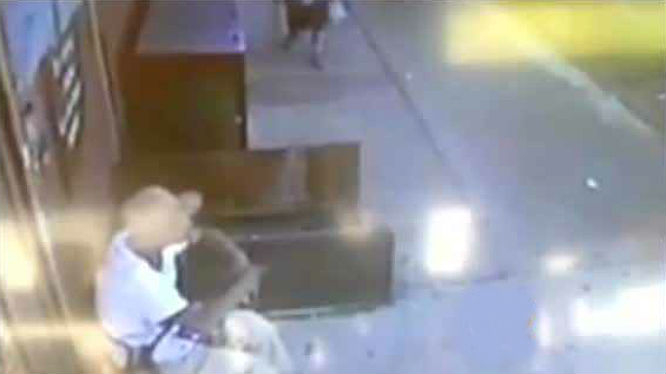 A pedestrian was left seriously injured Monday afternoon, after falling into open cellar doors on a sidewalk in East Harlem.
As CBS 2's Jessica Schneider reported, surveillance video captured in broad daylight showed the man walking east on 119th Street just west of Second Avenue, and heading straight for the open cellar doors.
The man did not maneuver out of the way, and instead ran right into the open doors, fell forward, and tumbled straight into the basement below.
A man walking behind the victim called 911, and within minutes ambulances arrived to take the man to Harlem Hospital Center.
Under city law, the property owner is responsible for keeping their sidewalks safe and liable for any injuries arising from this type of accident.
Jerry Whatts was outside the convenience store at 119th Street and Second Avenue when he heard people yelling at the man to avoid the oncoming danger.
"He didn't see what was going down. He just went right down, head first," Whatts said.
He said people who saw the man walking toward danger tried to stop him.
"People saw him walking toward the gate, and they tried to stop him, but it was already too late. He stumbled down the gate," said Whatts said.
The man seen sitting next to the cellar doors in the video is Joseph Primes. He told CBS 2 he could not jump up to help because of health reasons.
"He went over the railing, and I can't jump up out of this chair," Primes said.
New York City law requires property owners to keep the sidewalks around their businesses clear of any danger.
---
---
Alan Porto said he has encountered trouble with open cellar doors in the area.
"See how the sidewalk is a little crooked?" said Porto, of Harlem. "I must've tripped and I went this way into the basement."
Porto fell down cellar steps two years ago. It took him more than a year to recover fully. He said he wants business owners to be more aware of the dangers the open doors create.
"They shouldn't be open too long," he said. "Like, if you're going to go in to sweep and mop the buildings, go ahead. But close the gate right afterwards."
The man who was hurt falling through the doors suffered a head injury.
The Department of Buildings was investigating the incident Monday evening.
Here's the shocking video:

Related Articles