---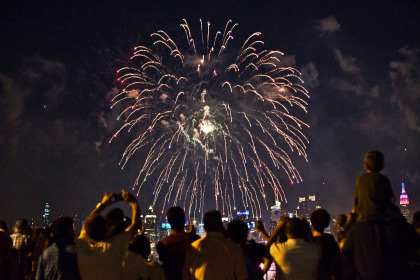 Many of us in Harlem are looking forward to the celebrations that bring our nation together every July 4th, 2017. If you're inviting everyone to gather around the grill at home or in the park and enjoy the holiday with family and friends, Etiquette Expert Sharon Schweitzer says to keep these tips in mind for a festive, fun, and safe day of festivities.   
Host/guest responsibilities
Hosts & Hostesses:
Send invitations well in advance. Send a reminder a few days before the party.
Consider a festive red, white and blue theme.
Follow U.S. flag protocol when displaying flags
Encourage patriotic guests to attend your party
Guests:
Bring a thoughtful hostess gift such as the host's favorite author's newest release, summer tea towels, or scented diffusers.
Ask the hostess what you may contribute to the party
Show gratitude for the invitation by helping with cleanup
Be patriotic and wear the colors of our founding fathers: red, white, and blue
Arrive 15-20 minutes within starting time
Throw away your own party trash
Mingle with other party guests
Thank the host & hostess for the party
Depart 15 minutes before the end of the party
Activities for the kiddos
If you're hosting, set up a flag backdrop for pictures – the kiddos will enjoy it!
Pool party:
Purchase red, white, and blue

floaties

for the kids to enjoy in the water.

In the invitation, encourage red, white & blue summer attire

A pool party is fun with water balloons and Red, White and Blue volleyball teams help set the mood and create the teams.

Watermelon eating contest
Foods to prepare
Whether you're hosting an indoor or outdoor gathering, consider these dishes for a Red, White, and Blue theme.
Fruit Skewer

with strawberries, bananas, and blueberries or a

grilled chicken and berry salad

.
Hamburgers, hotdogs, and barbecue ribs. Consider decorating the tables to go with the theme and include centerpieces such as

white chocolate pretzels

, red licorice, and blue M&M's.
For those with a sweet tooth, decorated

Rice Krispy sticks

, a

cheesecake

with strawberries and blueberries, or red velvet cupcakes. For a simplified dessert, offer classic vanilla ice cream with red and blue sprinkles.
Keep Sharon's tips in mind (and the article url) for a festive, fun, and safe day of festivities.
---