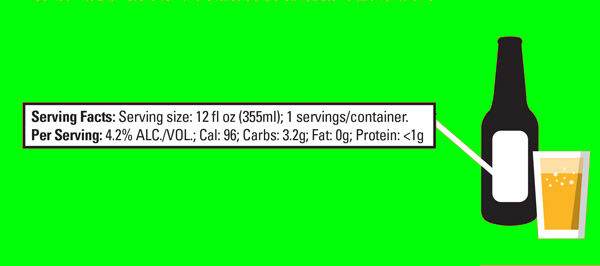 Harlem has along long history of serving beer, with the Harlem beer halls of the 1890's and Sugar Hill beer with Celeste Beatty today. Now, the nutrition revolution is coming to beer, sort of. It may not be any better for your diet but at least you'll know why in more detail.
That's because six large US beer makers have pledged to put the nutrition information for their brews on the package or online, detailing the number of calories, and the amounts of carbs and alcohol in each product, through the Beer Institute, an industry group.
Anheuser-Busch InBev, MillerCoors, Heineken, Constellation Brands, Craft Brew Alliance (maker of Kona Longboard Island Lager) and North American Breweries agreed to add labels or website information by 2020, while Pabst and major craft brewers—the latter of which represent more than 10 percent of US volume now—did not commit to this move.
"Beer is the most popular alcohol beverage in the United States," Jim McGreevy, the Beer Institute's chief executive officer, said in a statement. "Providing meaningful information will ultimately empower the consumer when making decisions regarding the beer beverage of their choice."
Of course, in addition to mere numbers of calories and other nutritionally vacant properties that long have made beer drinking synonymous with packing on the pounds, modern brews include lots of artificial colors, flavors, sweeteners and preservatives. And while modern beer drinkers certainly are willing to indulge in the broadly negative "nutrition" provided by their favorite adult beverage, many of them still would prefer all-natural ingredients if possible—and certainly to know exactly what's in that bottle or can.
Besides, this move seemed inevitable for other reasons. Diageo, the world's largest liquor company, said last year it would begin offering nutrition information on spirits brands including Smirnoff vodka. And regulators are breathing down brewers' necks, with a requirement for US restaurants to display calorie information for beer after 2017 if they've got a chain of 20 or more outlets—and with more calls to outline the "added sugars" in foods.
As with US government standards to boost the information on food labels a generation ago, however, the move toward nutritional labeling in beer will disadvantage the small guy—in this case, craft brewers. Some may struggle to afford lab analysis that would yield adequate nutritional information. Their advantages in brand perceptions and taste won't help them be more transparent.
Related Articles