---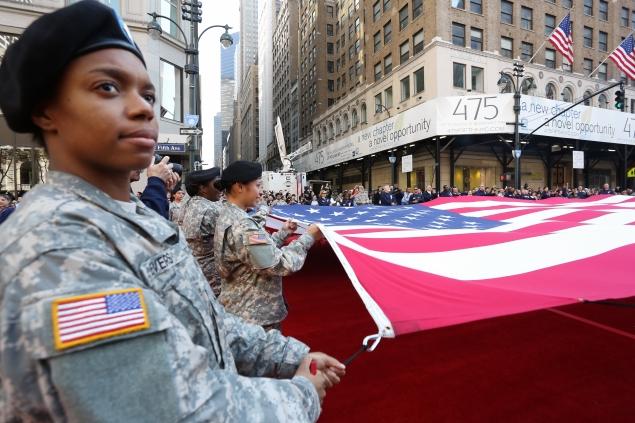 This July, Macy's and its customers nationwide will pay special tribute to the men and women of the U.S. Armed Forces with a charitable round-up campaign, "Macy's Salutes Those Who Serve," to support active duty military, veterans and military families.
From Monday, July 1 through Thursday, July 18, Macy's shoppers are invited to round up their in-store purchase amount to the nearest dollar (up to $.99) and donate the change. One hundred percent of the donations will benefit two veteran and military family-focused organizations: Blue Star Families and Bunker Labs. These charities focus on a number of programs that support current and former members of the U.S. Armed Forces and their families, providing access to career development, caregiver support, entrepreneurship, and business growth opportunities, among other services.
For the first time, "Macy's Salutes Those Who Serve" marketing campaign features three military veterans and a military family highlighting ways Bunker Labs and Blue Star Families organizations have played a role in their lives, whether to grow and establish their businesses or build community support. For additional details and testimonials of these inspiring veterans and military family, click here.
Since 2013, Macy's has helped raise awareness, pride, appreciation and more than $11 million for America's veterans and military families. To learn more about the veterans and "Macy's Salutes Those Who Serve" campaign, click here.
Bunker Labs is a national 501(c)(3) nonprofit organization built by military veteran entrepreneurs to empower other military veterans to start and grow businesses. Through local chapters organized in 26+ cities across the U.S., Bunker Labs provides educational programming, mentors, events, and thriving local networks to help military veterans succeed and thrive as entrepreneurs and innovators. Bunker Lab's mission is to empower the veteran community to become leaders in entrepreneurship and innovation with a vision for every member of the military veteran community to have the network and resources to realize their entrepreneurial potential.
Blue Star Families builds communities that support military families by connecting research and data to programs and solutions, including career development tools, local community events for families, and caregiver support. Since its inception in 2009, Blue Star Families has engaged tens of thousands of volunteers and serves more than 1.5 million military family members nationwide. With Blue Star Families, military families can find answers to their challenges anywhere they are. For more information, visit bluestarfam.org.
---