---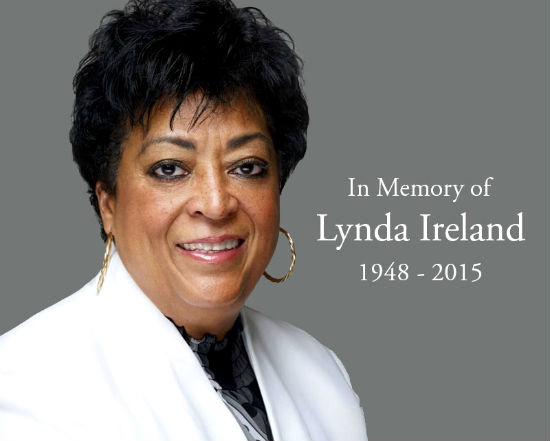 Lynda Ireland, the former president and CEO of the New York & New Jersey Minority Supplier Development Council (The Council) and considered one of the nation's leading advocates  in M/WBE business development, died at Robert Wood Johnson University Hospital of New Brunswick, NJ at age 67 on March 27 following a long illness.
The funeral at Brenna-Cellini Funeral Home in Hamilton, NJ was officiated by Ireland's colleague Rev. Hilton O. Smith, senior vice president of community affairs at Turner Construction and former chairman of The Council. Under Smith's leadership, Turner has awarded over 56,000 contracts with a value in excess of $20 billion to minority- and women-owned business enterprises.
Speakers at the funeral included noted supplier diversity expert Harriet R. Michel, former president & CEO, National Minority Supplier Development Council. "Lynda's powerful advocacy for minority businesses, her passion for guiding and mentoring minority entrepreneurs and her willingness to work with corporations to assist them in improving their supplier diversity programs were all hallmarks of her service at the New York & New Jersey Council," said Michel.  "For all of her colleagues in the supplier diversity arena, the best way to honor Lynda is to try to live up to her principles of hard work, true passion and singular commitment to making real opportunities available for minority businesses."
Ireland's career in minority business development spanned almost 30 years. She personally understood the needs of minority businesses and corporations because Ireland had careers as an entrepreneur and a business executive. Before heading The Council, an affiliate of the National Minority Supplier Development Council, she was the owner of Panache, Inc., a company that consulted on the construction industry. She served as the contractual affirmative action officer for the Village of Hempstead in Long Island. In addition, she was the first woman president of the Association of Minority Enterprises of New York, Inc. (AMENY).
At The Council, Ireland successfully created business partnerships between Council-certified African American, Asian and Hispanic businesses and The Council's corporate members comprised of major Fortune 500 companies, government agencies and public institutions in New York and New Jersey.  Under Ireland's administration, The Council had successfully achieved a Memo of Understanding with the State of New Jersey, the State of New York and the City of New York. Ireland's MOU agreements permitted The Council's certified minority businesses the ability to fast track in bidding for state and city government contracts.
"The growth of minority businesses has far reaching impacts," Ireland had explained.  "Partnerships between minority businesses and corporations help to empower communities by providing employment, training, and role models."
Ireland served on diversity boards for several Fortune 500 companies and institutions, such as: PSEG's Supplier Diversity Board, News Corporation's Diversity Council, American Society of Association Executives Diversity Committee, New York Governor's M/WBE Corporate Roundtable, U. S. Dept of Homeland Security Diversity Council, New York City Small Business Task Force, Public Utilities Small Business Development Board and Minority Business News Magazine Advisory Board
Her accomplishments in supplier diversity earned Ireland many awards and honors, including: two prestigious National Minority Supplier Development Council's Council of the Year Awards, New York Regional Minority Enterprise Development Week's Minority Advocate of the Year Award, the Westchester African-American Chamber of Commerce Madame C.J. Walker Award, The Network Journal's Top 25 Influential Black Women in Business Award, Minority Business News USA's First Ladies of Supplier Diversity Award, Harlem African American Day Parade Honoree, Black Star News Excellence Award, Diversity Plus Magazine Women of Power Impacting Diversity, Morris County New Jersey Hispanic-American Chamber of Commerce Community Economic Development's Advocate of the Year, New Jersey Chinese-American Chamber of Commerce Supplier Diversity Champion Award and many others.
Ireland was predeceased by her parents, Carwee and Margaret (McNair) Johnson, her loving son Marc and her brother Kenneth Johnson; she is survived by her daughter, Maya Creamer and husband George; three brothers: Larry Johnson, Carwee Johnson Jr., Freddie Johnson and wife Carol; two sisters, Margo and Tammy Johnson; four grandchildren: Jesse, Geordan, Gianna and Marc and several nieces and nephews.
Related articles
---