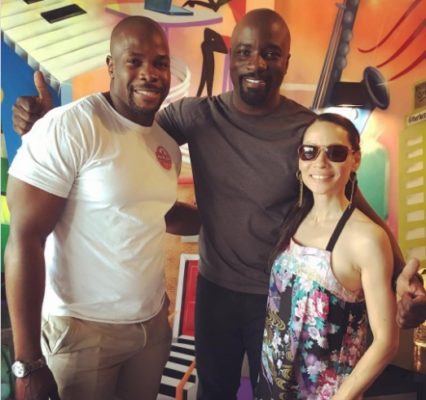 Comic Book reports that it looks like the second season of Luke Cage is about to get a little more… elementary.
Actor and television director Lucy Liu was spotted in Harlem last week at the beginning of the production of Luke Cage. She was spotted yet again yesterday posing alongside star Mike Colter with the owner of Harlem Coffee Co., Mark Thompson.
Liu previously directed episodes of her CBS show Elementary as well as an episode of USA's Graceland, giving her experience helming serialized crime dramas. Is she going to be helming an episode of the series, possibly the premiere?
Her contributions on Luke Cage would be welcome to the gritty, superpowered heroics depicted on screen. Whether this opens up more work for Liu in the Marvel Universe in the future remains to be seen, but this is an awesome first step.
Liu could also be appearing on screen as a new character. She previously worked with Rosario Dawson as a part of the voice cast for Disney's Tinker Bell And The Legend Of The Never Beast, alongside Agents of SHIELD's Chloe Bennet and The Walking Dead's Danai Gurira. She would be a major boost for the action scenes, having previously kicked ass in the Kill Bill series.
She also worked with fellow Netflix director RZA (who directed an episode of Iron Fist) in The Man With The Iron Fists.
The character of Luke Cage will next return to screens when Defenders drops in August, bringing the Harlem's Hero together with his former flame Jessica Jones as well as Daredevil and Iron Fist.
We'll probably learn more about what role she has in the production of Luke Cage (or if it's just a coincidence) as Season 2 gets ready to premiere in 2018.
Related Articles