---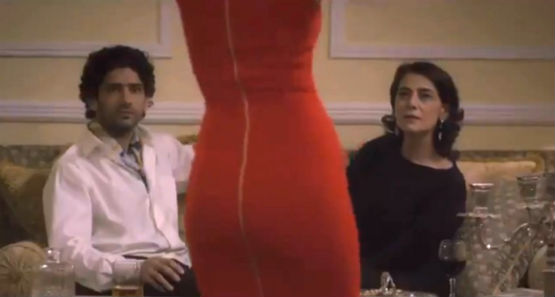 One could say that love is a complicated series of compromises between the desires of the heart and the pulls of reason driven by societal norms. ADIFF's LOVE AND PASSION Film Series presents comedies, thrillers and dramas that talk about love, race, class, passion, and society.
In "The Citizen" by Rolad Vranik the challenges of the love story between Wilson – a political refugee from Guinea Bissau – and his Hungarian teacher Mary are exacerbated by Wilson's struggle with inhumane circles of Hungarian bureaucracy that embitter his life.
"Sins of the Flesh" by Khaled El Hagar is part a thriller and part a morality play set against the backdrop of the Egyptian revolution about a passionate and forbidden love story between beautiful and young Fatima married for convenience to an older man and her former young lover Ali.
With an erotically charged triangle focusing on desire and intimacy, "Foreign Body" by Franco-Tunisian filmmaker Raja Amari is an edgy love story between two women and a man that crosses traditional boundaries and explores gender role complexities within women, men and society.
Transgressive love abounds in the repressive colonial Antillean society depicted in "Ava & Gabriel, a Love Story" by Felix De Roy set in Curacao in the 1940s. Caste and class concerns almost derail true love in hilarious Ghanaian
comedy "No Time to Die" by King Ampaw.
Love for a child gives a reason for leaving to Rosa, the main character of 2018 Peruvian Oscar submission "Rosa Chumbe" by Jonatan Relayze. The soul of a man tortured by his passionate love for two women is unveiled in romantic drama "The Naked Poet" by Jason Barrett. Love lost and betrayal lead to tragedy in American independent feature film "Never Came Back" by Jeremiah Jahi.
All the films in the LOVE AND PASSION film series explore the beauty, complexity and challenges of love through powerful and thought provoking stories of passion and humanity.
ADIFF's LOVE AND PASSION Film Series will be held from Friday, April 27 to Sunday, April 29 at Teachers College, Columbia University – 525 W 120th St. in 263 Macy Tickets are $11 and $13. Weekend Pass is $40.
For more information about the Love and Passion Film Series, to receive the complete line up, screeners and high resolution images please contact Diarah N'Daw-Spech at (212) 864-1760/ fax (212) 316-6020 or e-mail pr@nyadiff.org. Festival web site: http://www.nyadiff.org.
The African Diaspora International Film Festival is a 501(c)(3) not for profit organization.
The Love and Passion Film Series is made possible thanks to the support of the following institutions and individuals: ArtMattan Productions; the Office of the Vice President for Diversity and Community Affairs, Teachers College, Columbia University and WBAI. ADIFF is a proud member of the Harlem Arts Alliance.
Teachers College, Columbia University, 525 West 120th Street  – 263 Macy, New York, NY 10027, http://www.NYADIFF.org
Related Articles
---